Casting : Custom Firebird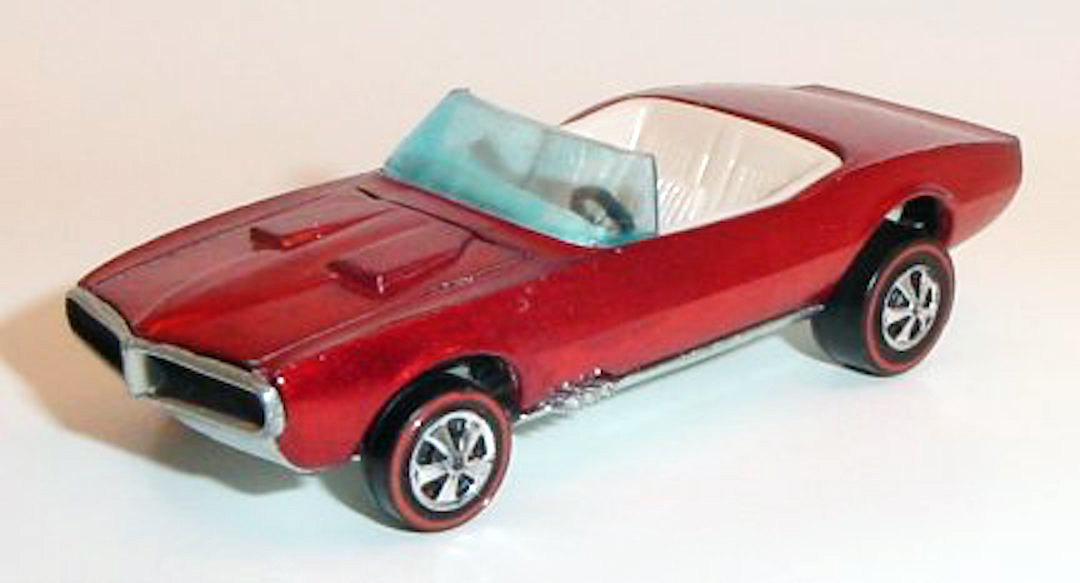 Years of Production

1968-1970


Country of Origin

US and HK


Casting Variations

US vs. HK production, Detailed Below


Interior Colors:

US Interior Colors: White/Cream, Gold/Champagne and Dark Brown
HK Interior Colors: White/Cream, Silver, Brown, Red and Light Blue

US - Clear Glass
HK - Blue Glass


Color chart


| | |
| --- | --- |
| US COLORS: | COMMENTS: |
| blue | common |
| red | |
| green | |
| olive | |
| orange | |
| purple | |
| gold | |
| aqua | |
| lime | |
| antifreeze | hard to find |
| brown | rare |
| rose | rare |
| light blue | rare |
| dark olive | rare |
| HK COLORS: | COMMENTS: |
| red | common |
| blue | common |
| olive | common |
| gold | |
| copper | |
| purple | |
| green | |
| orange | |
| aqua | |
| creamy pink | rare |


Similar Castings:

1970 Light My Firebird



Comments:

The Custom Firebird was based on the 1967 Pontiac Firebird Convertible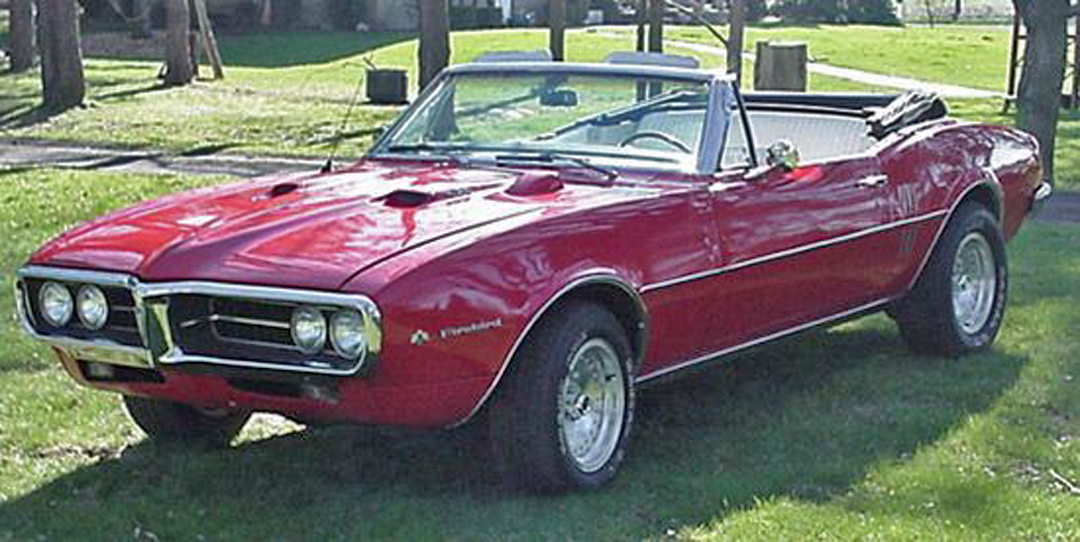 1967 Pontiac Firebird

The Pontiac Firebird was designed as a pony car to compete with the Ford Mustang, it was introduced February 23, 1967, the same model year as Chevrolet's
platform-sharing Camaro. This also coincided with the release of the 1967 Mercury Cougar. Ford's upscale, platform-sharing version of the Mustang.






1968 Custom Firebird: US (L) : Hong Kong (R)

The body castings of the two versions of the Custom Firebirds are largely indistinguishable and all have bearing type wheels.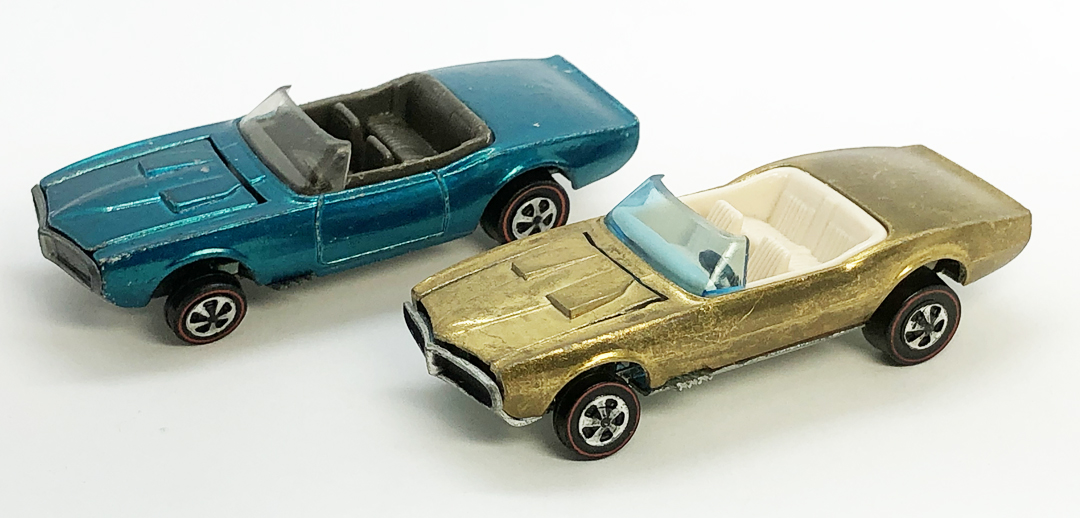 1968 Custom Firebird: US (L) : Hong Kong (R)

The hood details are ever so slightly different. The cowl area on the US casting shows a more distinct continuation of the "power Bulges".
The common blue glass of the HK casting is evident, although very early production from HK also has clear glass.







1968 Custom Firebird: US (L) : Hong Kong (R)

The differences between the front and rear of the two of the US and HK versions is not very significant.






1968 Custom Firebird: US (L) : Hong Kong (R)

The US version of the interior features a steering wheel which is molded as part of the dashboard and back seat protrudes above the body line.
The Hong Kong version has separate steering wheel, lacks a dashboard and is more flush with the body line at the rear.
In general, the color of the interior does not greatly impact the value of the Custom Firebird.






1968 Custom Firebird: US (L) : Hong Kong (R)

The absence of mechanical detail on the US version is typical. The HK casting includes the typical suspension holes.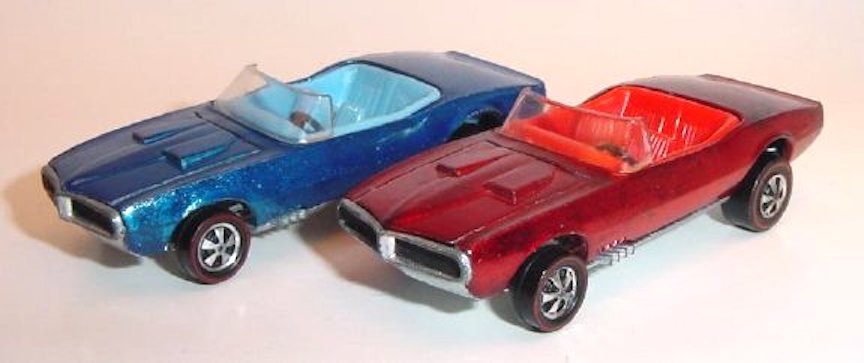 1968 Custom Firebird Early HK Production

The first examples of the Hong Kong Custom Firebird came out in these color combinations. Note the clear glass on both models.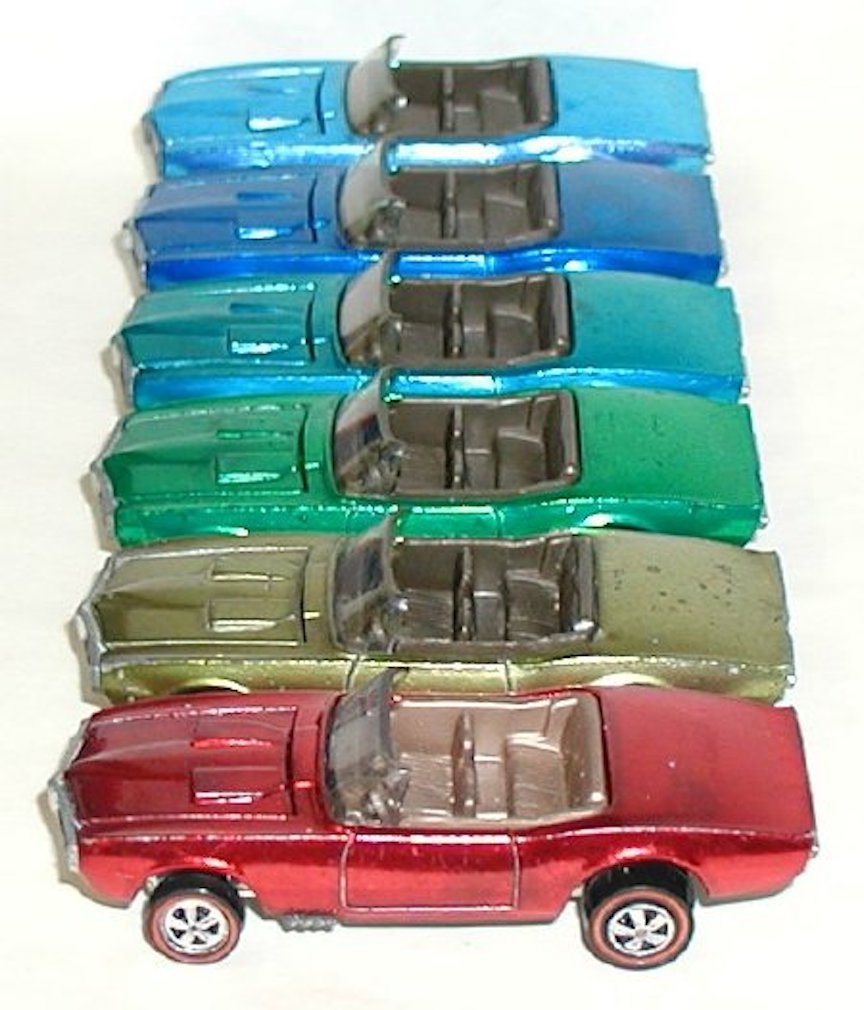 A Rainbow of US "Door Line" Custom Firebirds

A rare late-run casting variation is the presence of door lines on some US Firebirds. This is likely a result of a slight modification of the die tool as a prelude to
the 1970 Light My Firebird casting that was part of the "Spoilers" series. Most door line Firebirds have brown interiors although gold interiors are often seen in red cars.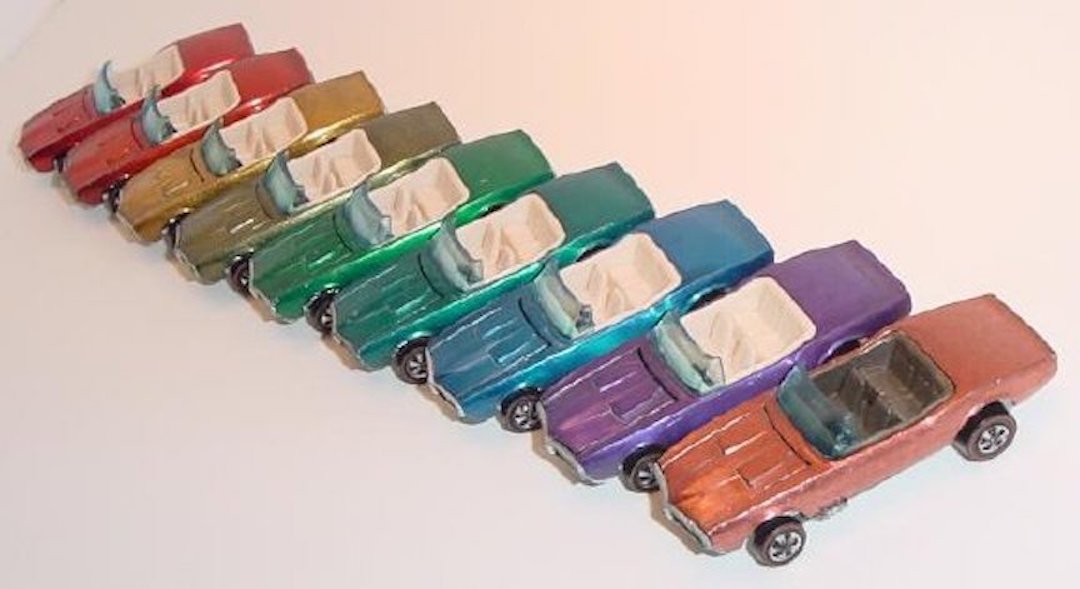 1968 Custom Firebird HK Rainbow

The Custom Firebird was produced in a plethora of Hong Kong colors.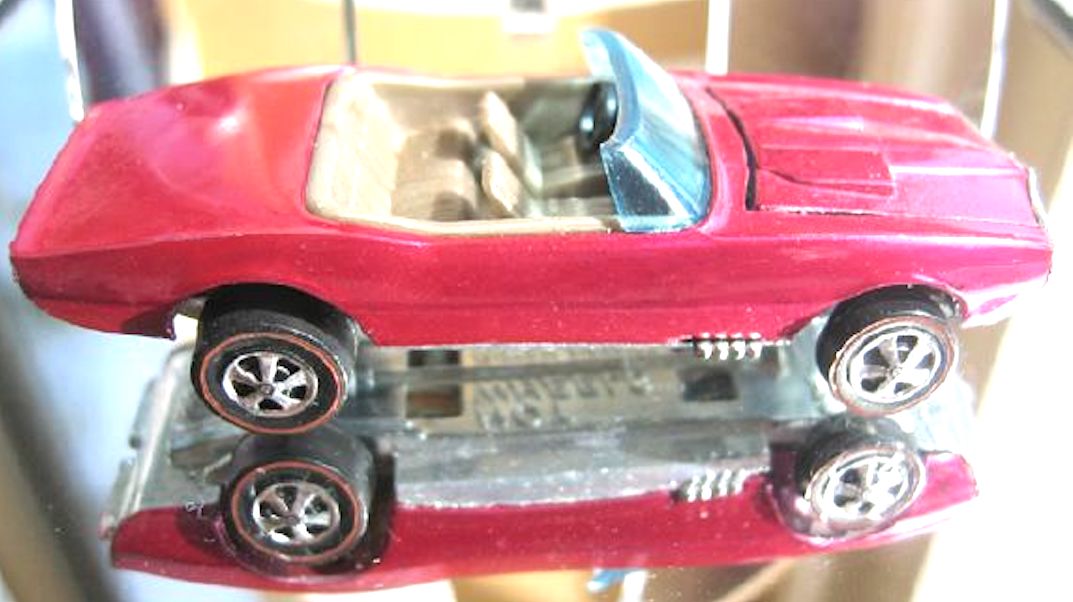 Custom Firebird in Creamy Pink
PREPRODUCTION
---



* DISCLAIMER *
Private use of original images is allowed.
Non-profit, non-commercial publication of original images is allowed only with prior expressed written consent from Graymatters.
For other commercial, for-profit or redistribution needs, please contact the site owner. This site is not affiliated with Mattel, Inc.

Questions? ... Send me an e-mail: tngray@nautiloid.net

© 2012 by Graymatters. All Rights Reserved.