Casting : Brabham Repco F1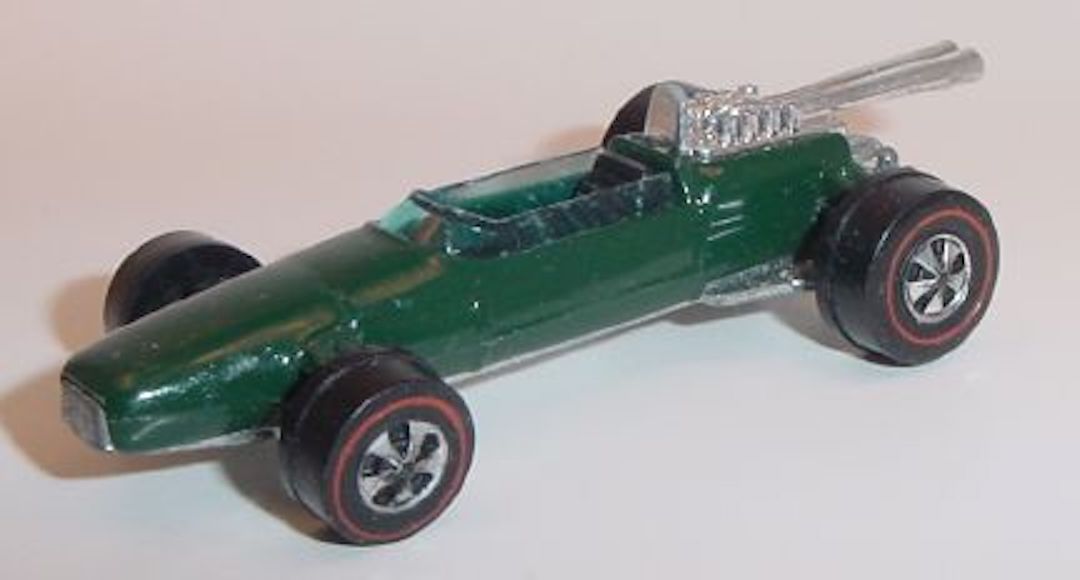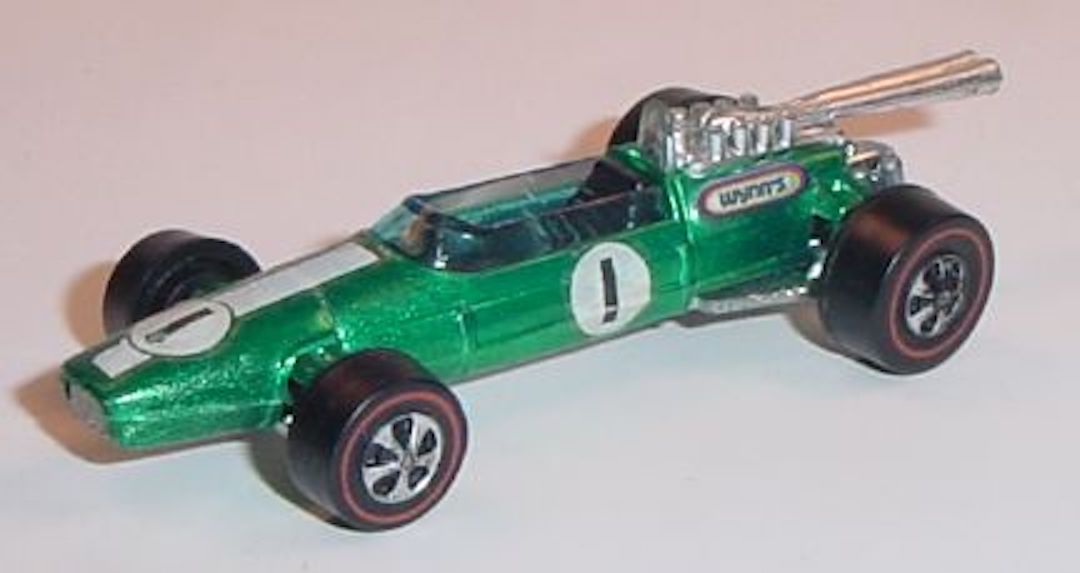 Brabham Repcos in enamel British Racing green and Spectraflame green

The Brabham Repco F1 was one of four open-wheel Indy cars released in 1969 as part of the new Grand Prix Series.
The Hot Wheels car was based on the Brabham-Repco BT-24, designed by JackBrabham and Ron Tauranac,
featuring a simple and lightweight chassis with a 3-liter Repco-Oldsmobile V-8 engine.
The car took Brabham to the World Championship in 1966, and won a second World Championship in 1967 with Denny Hulme at the wheel.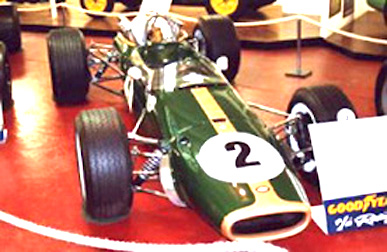 The Hot Wheels version of the Brabham-Repco, like the Lotus Turbine, is a tiny car and a very accurate reproduction
of the real car. It features a blue-tinted windscreen (as do all HK cars) and a chromed plastic engine with twin tailpipes.
As with all four Indy cars, the Brabham Repco was produced only by the Hong Kong factory.
It was painted with a variety of Spectraflame colors, as well as with signature British Racing Green enamel, and
included a small "Hot Wheels" decal on the right side of the car. (Note that some cars apparently missed out on this decal!)
A waterslide decal sheet was included in the blister pack and featured the #1 racing numbers of Sir Jack Brabham.

Most Brabham Repcos have black interiors, but occasionally white interiors can be found.
White interiors are most common in red Brabhams, however aqua, purple and blue with white interiors also have been found.
Early production cars have bearing (white hub) style wheels, while later runs have cap style wheels.
Some Brabhams can be found with a black painted base.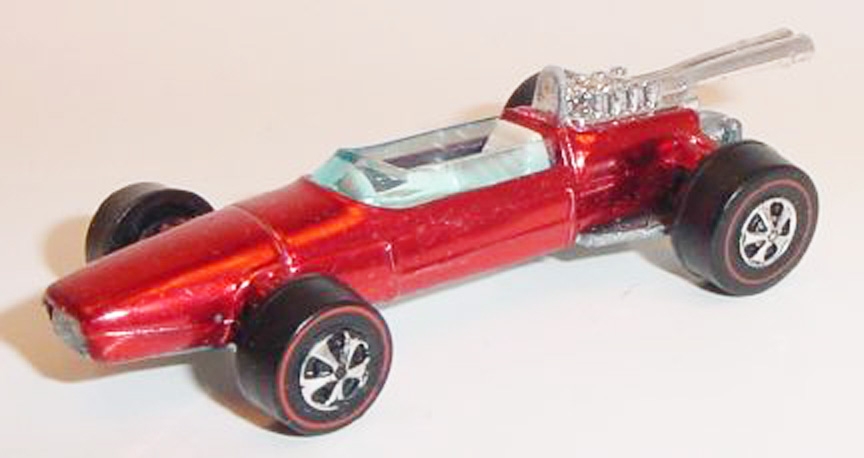 A red Brabham Repco with a white interior

Brabham Repcos with clear windscreens and white interiors are prototype cars and are quite valuable.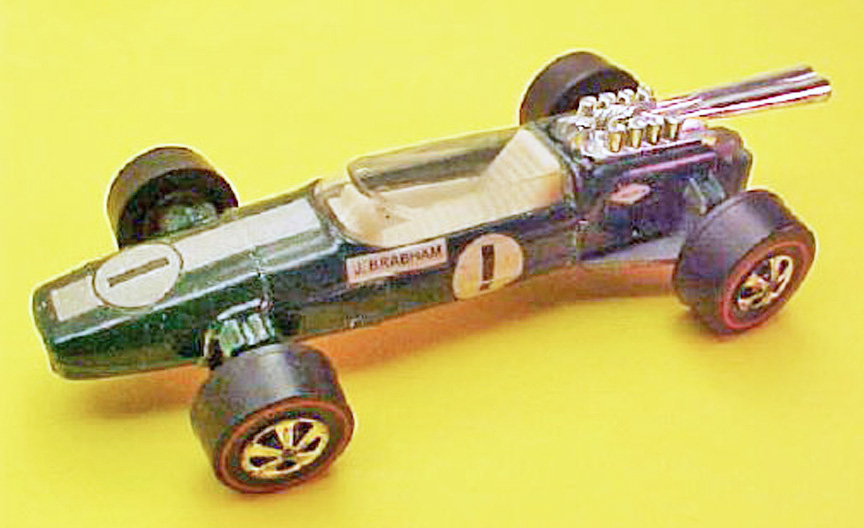 A prototype Brabham Repco in green enamel. (Courtesy of B. Rosas)


Another very interesting and rare Brabham is the chrome "dinner car".
These were presented to attendees of a banquet, hosted by Mattel at the 1969 NY Toy Fair.
Each place setting included a chrome Indy car, only the Brabham, Lotus Turbine and Shelby Turbine are known.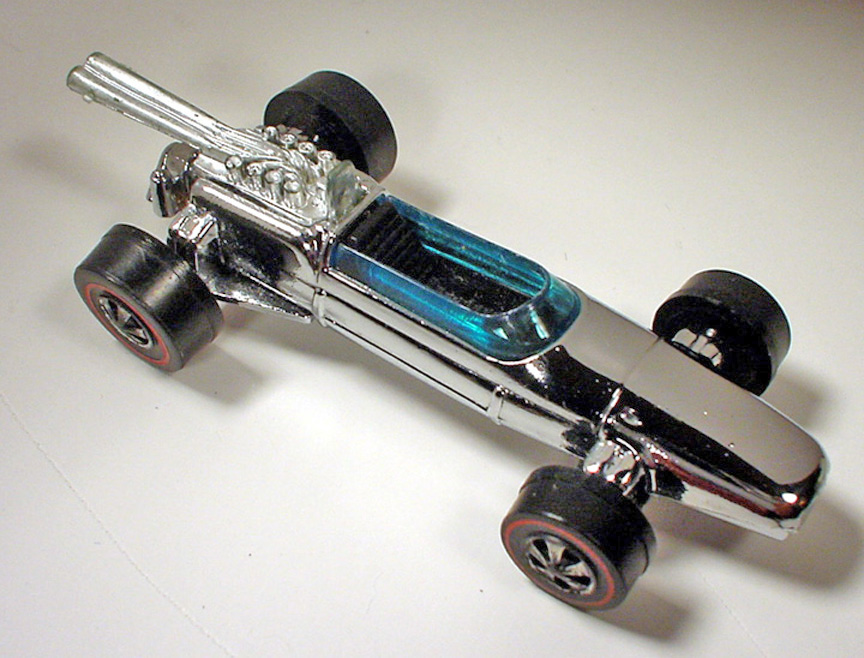 A chrome Brabham Repco F1 "dinner car", one of 2 known

The Brabham Repco was re-issued in 1974 as the RASH 1.

Brabham Repco F1 Color chart

| | |
| --- | --- |
| COLORS: | COMMENTS: |
| red | common |
| green | common |
| aqua | common |
| blue | common |
| purple | uncommon |
| orange | uncommon |
| olive | uncommon |
| dark green enamel | hard to find |
| copper | hard to find |
| brown | hard to find |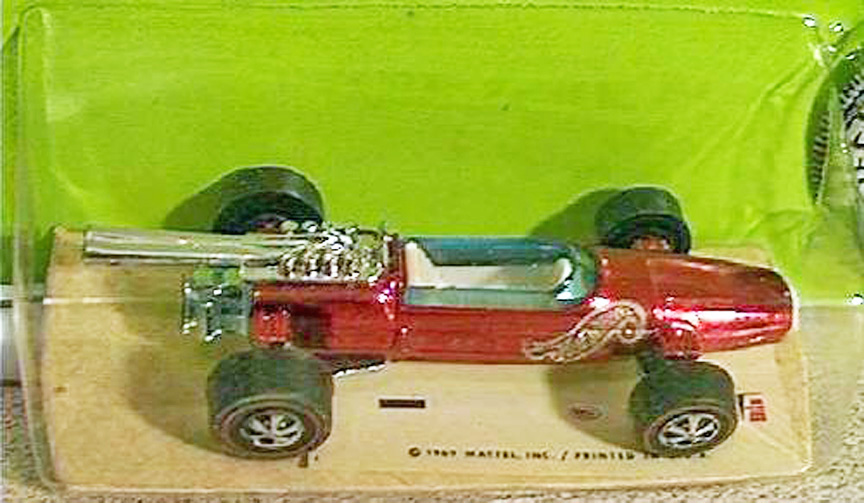 A red-white interior Brabham Repco in the blister pack!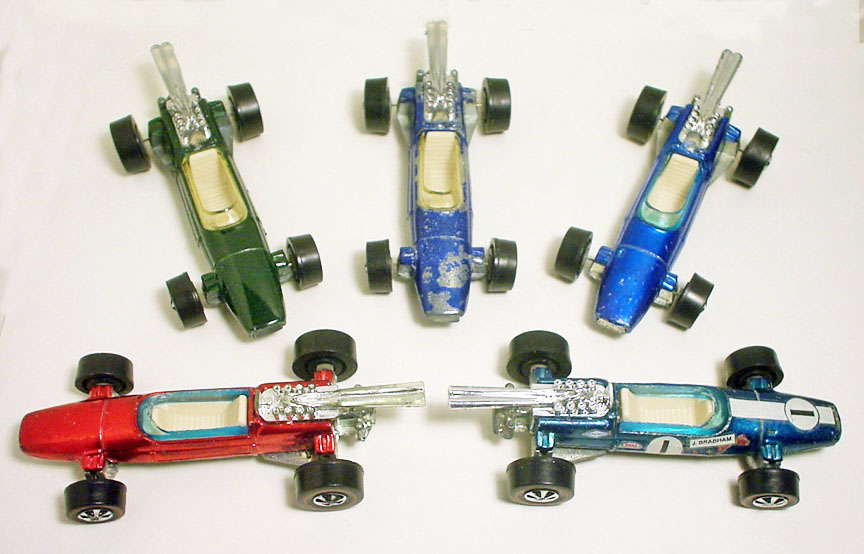 A nice group of white interior Brabham Repcos.








* DISCLAIMER *
Private use of original images is allowed.
Non-profit, non-commercial publication of original images is allowed only with prior expressed written consent from Graymatters.
For other commercial, for-profit or redistribution needs, please contact the site owner. This site is not affiliated with Mattel, Inc.

Questions? ... Send me an e-mail: tngray@nautiloid.net

© 2012 by Graymatters. All Rights Reserved.