Casting : Chaparral 2G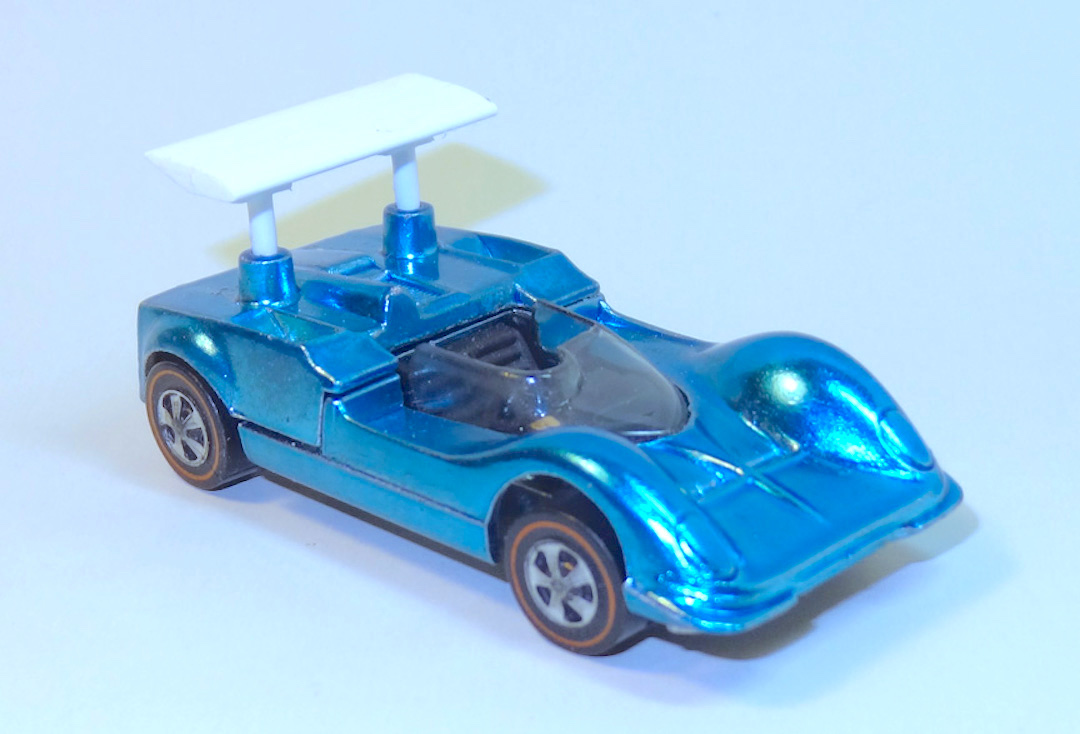 Years of Production:

1969


Country of Origin:

US and Hong Kong


Casting Variations:

The base on the HK version has four rectangular holes in it
No discernable difference on the body
Found with bearing wheels and capped wheels


Interior Colors:

Black is normal, Brown is rare
US has clear glass US, HK has blue glass


Paint Colors and Variations:


| | |
| --- | --- |
| US COLORS: | COMMENTS: |
| aqua | common |
| green | common |
| orange | common |
| gold | common |
| red | common |
| rose | less common |
| purple | less common |
| white enamel | common |
| brown | uncommon |
| olive | uncommon |
| blue | uncommon |
| light blue | hard to find |
| yellow | hard to find |
| lime | uncommon |
| magenta | hard to find |
| antifreeze | very hard to find |
| hot pink | very hard to find |
| light ("apple") green | very hard to find |
| | |
| HK COLORS: | |
| green | common |
| red | common |
| blue | common |
| aqua | uncommon |
| white enamel | hard to find |
| olive | rare |
| purple | rare |


Other versions of same Casting:

1974 Winnipeg



Comments:

The Chaparral 2G was released in 1969 as part of the new Grand Prix Series. The real Chaparral 2G was the creation of
designer/builder/driver Jim Hall. The 2G was one of an interesting lineage of Chaparral cars that Hall built and raced
in the 1960's at various CanAm events. A unique feature of Hall's cars was a large hydraulic rear spoiler designed to
provide better control through turns but less drag on the straightaways. The spoiler debuted on the Chaparral 2C and
evolved through a number of variations on later cars. The 2G competed in CanAm races in 1967-68, scoring two wins. Jim
Hall's driving career ended in November 1967 when the Chaparral 2G he was driving struck the rear of another car and
flipped over, pinning Hall and breaking both of his legs.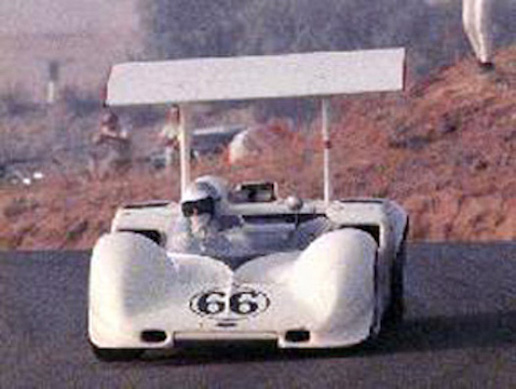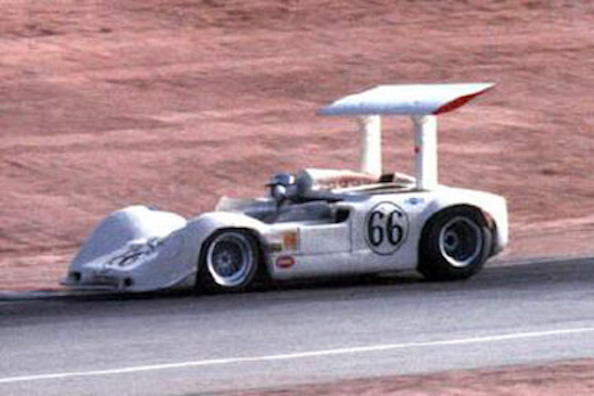 Jim Hall in the Chaparral 2G at Riverside


The Hot Wheels version of the Chaparral 2G featured a plastic spoiler that was mounted on a rear hatch that opened to show
a detailed engine. A sticker sheet with Jim Hall's signature "66" racing numbers was included in the blister pack. The
Chaparral was produced in various Spectraflame colors, as well as in white enamel like the real car. Chaparrals were made
at both the US and HK plants.





The Chaparral 2G in white enamel (L) and Spectraflame antifreeze (R).


Original plastic spoilers have become almost as valuable as the car itself! They are relatively fragile and prone to breaking
where the post attaches to the bottom of the wing. Reproduction spoilers are available from various sources, and some of these
are of reasonable quality. Most repro spoilers are characterized by a glossier plastic.





A comparison of original (L) and reproduction (R) Chaparral wings


As with some of the other Grand Prix castings, the Chaparral was plagued with rear hatch problems. Later variations included a
stop peg to keep the hatch from opening too far, and kids were advised to add "racing stripes" (i.e. tape!) to keep the hatch
closed when running the car down the track.

US cars featured a clear windshield and a black interior. A few US Chaparrals have been found with brown interiors. Like all
1969 Grand Prix cars, the Chaparral can be found in most of the first generation colors with the exception of creamy pink. While
Chaparrals in second generation colors such as yellow, magenta, light green and pink are uncommon, they do exist. Most magenta
Chaparrals appear to have cap style wheels, consistent with the fact that they were produced late in the model year.





US Chaparral with brown interior


HK Chaparrals are a challenging group of cars to collect! They differ from US Chaparrals in that they have blue-tinted windshields,
chrome rather than silver wheel trim, and a different base (four square openings). They are relatively common in red, green and blue.
In fact, HK blue Chaparrals are more plentiful than US blue Chaparrals. Interestingly, this is the case for most of the 1969 wide-body
Grand Prix cars. Aqua and white enamel are tougher colors for HK Chaparrals. Olive, purple and orange cars are rare. Two HK orange
Chaparrals recently have been found, including one that is part of a track set and is still packaged in the original plastic bag!
It may be that some of the rarer colors of HK Grand Prix cars were only available in track sets.




Rare HK Chaparral 2Gs in purple (L) and olive (R).


Some rare and interesting prototype Chaparrals have been found. One of these is a raw ZAMAC (unpainted) car. Another is
a red enamel Chaparral. A third prototype Chaparral is a black enamel car that served as a test of the casting die.




Rare prototype Chaparrals: unpainted ZAMAC (L) and red enamel (R)
Photo of Red Enamel, courtesy of Bob Case, Littletoycars.com



A black enamel prototype Chaparral.
A hard-to-find apple green Chaparral still in the blister pack!
A magenta US Chaparral with capstyle wheels
An orange HK Chaparral in the original bag from a UK track set!
Allan Rosen's awesome Hong Kong Chaparral rainbow


A US Chaparral rainbow




Credits:

Photos and text by Rick Wilson, additional photos by Bob Case.




---



* DISCLAIMER *
Private use of original images is allowed.
Non-profit, non-commercial publication of original images is allowed only with prior expressed written consent from Graymatters.
For other commercial, for-profit or redistribution needs, please contact the site owner. This site is not affiliated with Mattel, Inc.

Questions? ... Send me an e-mail: tngray@nautiloid.net

© 2013 by Graymatters. All Rights Reserved.