Custom Charger (1969)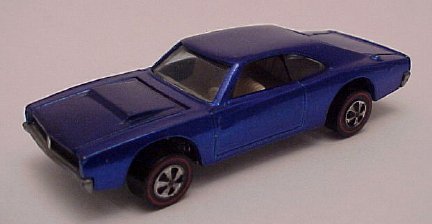 The Custom Charger is based on the hemi-powered 1969 Dodge Charger two-door coupe.
The Charger was another player in the American muscle car scene of the mid-1960's and initially
carried on the "fastback" fad that started with the Mustang and the Barracuda. Dodge's 1968
and 1969 offerings were a dramatic redesign of the '66-'67 Charger and featured a hidden headlight
grille, and a modified tail end. Over 20,000 '68 Charger R/Ts were built, but only a small came
with the mighty 425 bhp 426 c.i. Hemi engine!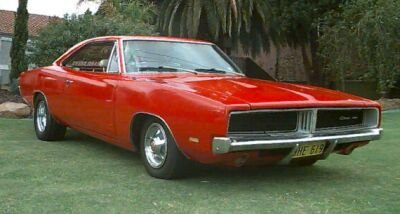 Mattel's version of the Charger is an extremely popular casting among redline collectors and
as such, these cars always command a high price when in gem condition! The Custom Charger
was manufactured only at Mattel's U.S. plant. The casting was issued from 1969 through 1971.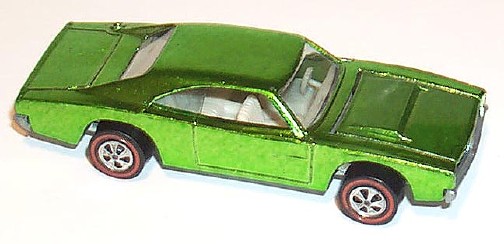 A Custom Charger in light ("apple") green.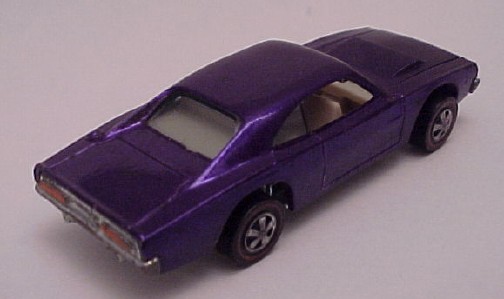 A rear view of a purple Custom Charger.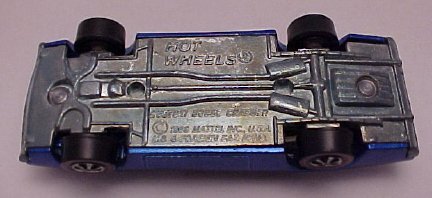 Custom Chargers have a white interior, black painted grille, orange and red painted tail lights,
an opening hood that reveals a metal engine, clear window "glass". A relatively rare variation
is an unpainted grille. Nearly all Chargers run on medium-sized bearing type wheels. A handful
of red Chargers have been found with the later cap-style wheels. One green Charger with cap
wheels has been found.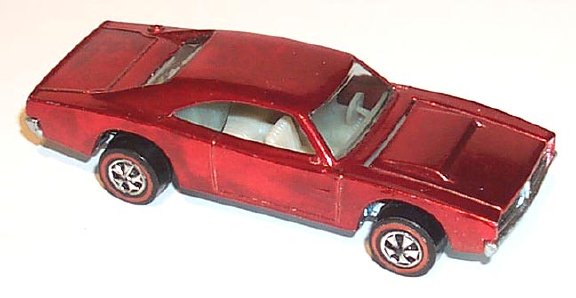 A red Custom Charger with cap-style wheels.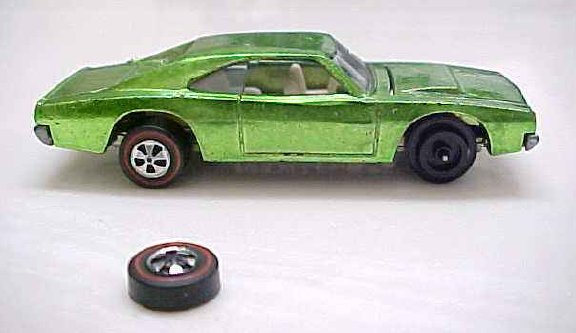 Tom Siembieda's light green Charger with front cap-style wheels.
Another oddity is that one blue and a handful of hot pink Chargers with unspun posts (i.e. no "rivet")
have surfaced. The reason for this is not known.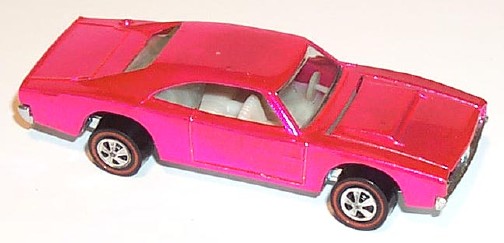 The Custom Charger is one of those castings that can be found in a variety of shades and color
variations including different versions of gold, aqua, red and blue. Of particular note is an odd
red-orange color. These cars often are described as orange, but when viewed next to a true orange
Charger, they are clearly more red. Antifreeze is relatively rare color for the Charger, and lime cars
often are mistakenly called "antifreeze". The following pics show a comparison of antifreeze (top)
and lime (bottom).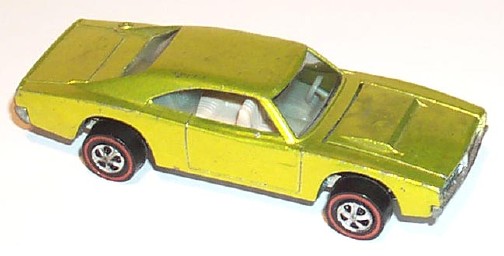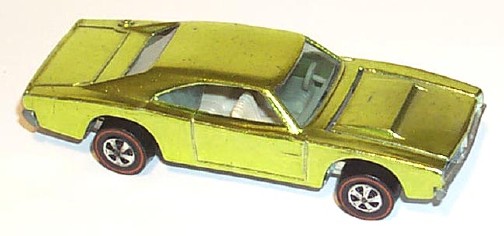 The rarest color for a Custom Charger is brown. Only a few are known to exist and those
cars may be pre-production cars. Most "brown" Chargers are either orange with underlying
metal toning or cars that have been stripped and re-painted brown.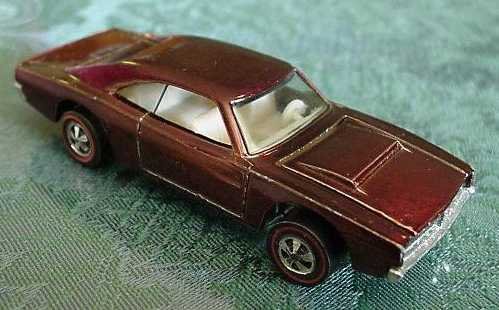 A very rare brown Custom Charger!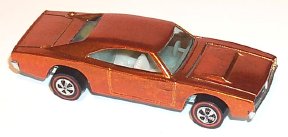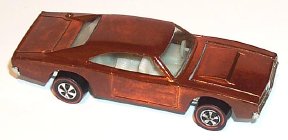 The Charger on the right is "eBay brown"! Rather than true brown, it is an orange Charger
with dark metal under the paint. An orange car is shown at left for comparison.
At least three prototype Custom Chargers are known. One (pictured below) is silver, and another
is painted in orange enamel. Another interesting Charger came from an ex-Mattel employee's
collection and appears to have a prototype hood (also pictured below).
For more pics of prototype Chargers, see the
HWProtos
site.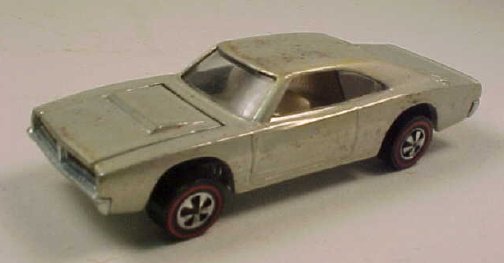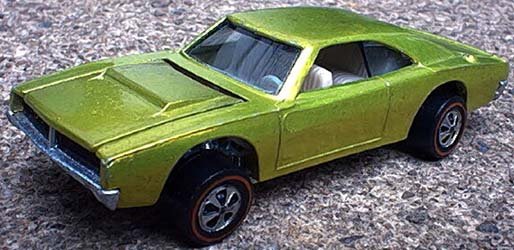 Color chart
| | |
| --- | --- |
| US COLORS: | COMMENTS: |
| blue | common |
| gold | common |
| green | common |
| lime/yellow | common |
| red | common (bearing wheels) |
| purple | uncommon |
| magenta | uncommon |
| hot pink | uncommon |
| rose | uncommon |
| light ("apple") green | uncommon |
| aqua | uncommon |
| yellow | uncommon |
| orange | hard to find |
| antifreeze | hard to find |
| creamy pink | hard to find |
| light blue | very rare |
| brown | very rare; may be a prototype |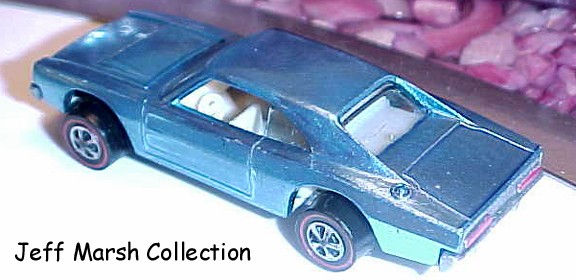 This is the only known light blue Charger found to date. The owner has examined the car closely
to verify its originality, even trying the "screwdriver test" (an attempt to pry apart the car to see if the
rivets have been glued back into place) and the car has passed. He is still not 100% convinced it is
legitimate, mostly due to no other example ever turning up.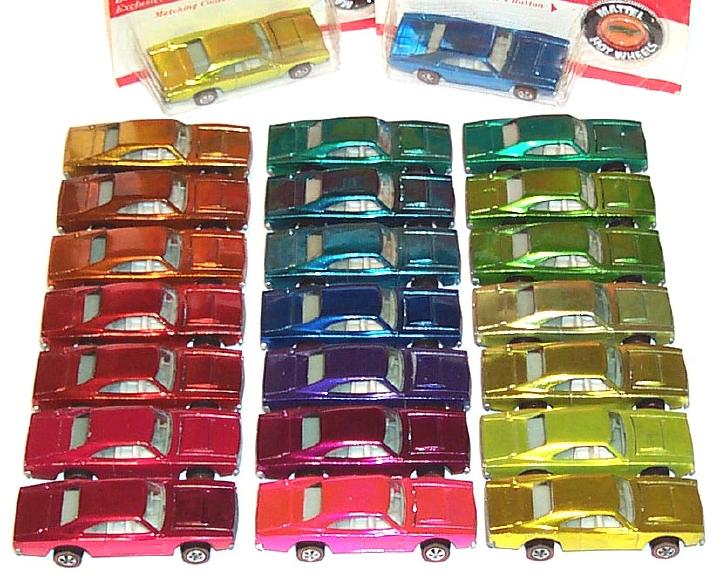 Kevin Schofield's awesome Custom Charger collection!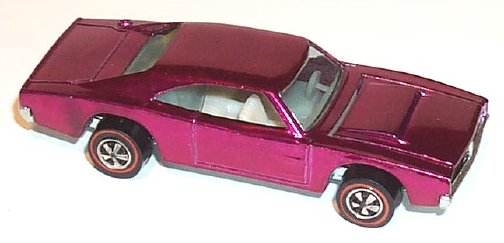 A magenta Custom Charger.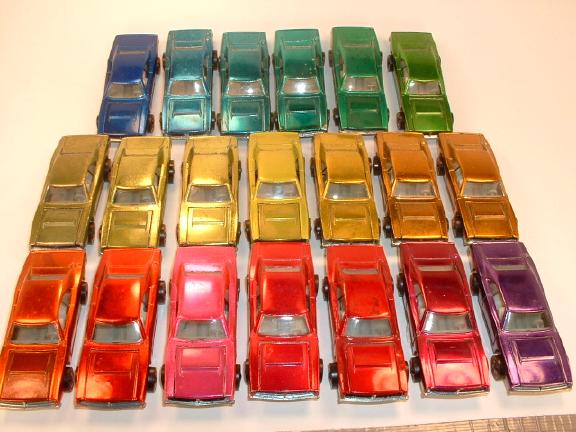 Frank Sura's rainbow of Custom Chargers!
Photo & info credits: Kevin Schofield, Steve Palermo, Frank Sura & Dave Thompson
---



* DISCLAIMER *
Private use of original images is allowed.
Non-profit, non-commercial publication of original images is allowed only with prior expressed written consent from Graymatters.
For other commercial, for-profit or redistribution needs, please contact the site owner. This site is not affiliated with Mattel, Inc.

Questions? ... Send me an e-mail: tngray@nautiloid.net

© 2012 by Graymatters. All Rights Reserved.