Casting : Ford Mark IV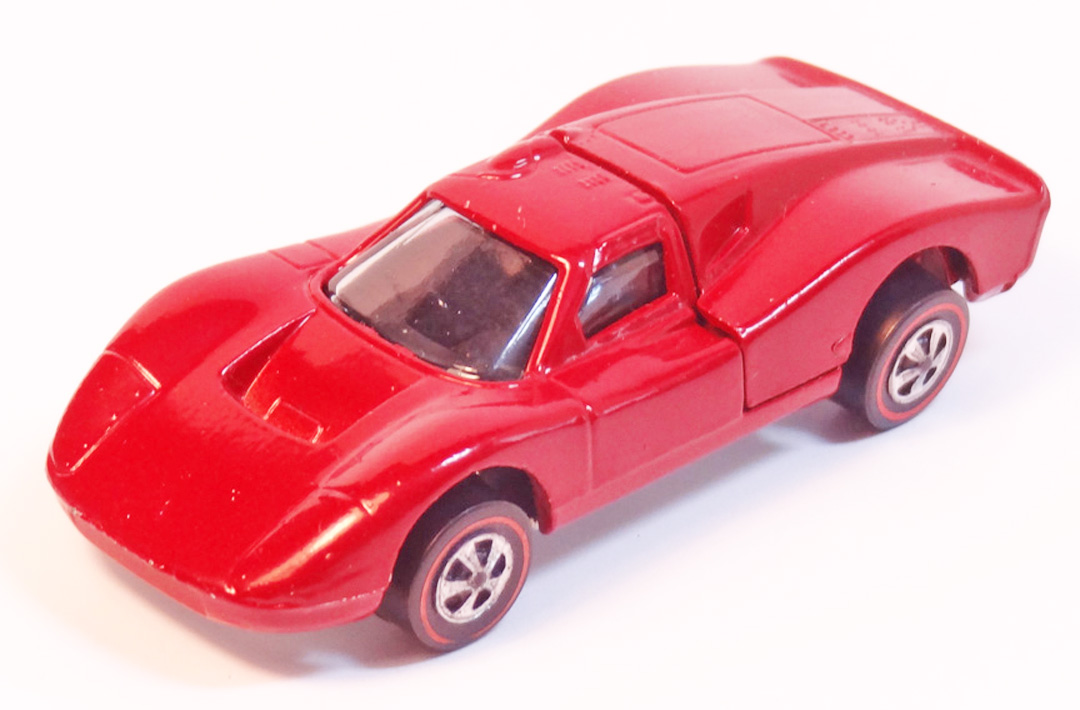 Years of Production:

1969


Country of Origin:

US and Hong Kong


Casting Variations:

The US has minor details that are omitted on the HK body
The base on the HK version has four rectangular holes in it
The HK Casting can be found with the body lines inverted
The travel stop for the rear hatch and engine details show variations


Paint Colors and Variations:


| | |
| --- | --- |
| US COLORS: | COMMENTS: |
| red enamel | common |
| brown | common |
| gold | common |
| lime | common |
| olive | common |
| orange | common |
| rose | common |
| light blue | hard to find |
| purple | uncommon |
| aqua | hard to find |
| blue | hard to find |
| red | very hard to find |
| green | very hard to find |
| | |
| HK COLORS: | |
| blue | common |
| red | common |
| green | uncommon |
| red enamel | hard to find |
| aqua | very hard to find |
| orange | rare |


Interior Colors:

Black
US has clear glass US, HK has blue glass

History:

The inspiration behind the Mk IV was the Ford GT40 Mark IV, a car with a fascinating history! It was essentially the culmination of Henry Ford's determined effort to defeat Enzo Ferrari on the race track after a failed bid to acquire Ferrari's company. The 427-powered Ford GT40 Mark IIs were wildly successful, and pulled off a 1-2-3 finish at the 24 Hours of Le Mans in 1966. However, the Mark II was a heavy car and Ferrari was pulling out all the stops for 1967 in an effort to reclaim it's racing crown. By way of the J-Car program, the Ford team developed a lightweight aluminum chassis that became the basis of the new Mark IV cars. The first Mark IV made it's debut in 1967 at Sebring, where co-drivers Mario Andretti and Bruce McLaren took the checkered flag. On the basis of this victory, Ford prepared three more Mark IVs for Le Mans: the most important race of the season. Ferrari countered with eight prototypes, including three light and fast 330 P4s. The race was a classic battle! At 3:30 AM, Andretti's Mark IV spun out, causing a rash of accidents. But the red #1 Mark IV - driven by Dan Gurney and A.J. Foyt - held the lead through the accident and outran three Ferraris to the finish. The Mark IV never raced again. Ford had beaten Ferrari at Le Mans twice, and apparently that was good enough for the man.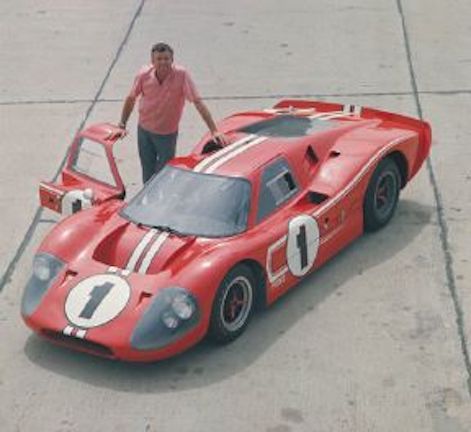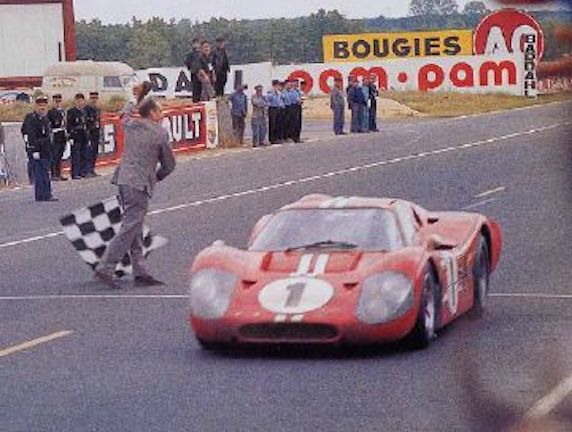 The Ford GT40 Mark IV, at left with Carroll Shelby, and taking the checkered flag at the 1967 24 Hours of Le Mans with Dan Gurney behind the wheel


Mattel's Ford Mk IV featured a rear hatch that opened to show a detailed engine, and racing stripes and numbers similar to those on the '67 Le Mans winner were included on a sticker sheet. The Mk IV was produced in various Spectraflame colors, as well as in red enamel. Mk IVs were made at both the US and HK plants.

Like some of the other Grand Prix castings, the Mk IV casting appears to have been re-worked a few times to improve the rear hatch. Variations can be found with and without a stop peg to keep the hatch from fully opening. On some of these variations, engine and transmission details also were changed. US cars featured a clear windshield and a black interior. Like all 1969 Grand Prix cars, the Mk IV can be found in most of the first generation colors with the exception of creamy pink and antifreeze. However Mk IVs in second generation colors are for some reason, fleetingly rare. A couple of yellow Mk IVs have been spotted, but Mk IVs in magenta, light green and hot pink are not believed to exist. Most "yellow" Mk IVs turn out to be lime rather than true yellow.



A very rare US yellow Ford Mk IV


Yellow/Lime Ford Mk IVs



While yellow Ford Mk IVs are among the most rare redline cars, US red enamel Mk IVs may be the most common! One reason is thatred enamel Mk IVs were not only sold as part of the Grand Prix series, but also were one of the promotional cars packaged in laundry detergent!


A promotional US red enamel Mk IV from a detergent box


Ford Mark IV in typical Gran Prix Blister Pack


HK Ford Mk IVs differ from US cars in that they have blue-tinted windshields, chrome rather than silver wheel trim, and a different base (four square openings). At least two HK casting variations exist for the Mk IV: one with raised features (e.g. headlights, doorlines) and one with recessed features. The recessed features variation seems slightly more common. Only six HK colors have been seen for the Mk IV, with orange, aqua and red enamel the hardest to find. Most blue and red Mk IVs are HK-produced, with a frequency of around 100:1 relative to their US counterparts. Unlike the other Grand Prix cars, the HK printed sticker sheets for the Mk IV had a different racing number (#5) than did the US sheets. However, not all HK cars were packaged with HK sheets! Therefore, the #5 sheets are quite a bit more scarce.





Differences between HK (Top) and US (Bottom) Ford Mk IVs


There are a few prototype Ford Mk IVs that have been found. One is a black enamel car that most likely served as a test of the die tool that was used to cast the car. Another Mk IV believed to be a prototype is an orange-red car that was found in the collection of a former Mattel employee.


A pair of prototype Ford Mk IVs
Ford Mark IV in typical Gran Prix Blister Pack
HK Ford Mark IVs


US Ford Mark IVs




Credits:

Photos and text by Rick Wilson




---



* DISCLAIMER *
Private use of original images is allowed.
Non-profit, non-commercial publication of original images is allowed only with prior expressed written consent from Graymatters.
For other commercial, for-profit or redistribution needs, please contact the site owner. This site is not affiliated with Mattel, Inc.

Questions? ... Send me an e-mail: tngray@nautiloid.net

© 2013 by Graymatters. All Rights Reserved.