Casting : Indy Eagle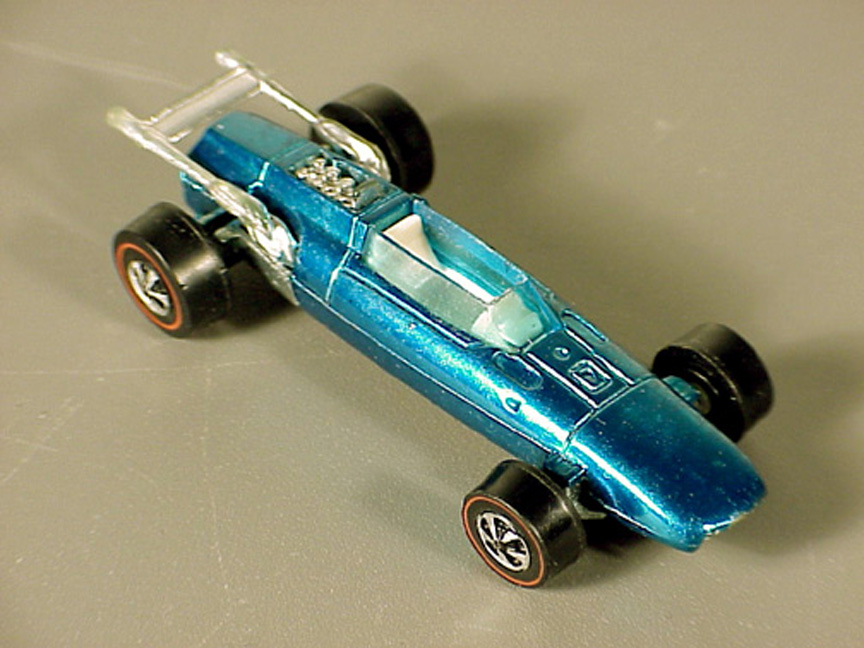 Years of Production:

1969-1971


Country of Origin:

Hong Kong


Casting Variations:

None Known


Paint Colors and Variations:

The Indy Eagle came in more than 10 different colors.
Blue glass on all production releases
Clear glass only on pre-production


Interior Colors:

The Indy Eagle can be found with three (3) different colored interiors.
Black is common
Champagne is uncommon
White is somewhat rare and can be found in a few colors

Color Chart

Coming soon!



Comments:

The Indy Eagle was one of four open-wheel Indy cars released in 1969 as part of the new Grand Prix Series.
In the common colors, the Indy Eagle is easy to find. Good condition loose cars can be had for under $25.

Hot Wheels Indy Eagle is a pretty good replica of the #48 Ford-Weslake Indy Eagle that was driven by rookie driver Jochen Rindt in the 1967 Indianapolis 500.
It is curious that the Mattel designer chose Rindt's #48 car as the model, rather than the #69 car of Denny Hulme.
Hulme's Eagle finished 4th behind A.J. Foyt's winning Ford-Coyote, while Rindt finished 24th, having retired on lap 108 with a broken valve.
Indy-Eagles were designed and built by All American Racing (AAR), a company founded in 1965 by Dan Gurney and Carroll Shelby with the financial
backing of the Goodyear Tire and Rubber Co.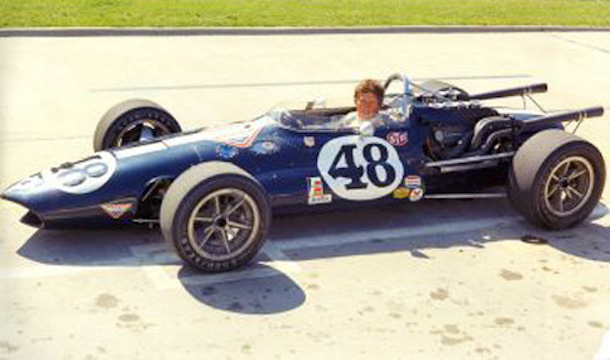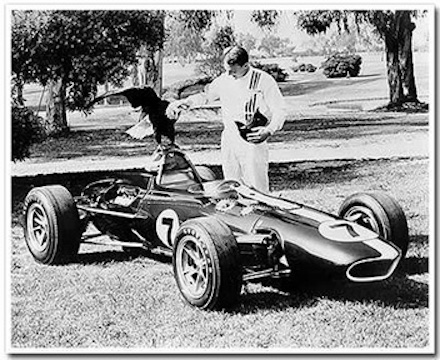 Jochen Rindt at the wheel of his 1967 Indy Eagle (L) ---- (R) Dan Gurney with a couple of Eagles, c. 1966


The cars that AAR built in the mid to late '60s were characterized by a "beak" at the front of the car, hence the name "Eagle".
During the late '60s, Eagles raced on both sides of the Atlantic, with Dan Gurney driving one to victory in the 1967 Grand Prix of Belgium.
Gurney's Formula 1 win was the first one by an American since 1921.
The Indy Eagle came in a wide range of spectraflame colors and with three different colored interiors: Black, Champagne and White.
All production pieces have blue tinted windshields. Shelby Turbines are found with both bearing and capped wheels,
and even sometimes even with a mixture of both.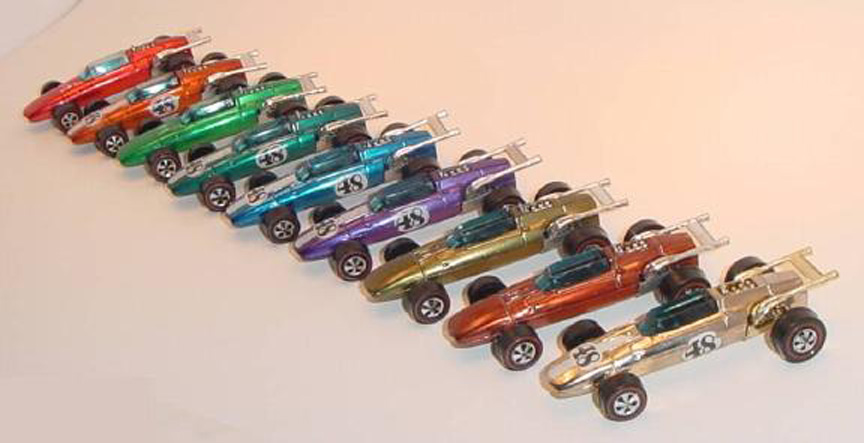 A rainbow of Indy Eagles


As for interior colors, black is by far the most common for all colors.
Champagne is much less common and some collectors will pay a premium for it.


Indy Eagle Interior Colors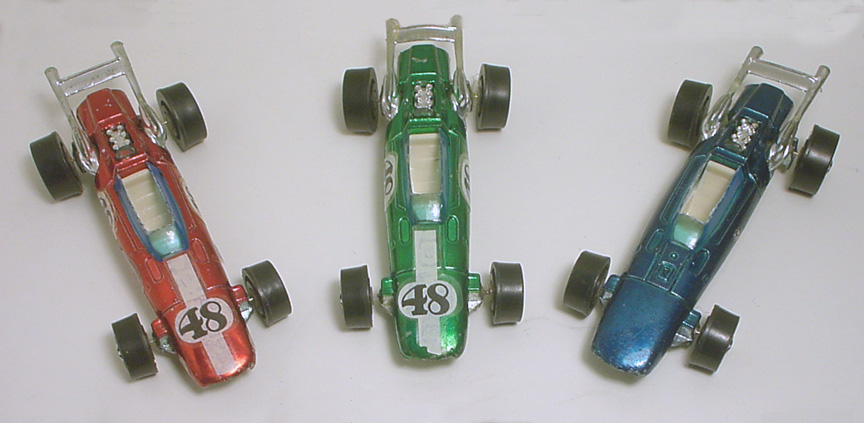 Indy Eagles with White Interior


The Indy Eagle has been found with both black and silver painted bases.
Painted bases are not common and some collectors will pay a premium for it.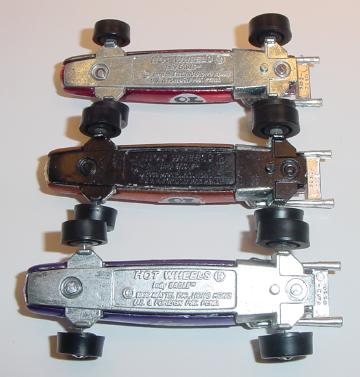 Indy Eagles with Painted Bases


Fuel tanks were developed for all four of the open wheel cars in an attempt to adapt the cars for use with
the "superchargers" however, they were never released to the public. The tanks for the Eagle are extremely rare.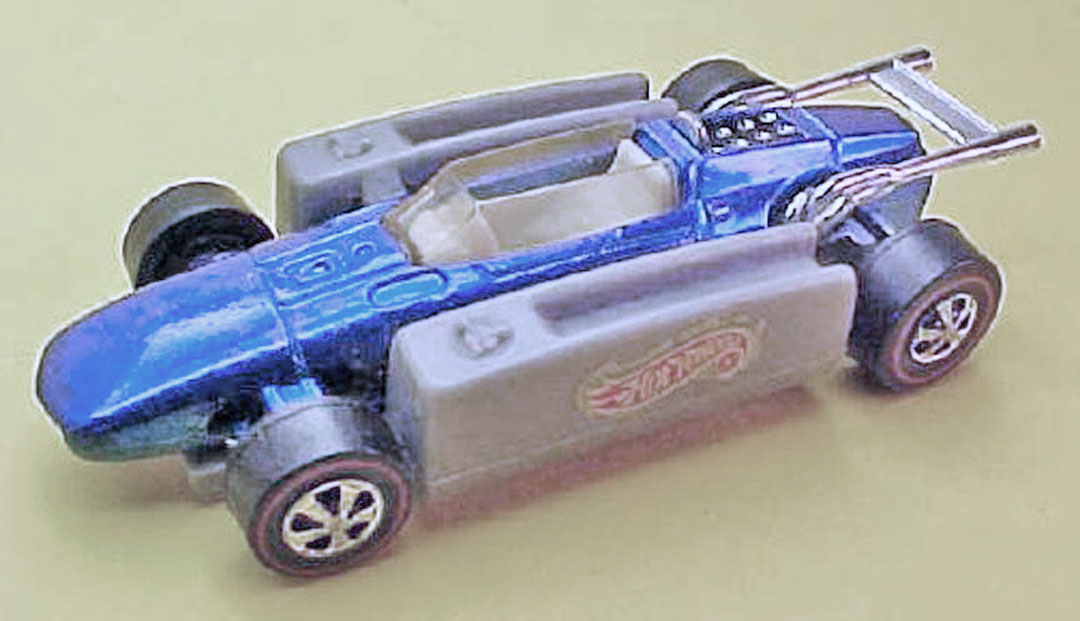 Indy Eagle with authentic tanks


A few prototypes are known, the most common by far, the blue spectraflame version.
Others include one in red, one in purple and one in pink. All Indy Eagle prototypes have clear windshields.


Indy Eagle prototype
---



* DISCLAIMER *
Private use of original images is allowed.
Non-profit, non-commercial publication of original images is allowed only with prior expressed written consent from Graymatters.
For other commercial, for-profit or redistribution needs, please contact the site owner. This site is not affiliated with Mattel, Inc.

Questions? ... Send me an e-mail: tngray@nautiloid.net

© 2012 by Graymatters. All Rights Reserved.