Casting : Lotus Turbine




Years of Production:

1969-1971


Country of Origin:

Hong Kong


Casting Variations:

None Known


Paint Colors and Variations:

The Lotus Turbine came in more than 10 different colors.
Blue glass on all production releases
Clear glass only on pre-production


Interior Colors:

The Lotus Turbine can be found with three (3) different colored interiors.
Black is common
Champagne is uncommon
White is rare


| | | | |
| --- | --- | --- | --- |
| COLOR | BLACK | CHAMPAGNE | WHITE |
| Aqua | Common | Uncommon | Rare |
| Blue | Common | Uncommon | - |
| Light Blue | Rare | - | - |
| Green | Common | Uncommon | Rare |
| Red | Common | Uncommon | Rare |
| Brick Red | Uncommon | - | - |
| Rose | Uncommon | - | - |
| Orange | Common | Uncommon | - |
| Burnt Orange | Uncommon | HFT | Rare |
| Brown | Common | - | - |
| Copper | Uncommon | Rare | - |
| Olive | Uncommon | - | - |
| Purple | Common | Uncommon | Rare |




Comments:

The Lotus Turbine is a very common casting. Even today, after 40 + years, a Lotus Turbine in the original package can be purchased for under $75 .
Hot Wheels Lotus Turbine is modeled after the cars that Andy Granatelli's STP team raced at Indianapolis in 1968.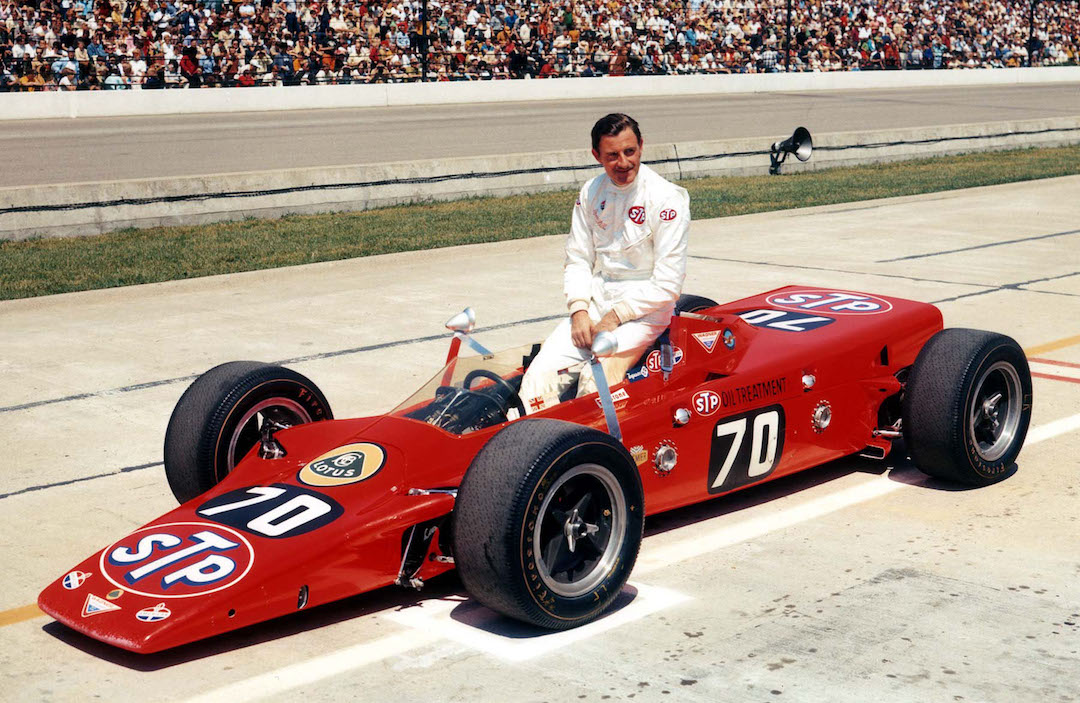 Graham Hill in the #70

The #70 car, driven by Graham Hill, was one of three bright orange Lotus Turbines that started the race (a fourth Lotus
Turbine was destroyed in a pre-race crash that took the life of driver Mike Spence).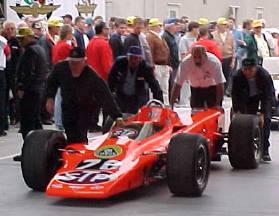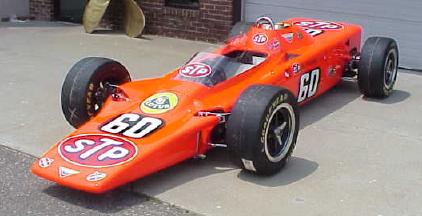 The three STP Lotus Turbines that ran in the 1968 Indianapolis 500

Powered by Pratt & Whitney turbine engines, the Lotus cars were amazingly fast.
Joe Leonard captured the pole position in the #60 Lotus Turbine with a then-record speed of 171.559 mph.
Hill started the race from the second position. All three cars were running near the front, but Hill crashed on lap 110.
Leonard was leading the race with nine laps remaining when a fuel shaft broke and forced him to retire.
Amazingly, Art Pollard's #20 Lotus Turbine also had suffered a broken fuel shaft three laps earlier.
The three STP cars finished in 12th, 13th and 19th places in the race won by Bobby Unser.


The Lotus came in a wide range of spectraflame colors and with three different colored interiors: Black, Champagne and White.
All production pieces have blue tinted windshields. Lotus Turbines are found with both bearing and capped wheels,
and even sometimes even with a mixture of both.




A rainbow of Lotus Turbines


As for interior colors, black is by far the most common for all colors.
Champagne is much less common and some collectors will pay a premium for it.


Lotus Turbines with champagne interior


Lotus Turbines with white interior, four of the five known colors


Another variation with the Lotus is the painted base. Most common is the black painted base which is found on a few colors.
Silver painted bases are known but only from a few examples, typically from Europe.
Specialty collectors may pay a premium for a painted base.




Lotus Turbine with silver painted base


Fuel tanks were developed for all four of the open wheel cars in an attempt to adapt the cars for use with
the "superchargers" however, they were never released to the public. Reproductions abound but authentic
original Lotus tanks are very rare, with less than 5 known.




Lotus Turbine with authentic tanks


In 1969, Mattel hosted a banquet at the 1969 NY Toy Fair. Each place setting had a chromed car with the silverware.
Five chromed cars are known to have survived, and this is the only Lotus Turbine.




Lotus Turbine 1969 Toy Fair Dinner Car


A few prototypes are known, the most common by far, the orange enamel version.
Others include one in purple and the red one shown below. All Lotus Turbine prototype have clear windshields.


The actual Lotus Turbine pictured in the 1970 Catalog
Lotus Turbine prototype in red, only 1 known
Lotus Turbine prototype in purple
---



* DISCLAIMER *
Private use of original images is allowed.
Non-profit, non-commercial publication of original images is allowed only with prior expressed written consent from Graymatters.
For other commercial, for-profit or redistribution needs, please contact the site owner. This site is not affiliated with Mattel, Inc.

Questions? ... Send me an e-mail: tngray@nautiloid.net

© 2012 by Graymatters. All Rights Reserved.