Casting : McLaren M6A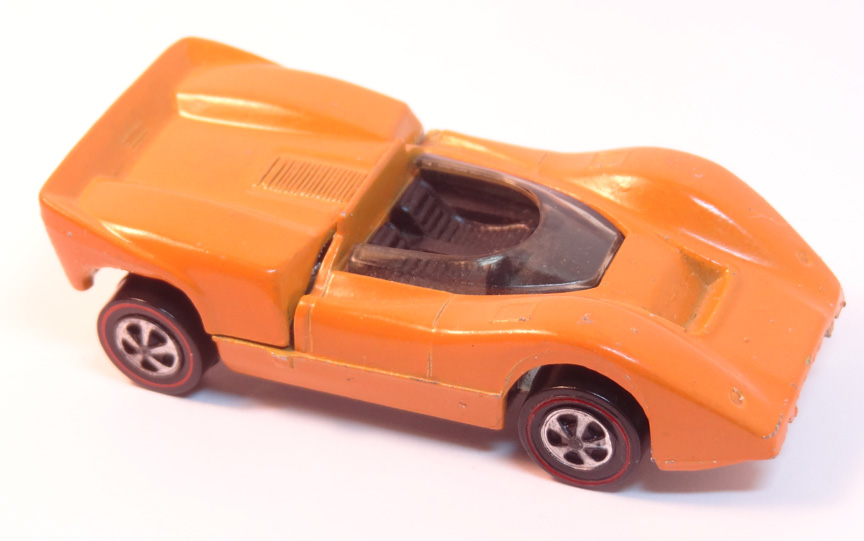 Years of Production:

1969


Country of Origin:

US and Hong Kong


Casting Variations:

The base on the HK version has four rectangular holes
The vents on the front fenders are missin on the HK version


Interior Colors:

Black is normal, Brown is rare
US has clear glass US, HK has blue glass


Paint Colors and Variations:


| | |
| --- | --- |
| US COLORS: | COMMENTS: |
| green | common |
| aqua | common |
| brown | common |
| orange enamel | common |
| red | |
| orange | |
| gold | |
| antifreeze | |
| blue | |
| purple | |
| rose | |
| olive | |
| light blue | |
| yellow | hard to find |
| lime | hard to find |
| magenta | hard to find |
| light green | hard to find |
| creamy pink | rare |
| | |
| HK COLORS: | |
| red | common |
| blue | common |
| green | common |
| aqua | |
| orange | hard to find |
| olive | rare |
| red enamel | rare |



History:

The real McLaren M6A was one of many great designed, built and raced by Bruce McLaren in the 1960s. The M6A in particular enjoyed great success on the CanAm and USRRC circuits in 1967. McLaren himself drove an M6A to the 1967 CanAm Championship, with Denny Hulme finishing 2nd in another M6A. In 1968, Mark Donohue won the USRRC championship in a McLaren M6A. McLarens dominated that series, winning six of the nine races against tough competition from Lola.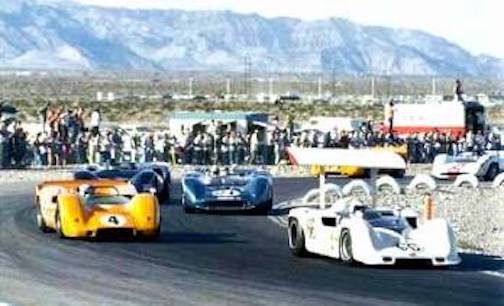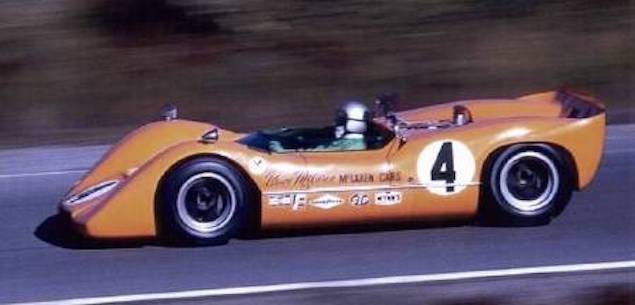 At left, it's McLaren, Lola and Chaparral at the Stardust G.P.; at right Bruce McLaren in an M6A.


The Hot Wheels version of the McLaren M6A featured a rear hatch that opened to show a detailed engine. A sticker sheet with Bruce McLaren's signature "4" racing numbers was included in the blister pack. The McLaren M6A was produced in various Spectraflame colors, as well as in orange enamel like the real car. McLarens were produced at both the US and HK plants. As with other Grand Prix cars, early production versions of the McLaren had a rear hatch that opened all the way, often resulting in damage to the hinge. On later versions, a stop peg was added to prevent the hatch from opening to the point of stressing the hinge. US cars had a clear windshield and a black interior.

A few US McLarens have been found with brown interiors. Unlike the other 1969 Grand Prix cars, the McLaren can be found in all of the first generation Spectraflame colors, and all of the second generation colors with the exception of hot pink. For some unknown reason, McLarens can be also found in several intermediate colors such as light purple, yellow-orange, medium blue, etc.


Four tough US McLarens: (L to R) yellow, light green, magenta and creamy pink


US vs. Hong Kong Castings


HK McLarens differ from US cars in that they have blue-tinted windshields, chrome rather than silver wheel trim, and a different base (four square openings). On the body, the vents on the front fenders are omitted on the HK casting. They are common in red, green and blue but orange enamel HK McLarens have not been seen. This is odd, given that all of the other Grand Prix cars that were produced in an enamel color had US and HK counterparts. Instead, it seems that the HK plant produced a relatively small number of red enamel McLarens and at least one in dark green enamel.

This rare car, pictured below, appears to have originally been Spectraflame blue but was repainted at the factory before assembly.


A rare and beautiful HK orange McLaren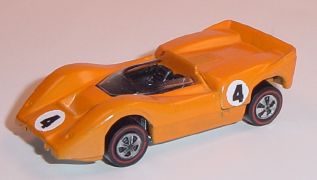 The McLaren M6A in orange enamel(L) and Spectraflame rose (R)
Another tough HK McLaren: olive!
One-of-a-kind: a green enamel HK McLaren M6A


From the Ken McLaren collection: not one but two rare red enamel HK cars!



A few rare unpainted prototype McLarens have been discovered. Note the painted highlights on the engine.


Orange enamel McLaren in blister pack
Purple McLaren in a non-Grand Prix Series blister pack!
A Japanese issue blister pack with a blue McLaren
A cornucopia of McLaren blisterpacks!
A complete US McLaren rainbow
A most impressive group: Ken McLaren's HK McLarens!


Three amazing enamel McLarens: a red HK and an orange with brown interior flank a green paint test car that came from a former Mattel employee!


Credits:

Photos and text by Rick Wilson




---



* DISCLAIMER *
Private use of original images is allowed.
Non-profit, non-commercial publication of original images is allowed only with prior expressed written consent from Graymatters.
For other commercial, for-profit or redistribution needs, please contact the site owner. This site is not affiliated with Mattel, Inc.

Questions? ... Send me an e-mail: tngray@nautiloid.net

© 2013 by Graymatters. All Rights Reserved.