Mercedes-Benz 280 SL (1969)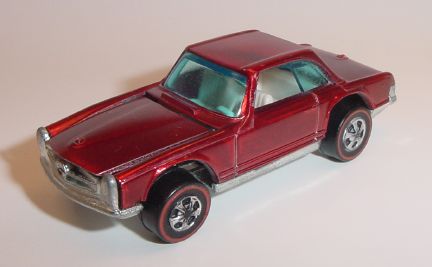 In the late 1960s, nearly every toy car maker had the Mercedes-Benz 280 SL in their product line. Mattel included the 280 SL hardtop version as part of the new European Series in 1969. It was produced only at their HK factory.

From the late '60s: the 280 SL from Mattel, Matchbox, Corgi and Faller.
In March of 1963, Mercedes-Benz introduced the 230 SL sports car as a direct follow-up to the 190 SL and the 300 SL, which had been in the production line since the mid 1950s. The 230 SL was succeeded by the 250 SL which appeared in 1967, and finally by the 280 SL which was introduced in 1968. The car sported a 2.8 litre fuel-injected 6-cylinder engine which produced 170 HP and a top speed of 125 mph. This made the little Mercedes very competitive with the sports cars of Porsche and BMW.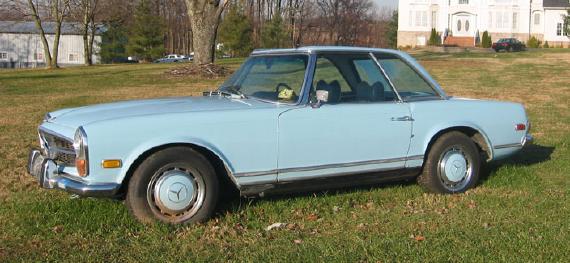 Every 280 SL was delivered with a hardtop which could easily be removed to convert the car to a 2+2 cabriolet. In 1968, a brand new 280 SL sold for 25,000 Deutsche Marks (about $6,250 US). When production ended in 1971, about 24,000 280 SLs had rolled off the assembly line. Many have survived over the years, and the SL is very popular among the lovers of "young-timers" today. Spare parts for restoration are quite expensive, but relatively easy to find.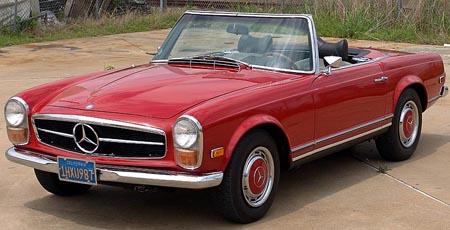 Mattel's version of the 280 SL featured an opening hood over a detailed 6-cylinder engine. The Mercedes "tri-star" symbol can be found on front grill, hood and the rear deck. As always on HK cars, the windows are blue-tinted.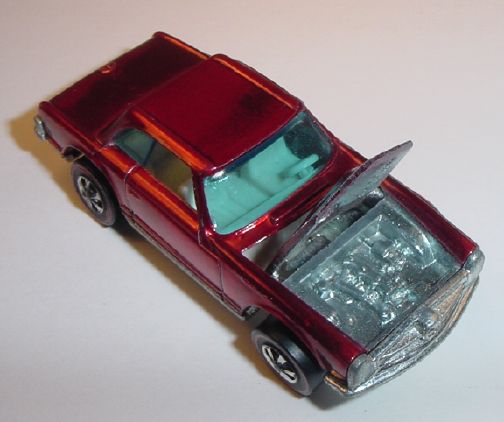 A top view of the Mercedes 280 SL showing the 6-cylinder engine.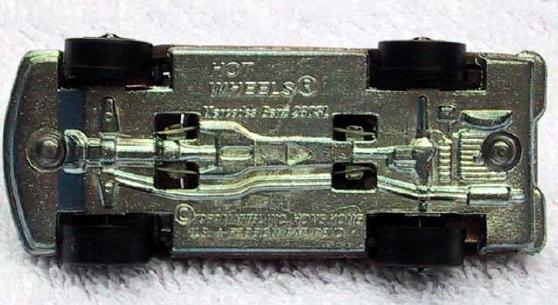 Bottom view of the Mercedes 280 SL.
The 280 SL was issued in various spectraflame colors with white or dark interior. As with other European Series cars such as the Rolls Royce Silver Shadow and the Maserati Mistral, the 280 SL can be found with a black-painted roof although these cars are quite scarce.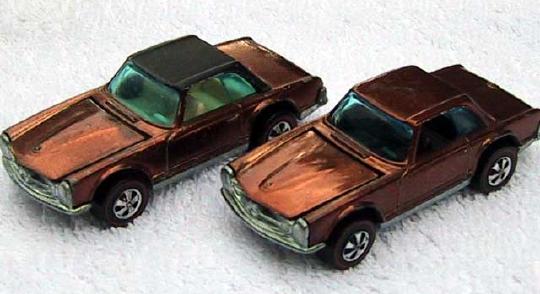 A pair of copper 280 SLs. The car at left features a black roof.
The rectangular tail lights are painted on the bare metal chassis at the rear of the car. Early-run 280 SLs were produced with bearing-style wheels and orange tail lights; late-run cars feature cap-style wheels and red tail lights.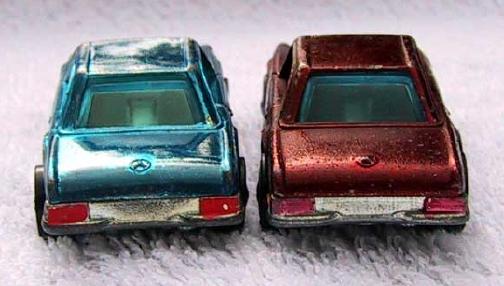 Rear view showing early (left) and later (right) tail light paint.
A few prototype 280 SLs have been found in non-production colors (e.g. gold, antifreeze and unpainted ZAMAC).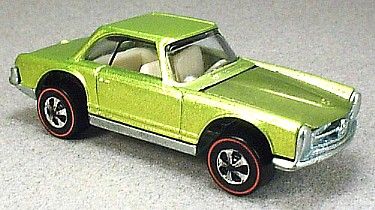 A rare prototype 280 SL in antifreeze with clear windows.
As with its 1:1 counterpart, 1971 was the final production year for the spectraflame version of Mattel's 280 SL. It was reintroduced in 1973 in enamel colors for a single year.
Color chart
| | |
| --- | --- |
| HK COLORS: | COMMENTS: |
| green | common |
| red | common |
| blue | common |
| aqua | common |
| orange | uncommon |
| purple | uncommon |
| copper | uncommon |
| olive | hard to find |
| light blue | very rare if it exists |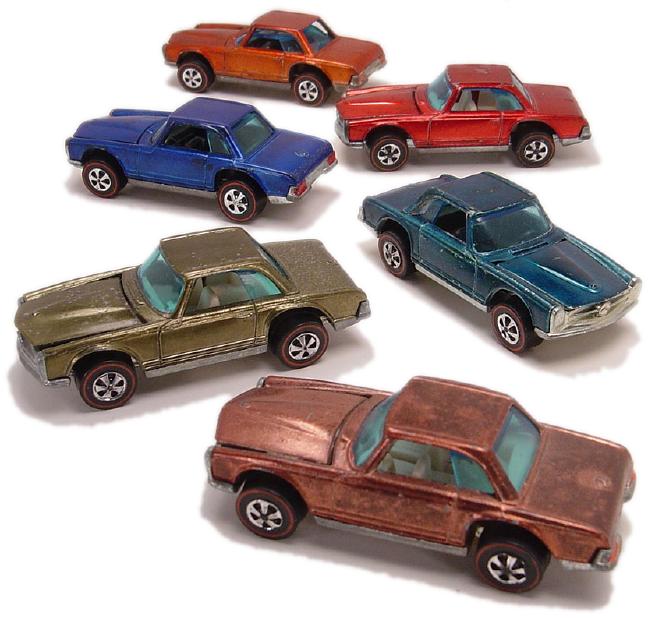 A nice group of spectraflame 280 SLs showing the white and dark interiors.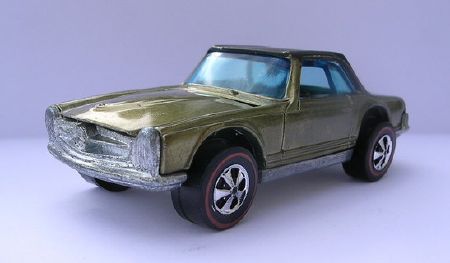 An olive 280 SL with black roof.
Photo & info credits: Werner Heidecke

Additional photo credits: Tom Bielski, Chris Holt, Roy Nakamura, Gary Nabors

---



* DISCLAIMER *
Private use of original images is allowed.
Non-profit, non-commercial publication of original images is allowed only with prior expressed written consent from Graymatters.
For other commercial, for-profit or redistribution needs, please contact the site owner. This site is not affiliated with Mattel, Inc.

Questions? ... Send me an e-mail: tngray@nautiloid.net

© 2012 by Graymatters. All Rights Reserved.