Torero (1969)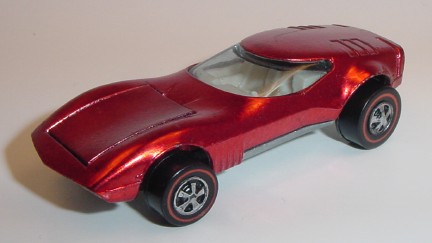 Mattel issued several sleek bodied "concept cars" in 1969, all of which were extremely popular.
The Torero, with its sleek and stylish futuristic appearance was a big hit as evidenced by the sheer
number of these in existence today. The Torero's popularity may be owed to the Corvette, since the
two cars share certain design features.

However, the Torero appears to have been based on the 1968 Dodge Charger Mk III concept car.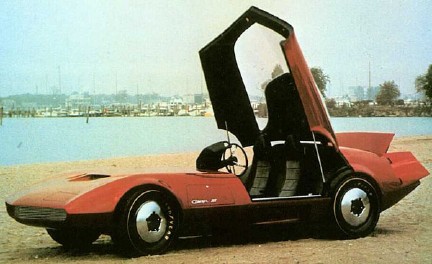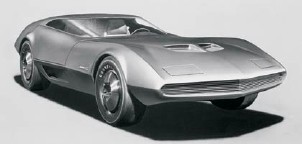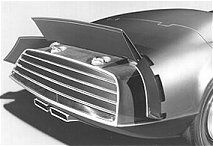 Above: the 1968 Charger Mk III concept car.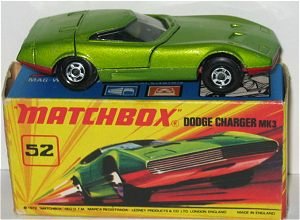 The Matchbox version of the Charger Mk III concept car!
Produced from 1969 - '71, Toreros were only manufactured in the U.S. They came equipped with
standard U.S. clear windshields and either cream or brown interior colors and usually have a red
painted tail light section (excluding spectraflame red and orange cars). Occasionally, one will find
a Torero with custom painted engine vents, but the jury is out on whether these were factory or
"homemade" jobs.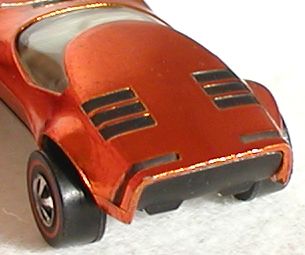 Some Hot Wheels seem to show their spectraflame colors in brilliant fashion, and the Torero is one
of them. With its curvaceous and flowing lines, along with a relatively large painted surface area, the
Torero captures well the brilliance and sparkle of spectraflame paint. The Torero covered the full
spectrum of colors produced by Mattel from 1969 through 1971.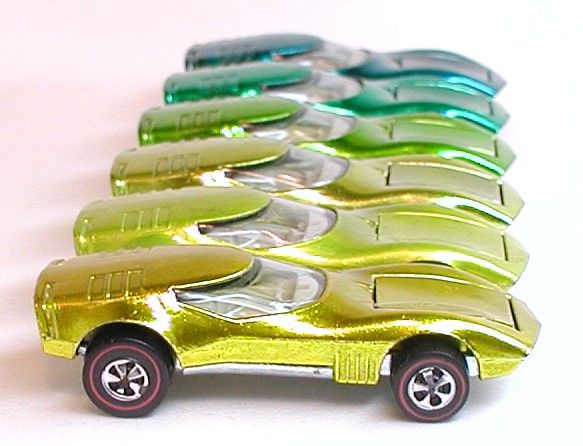 Since it's one of the more common cars seen today, a redline collector is sure to come across plenty
of Toreros on his or her quest. Collectors can surely take advantage of this! One will find that it
doesn't take a large budget to put together a nice looking rainbow of this cool concept car.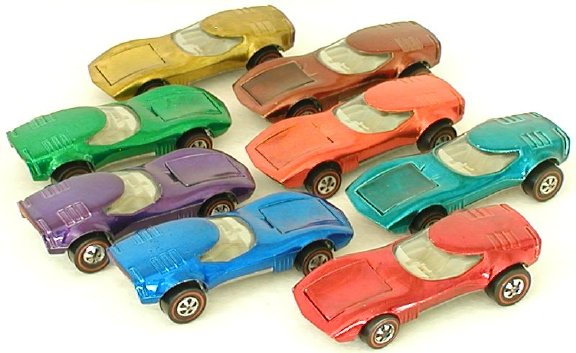 As with all redline castings, some colors of the Torero are much harder to locate and command
higher prices.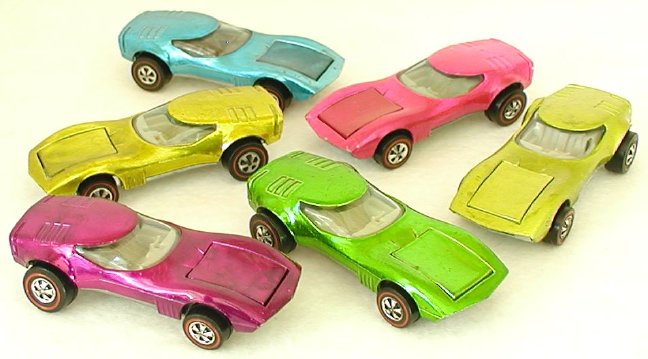 Some Toreros come equipped with later issue cap-style wheels. These wheels tend to be found
on cars painted in second-generation colors (hot pink, apple green, magenta)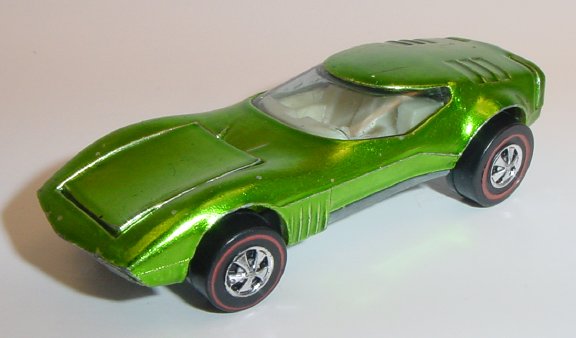 A light ("apple") green Torero with cap-style wheels.
Four known base variations exist on this casting: two early production, one mid production (most
common) and one late production. Only slight modifications were made to the mold, specifically
to the text area box and to the two holes fore and aft of the box. The holes, which served as casting
mounts, were progressively made larger over time. Copyright (C) and registered (R) symbols also
became larger as this was standard practice over all U.S. castings. Late run bases were re-worked to
accommodate the larger (R) and (C), including moving the "1968" slightly to the right as well as
shifting the entire text to the left.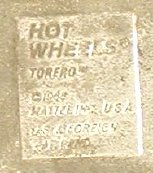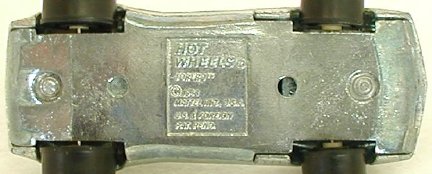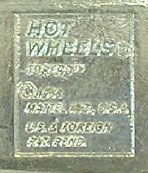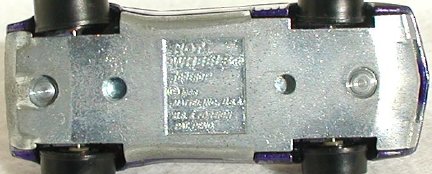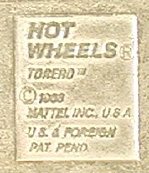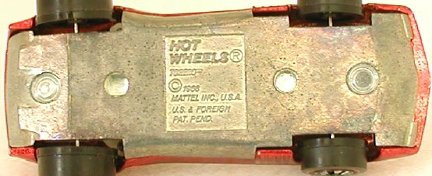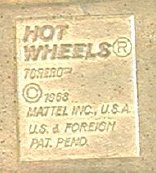 Torero bases (top to bottom): early run base, 2nd early run base, mid run base (common), late run base.
Color chart
| | |
| --- | --- |
| US COLORS: | COMMENTS: |
| blue | common |
| gold | common |
| rose | common |
| red | common |
| lime | common |
| aqua | common |
| green | common |
| orange | common |
| purple | |
| brown | |
| copper | |
| olive | hard-to-find |
| creamy pink | hard-to-find |
| light blue | hard-to-find |
| light ("apple") green | very hard-to-find |
| magenta | very hard-to-find |
| hot pink | very hard-to-find |
| antifreeze | very hard-to-find |
| yellow | rare |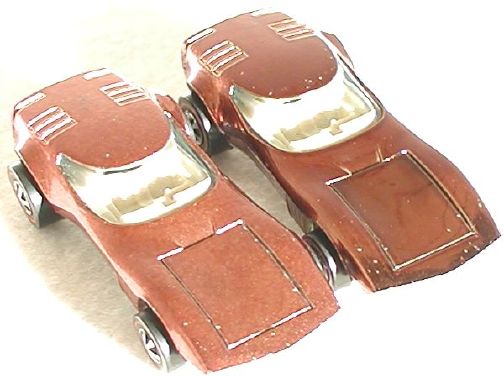 A nice comparison of copper (L) and brown (R).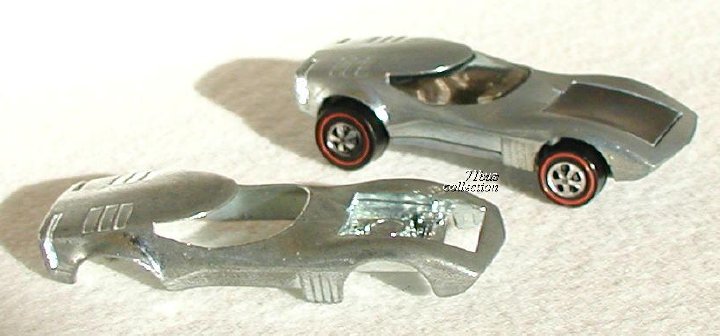 Cary Davis's unspun and unpainted Toreros!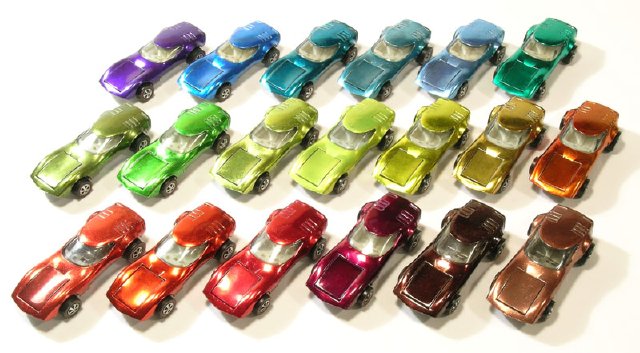 Greg Hathaway's awesome Torero rainbow!
Photo & info credits: Cary Davis & Greg Hathaway



---



* DISCLAIMER *
Private use of original images is allowed.
Non-profit, non-commercial publication of original images is allowed only with prior expressed written consent from Graymatters.
For other commercial, for-profit or redistribution needs, please contact the site owner. This site is not affiliated with Mattel, Inc.

Questions? ... Send me an e-mail: tngray@nautiloid.net

© 2012 by Graymatters. All Rights Reserved.