Casting : Carabo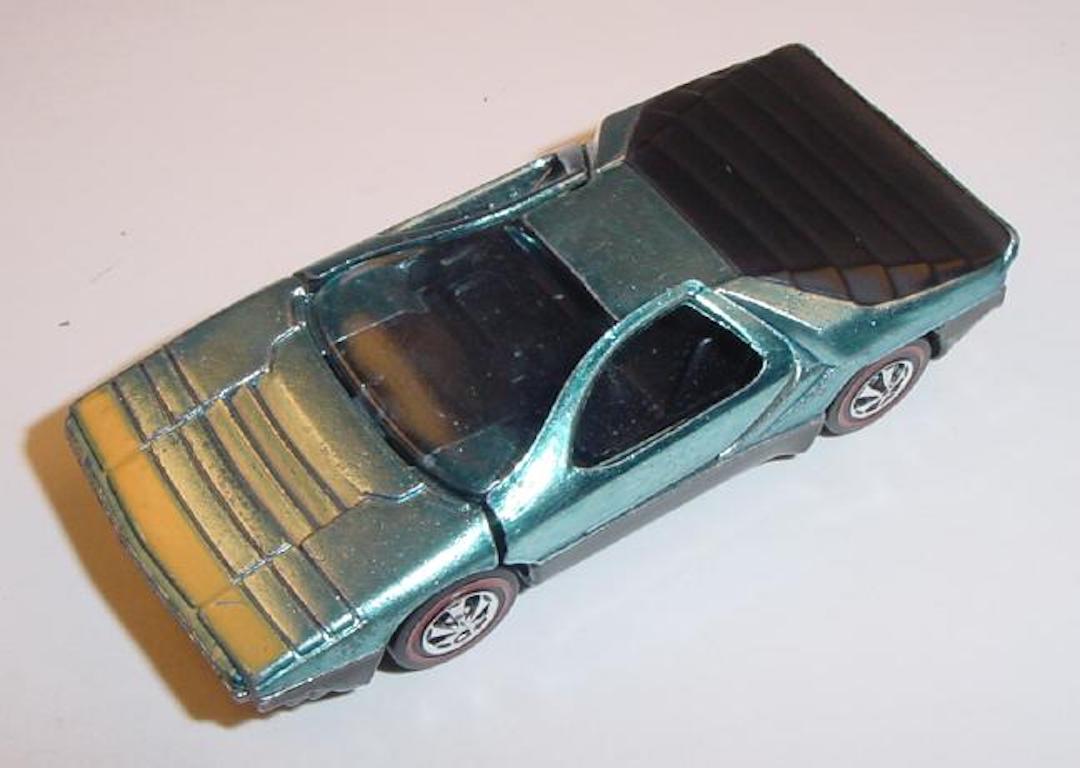 Years of Production:

1970-1971


Country of Origin:

US and Hong Kong


Casting Variations:

None Known


Interior and Glass Colors:

US
* Black Interior
* Clear Glass

HK
Brown or White Interior
Blue Glass

Paint Colors and Variations:


| | | |
| --- | --- | --- |
| Black/Brown Interior | US | HK |
| Aqua | - | Hard to Find |
| Blue | Common | Common |
| Light Blue | Rare | - |
| Green | Common | Common |
| Light Green | Common | Common |
| Magenta | Common | Common |
| Hot Pink | Uncommon | - |
| Red | Hard to Find | Common |
| Rose Red | Common | - |
| Yellow | Common | Uncommon |
| | | |
| --- | --- | --- |
| White Interior | US | HK |
| Aqua | - | Rare |
| Blue | - | Hard to Find |
| Green | - | Rare |
| Light Green | Pre-Pro? | - |
| Magenta | - | Hard to Find |
| Red | - | Rare |
| Rose Red | Pre-Pro? | - |
| Yellow | Pre-Pro? | - |


Other versions of same Casting:

1973 CIPSA Carabo
1974 Flying Colors Carabo



Discussion:

The Carabo, released in 1970. Although a European design, it was not part of the "European Series" that came on a special blister pack card.





Carabo

Designed by Bertone for Alfa Romeo, the Carabo concept car was unveiled at the 1968 Paris Mondial de L'Automobile. Built on the venerable Alfa Romeo 33 chassis,
the Carabo was a big hit with the automotive press because of its beautifully tapered lines, seamless windscreen and air vents, and the original "scissor" door
mechanism that was later used on several Lamborghini models. The Carabo featured a centrally-mounted 2 litre V-8 engine and was capable of speeds upwards of 155 mph.
The color of the car was novel too: an iridescent green reminiscent of a scarab beetle's shell, which is where Carabo gets its name ("Carabo" is the Italian translation
of "Scarabaeus"). The glass used for the Carabo was copper-tinted, further emphasizing the color motif.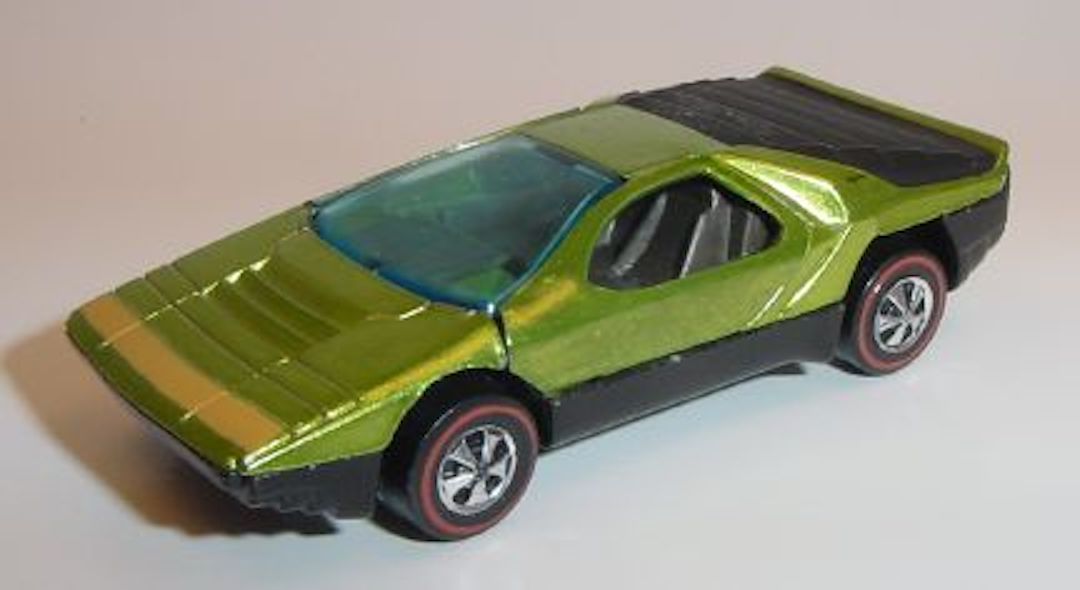 Carabo

The Hot Wheels rendition of the Carabo (pronounced "cah-RAH-bo") was designed by Ira Gilford and released as part of the
1970 Hot Wheels line-up. The casting featured opening "scissor" doors, flat black painted rear engine louvers, and mated a
spectraflame painted body with a gloss black enamel base. A fluorescent orange stripe is painted across the front of the car.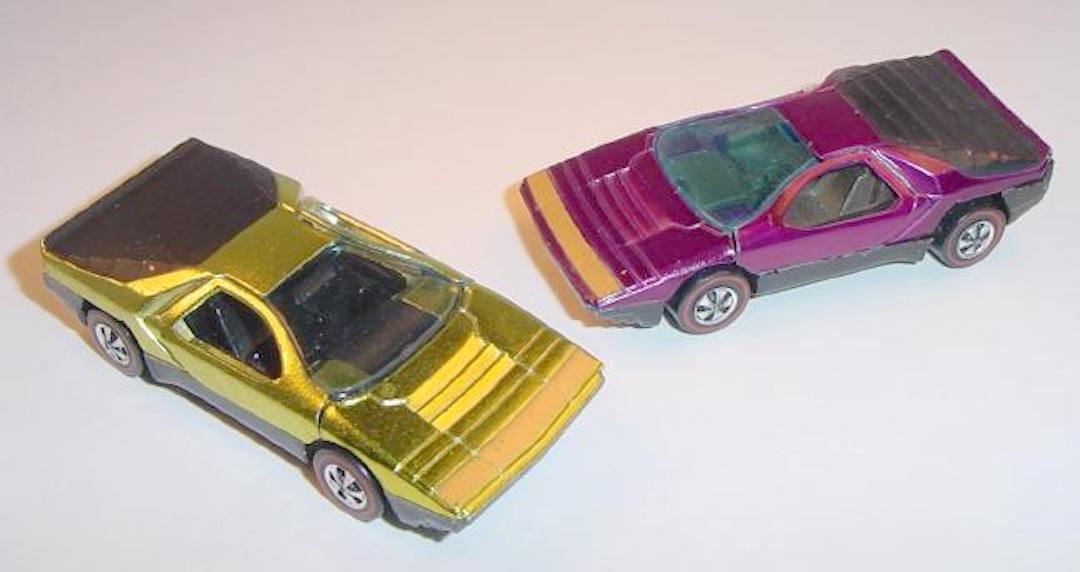 Carabo : US vs. Hong Kong

There are no notable casting differences between the US and Hong Kong versions of the Carabo. The US-made Carabos feature clear windscreen glass and a black
interior. HK Carabos have blue-tinted windscreens and brown or, the less common, white interiors. All Carabos feature medium-size cap-style wheels front and rear.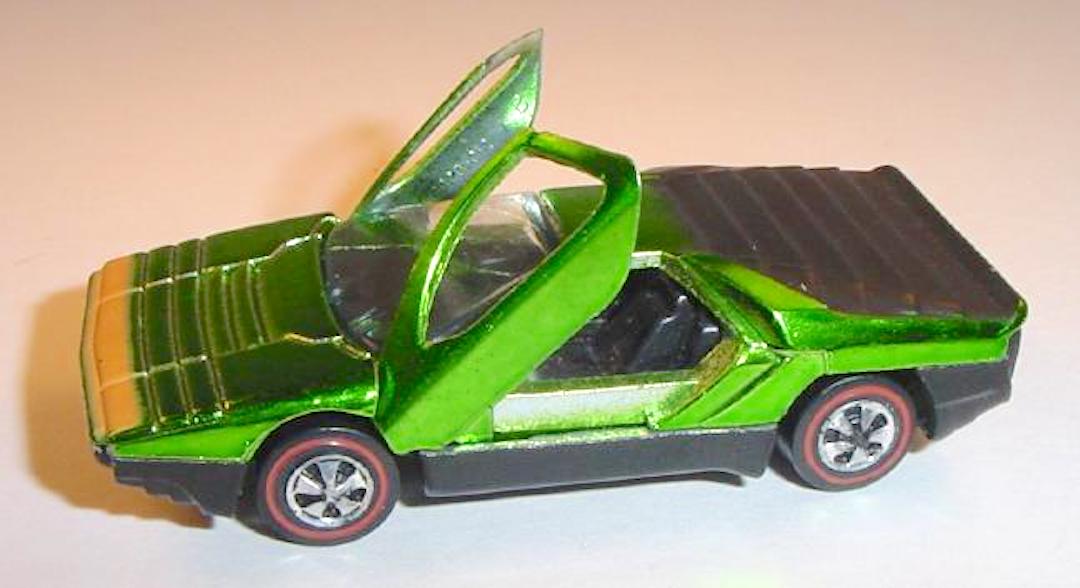 A light green US Carabo with doors up!

The "scissor" doors are sturdy but should be handled with care as they can break under rough handling. The large windscreen also is prone to cracking or breaking.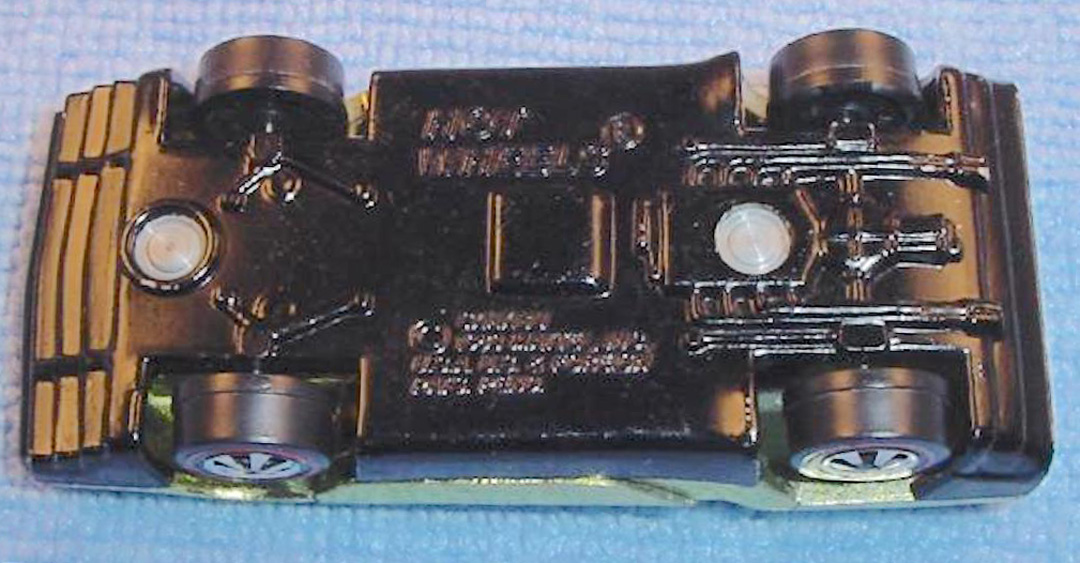 Base of the Carabo

The base of the Carabo is painted a gloss black. Very few Hot Wheels have painted bases.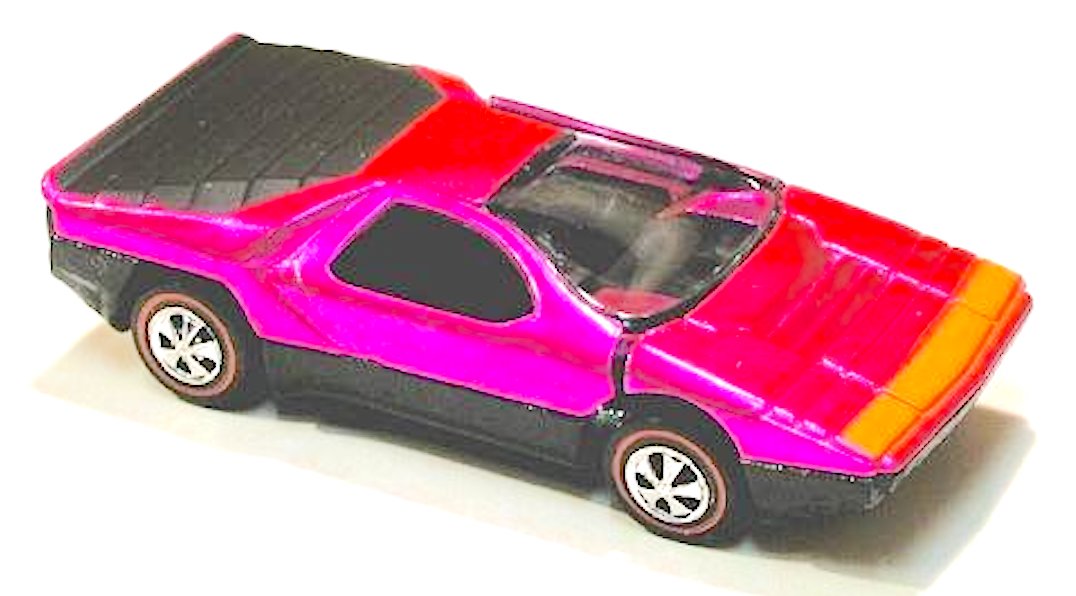 Carabo in Hot Pink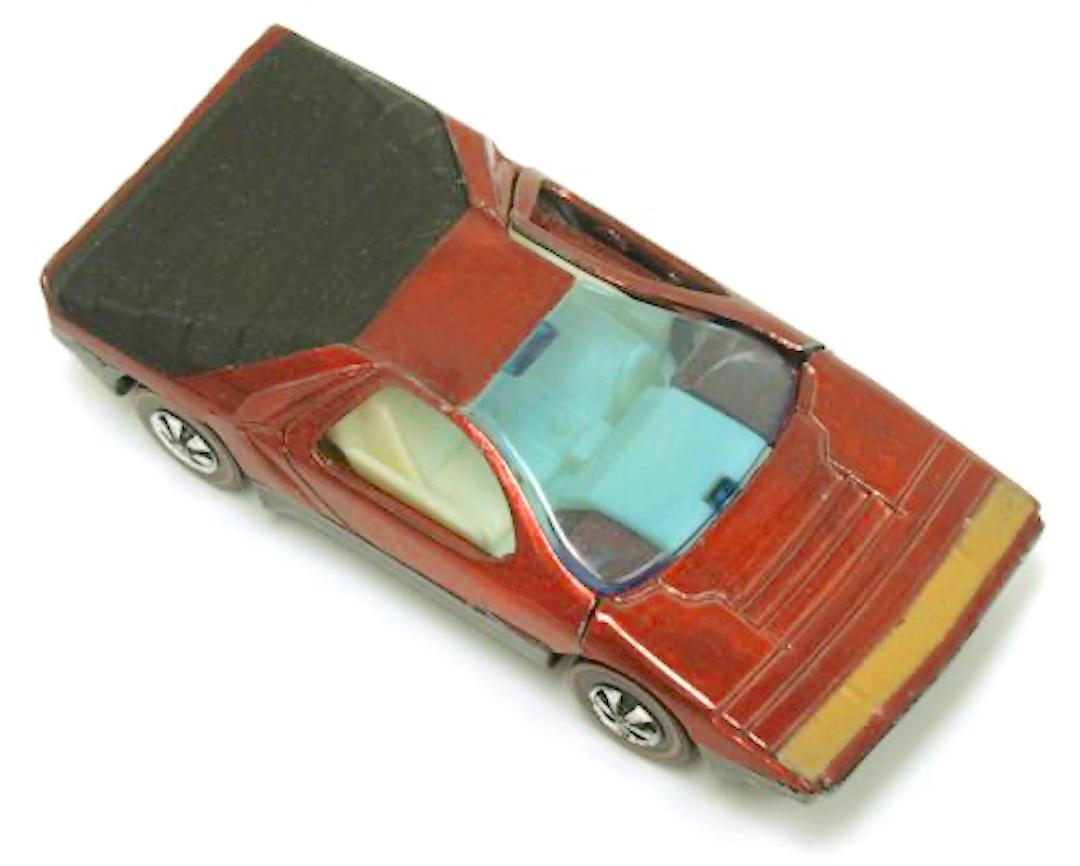 Carabo in Red with Uncommon White Interior

Among production Carabos, the white interior is found only on the HK version.White interiors are not common and draw a premium among collectors.
US Carabos with white interior are quite rare and are believed by most collectors to be pre-production models.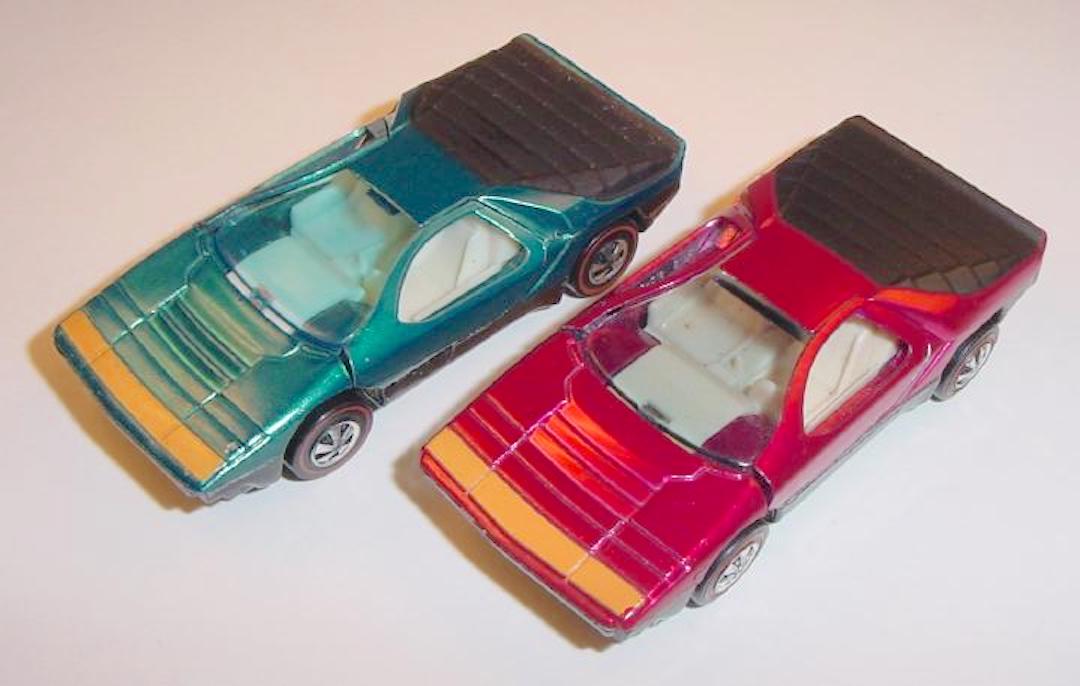 Rare white interior Carabos, Aqua HK (L) and Rose US (R)

A rainbow of Carabos! That's a light blue Carabo in the blister pack.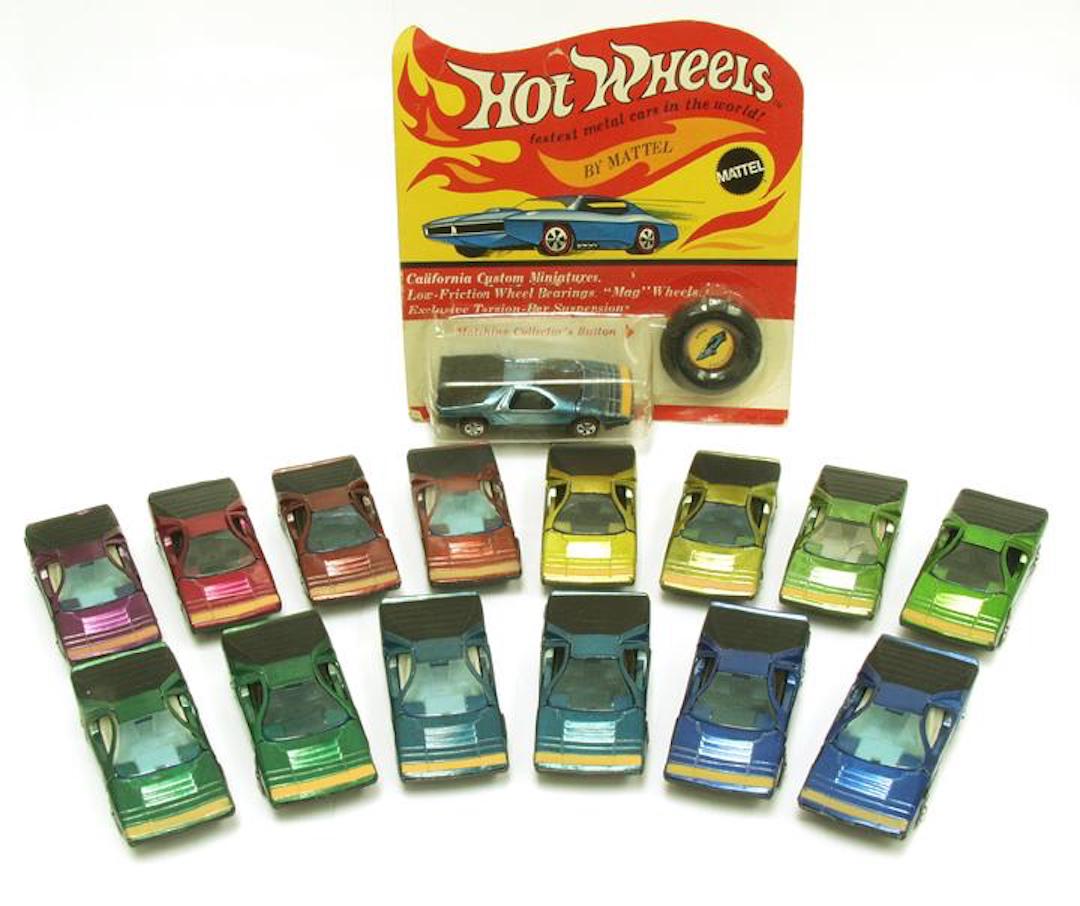 Carabo Group



Photos and info credits: Ken Niles and Rick Wilson



---



* DISCLAIMER *
Private use of original images is allowed.
Non-profit, non-commercial publication of original images is allowed only with prior expressed written consent from Graymatters.
For other commercial, for-profit or redistribution needs, please contact the site owner. This site is not affiliated with Mattel, Inc.

Questions? ... Send me an e-mail: tngray@nautiloid.net

© 2012 by Graymatters. All Rights Reserved.