Casting : Classic Cord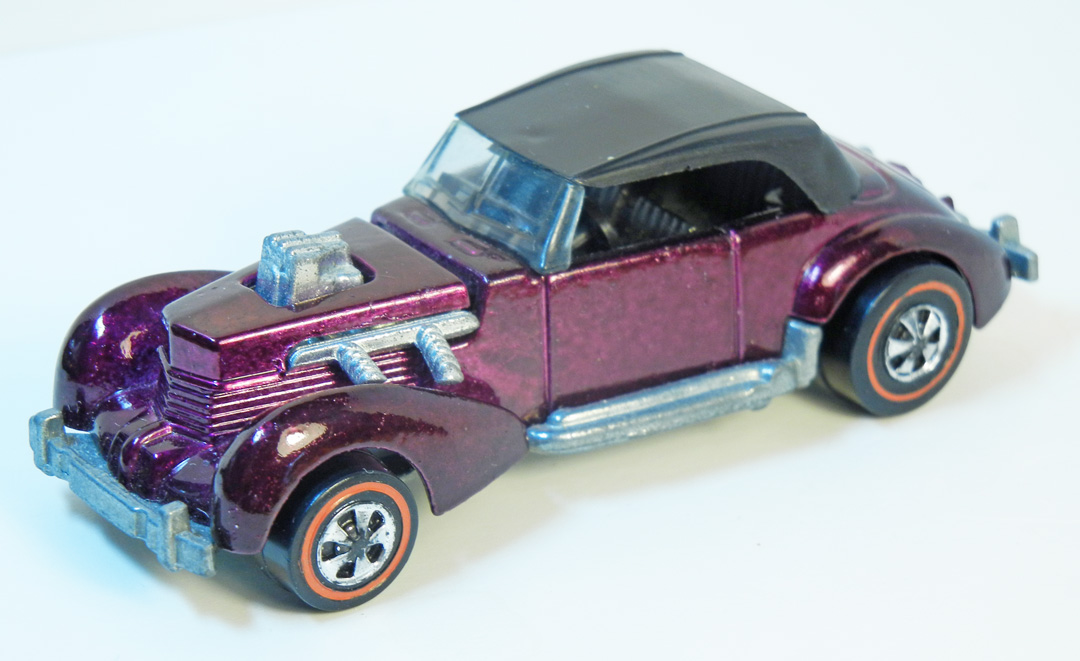 Years of Production:

1971 - 1972


Country of Origin:

US
Mexico - CIPSA


Casting Variations:

No Known Variations


Paint Colors and Variations:


| | |
| --- | --- |
| COLOR: | COMMENTS: |
| Light Green | Most Common |
| Magenta | Common |
| Yellow | Uncommon |
| Red | Uncommon |
| Rose | Uncommon |
| Blue | Hard to Find |
| Green | Hard to Find |
| Purple | Very Hard to Find |
| Light Blue | Very Hard to Find |
| Gold | Very Hard to Find |
| Salmon Pink | Rare |
| Hot Pink | Very rare |
| Orange | Pre-production |
| Lime | Unconfirmed |


Interior Colors:

Black Interior
Black Roof
Clear Glass


Other Versions of Same Casting:

CIPSA Classic Cord



Comments:

The Hot Wheels casting is based on the 1937 Cord 812.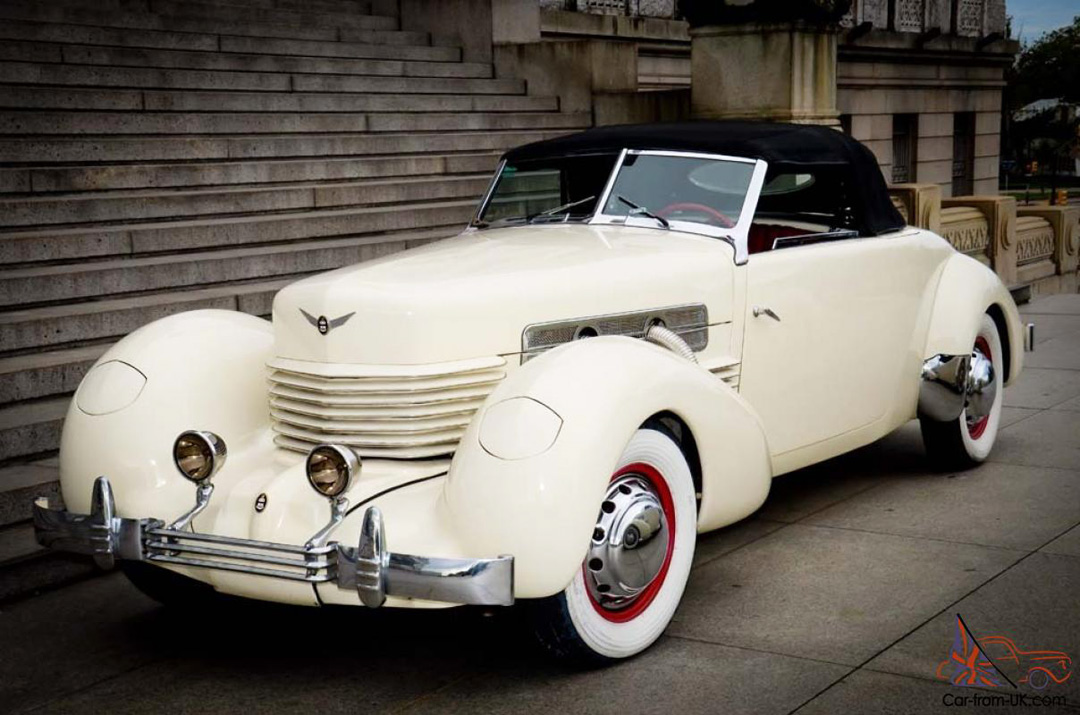 1937 Cord 812

The Cord was originally conceived by Errett Lobban Cord (1894-1974) who teamed with auto designer Gordon Buehrig to create this American classic.
Buehrig (1904-1990) was a distinguished automotive designer, having worked with with many automakers including Stutz, Duesenberg, Auburn and Ford.
The Cord was manufactured by the Auburn Automobile Company in Indiana with a production run of 1146 units.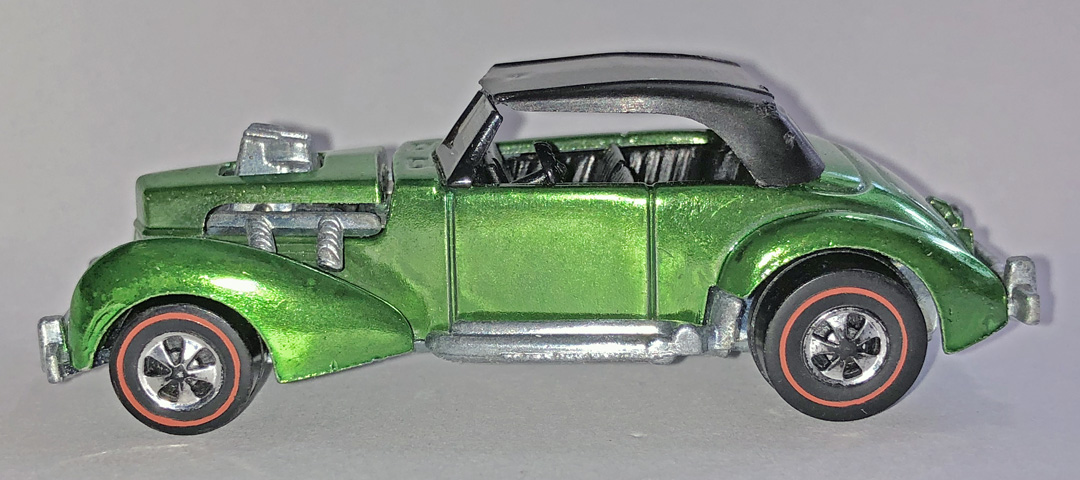 1971 Classic Cord in Light Green

The Classic Cord is a favorite among many collectors and commands a relatively high value for all casting colors. According to Jack Parker, a former
Mattel design engineer, the Cord was selected specifically to target the "collector market" which has proven to be a successful strategy.
Having been produced for only two years, the Cord is a relatively hard to find casting in any color.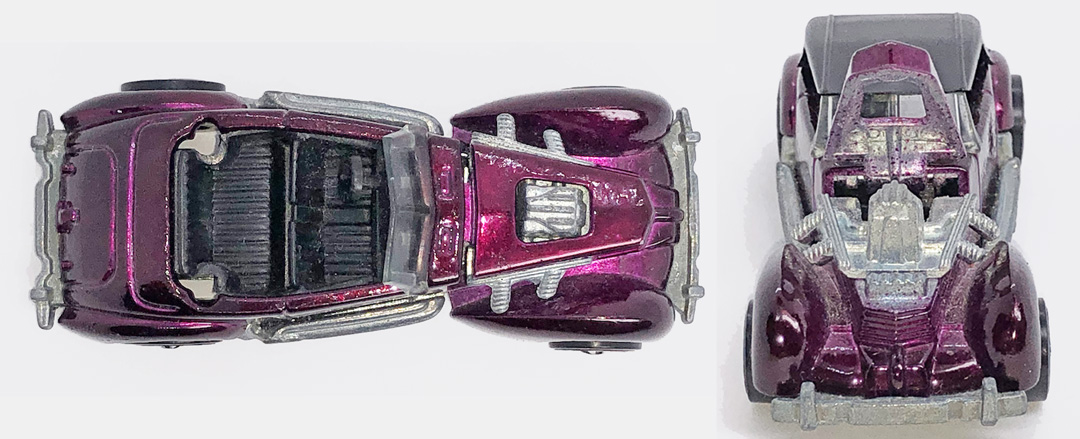 1971 Classic Cord "Play Value" Features

The Classic Cord features an opening hood and a removable plastic roof.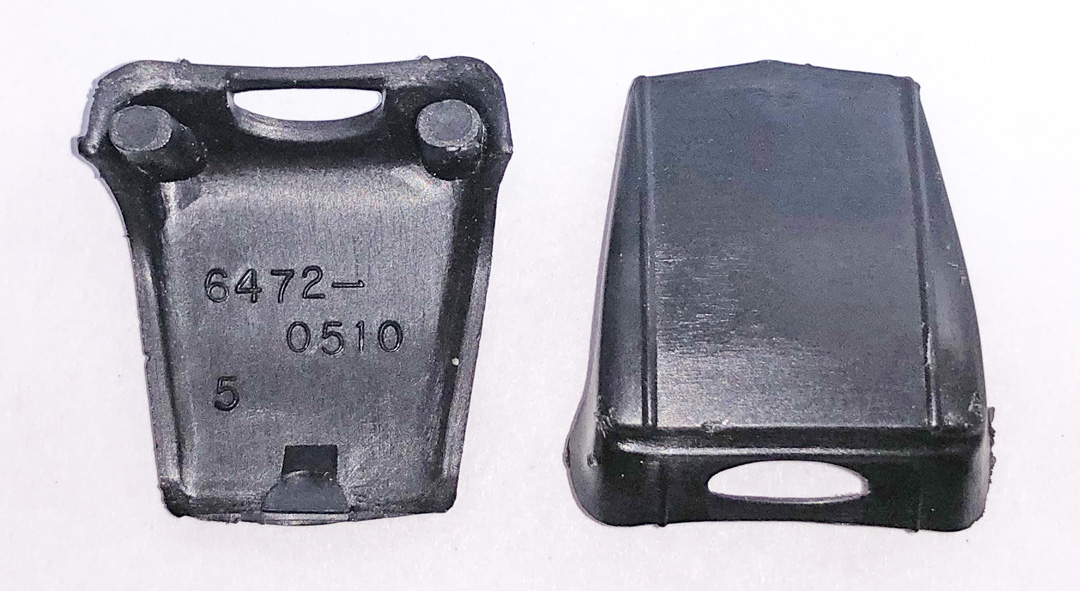 Underside view of an original Classic Cord roof

Many of the detachable plastic parts which originally came with Hot Wheels have been reproduced, the black plastic roof of the Classic Cord being no exception.
Original roofs have "6472-0510" embossed on the inside supplemented by a second single digit number on the lower left, which is the "cavity number" of the mold.
Original Classic Cord roofs have a characteristic "dimple" on the top above the windshield latch. Absence of an original roof will reduce the value of the car.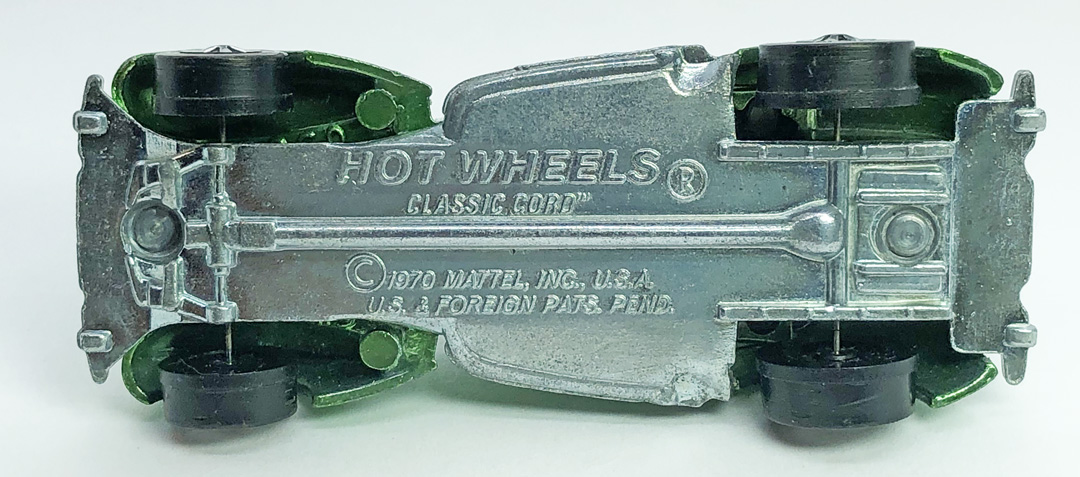 1971 Classic Cord Base

The base shows that the Classic Cord is a US made model. Even the Mexican CIPSA versions sport a US marked base.
The flat rivet spins are normal for this casting.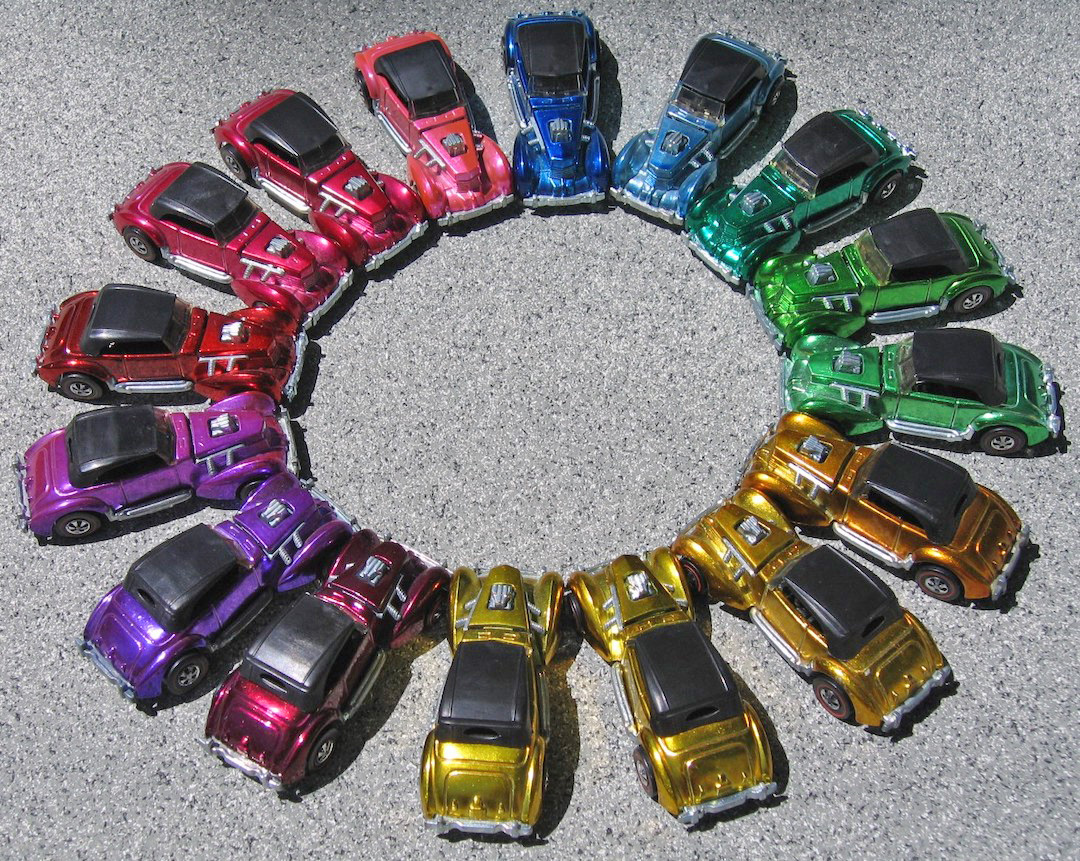 1971 Classic Cord Rainbow

The paint colors on the Classic Cord exhibit significant variations and shading. In the chart, only the principle colors are listed.
The variations make collecting a "complete" rainbow rather challenging.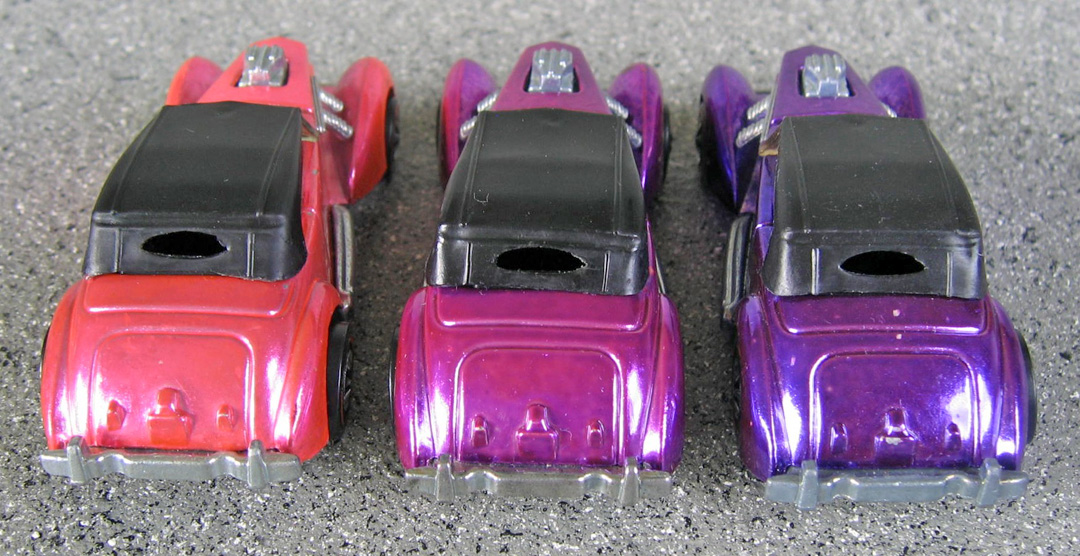 Salmon pink, Light and Dark Purple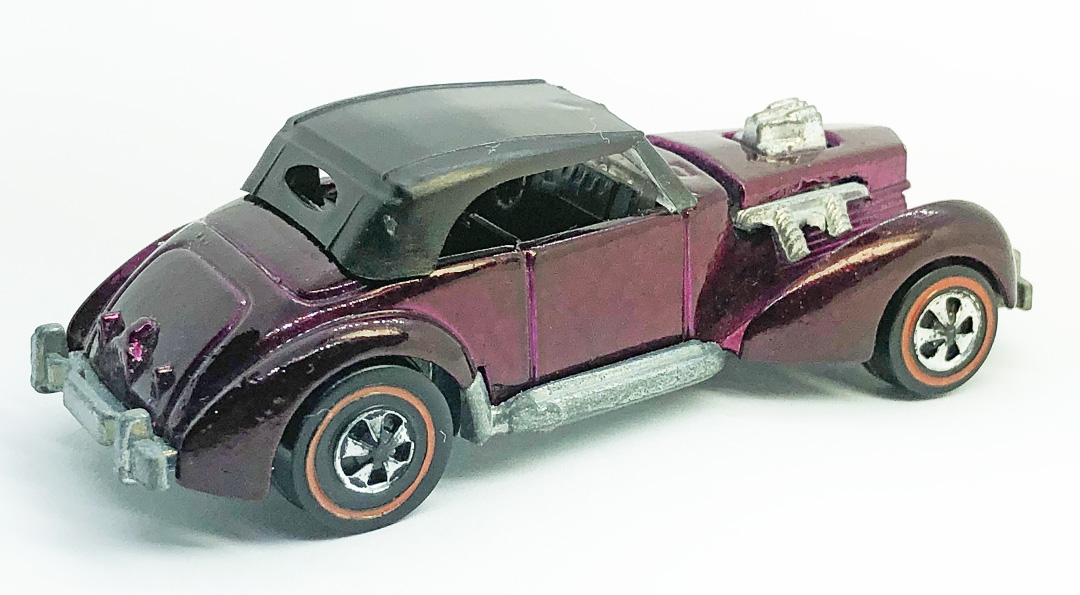 1971 Classic Cord in a Very Dark Magenta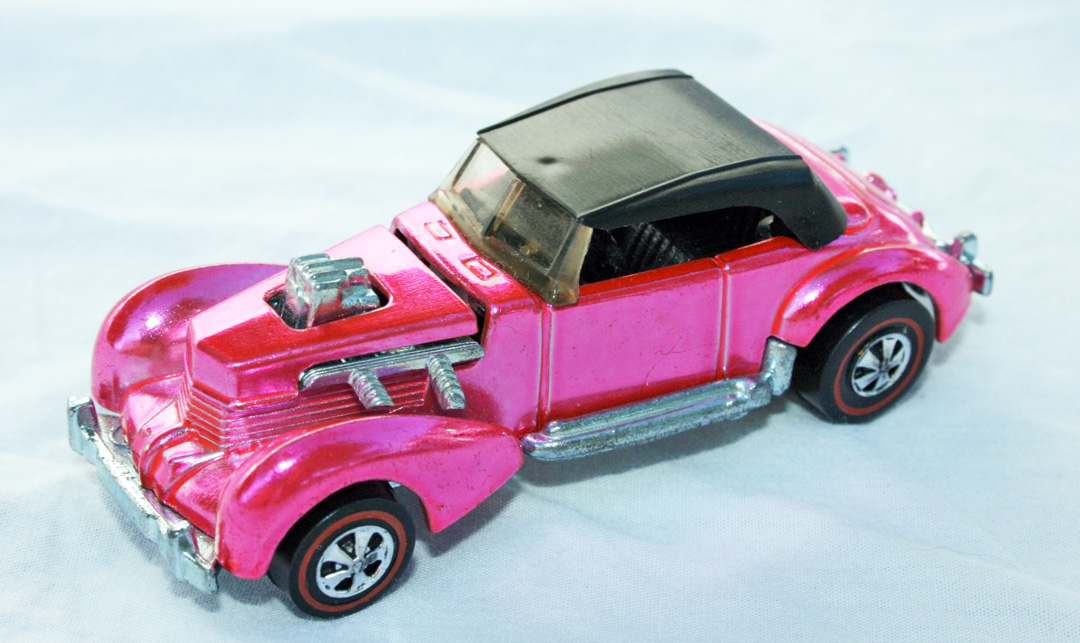 1971 Classic Cord in Rare Hot Pink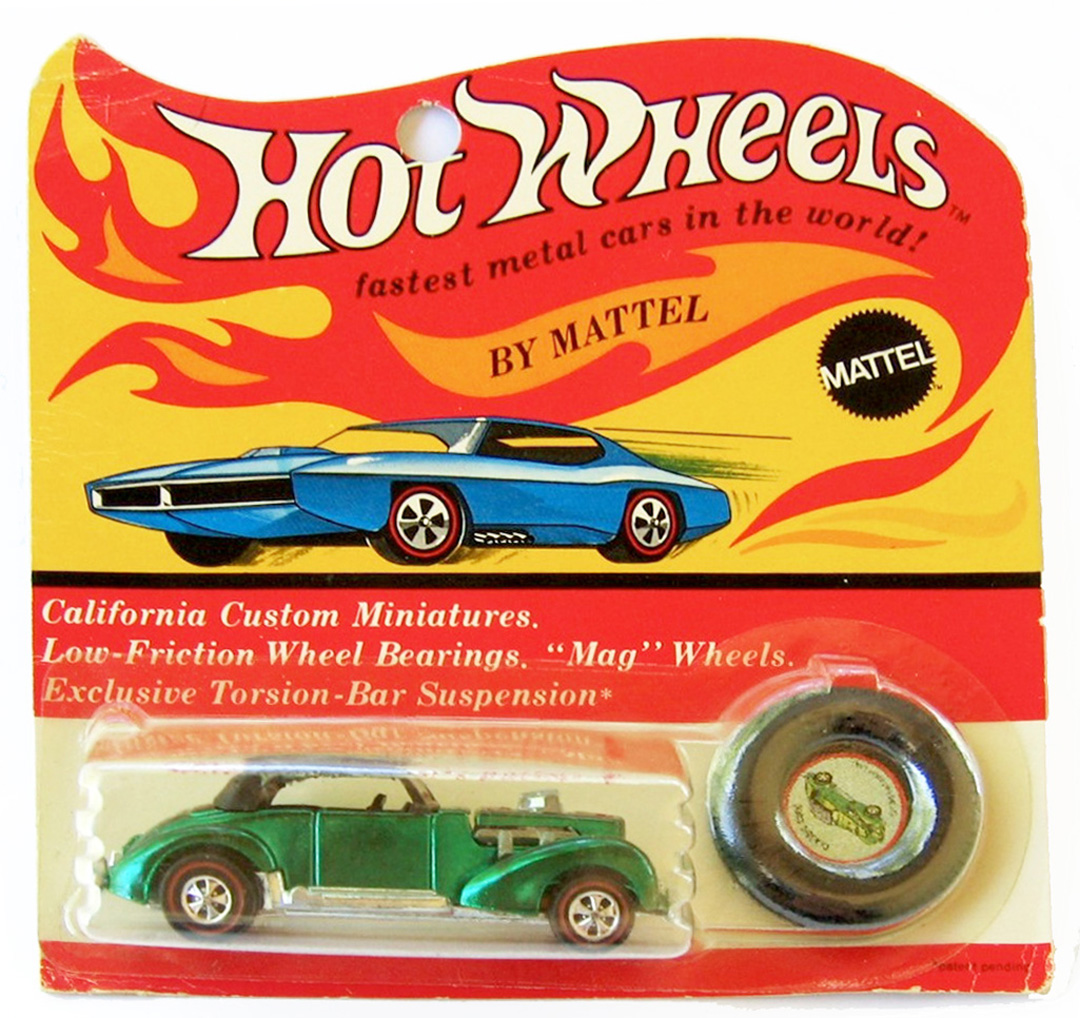 1971 Classic Cord in BP





PREPRODUCTION

A number of preproduction samples of the Classic Cord have survived from the early days of Hot Wheels production.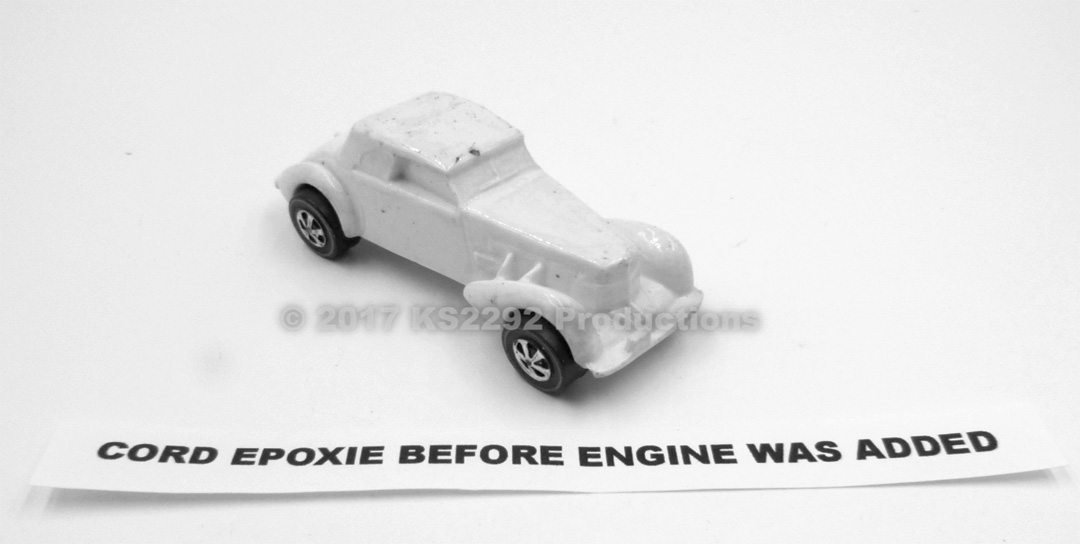 Preproduction Epoxy Sample from the Larry Wood Collection

This hand crafted epoxy model was made for management approval of the casting. Clearly it underwent changes prior to production!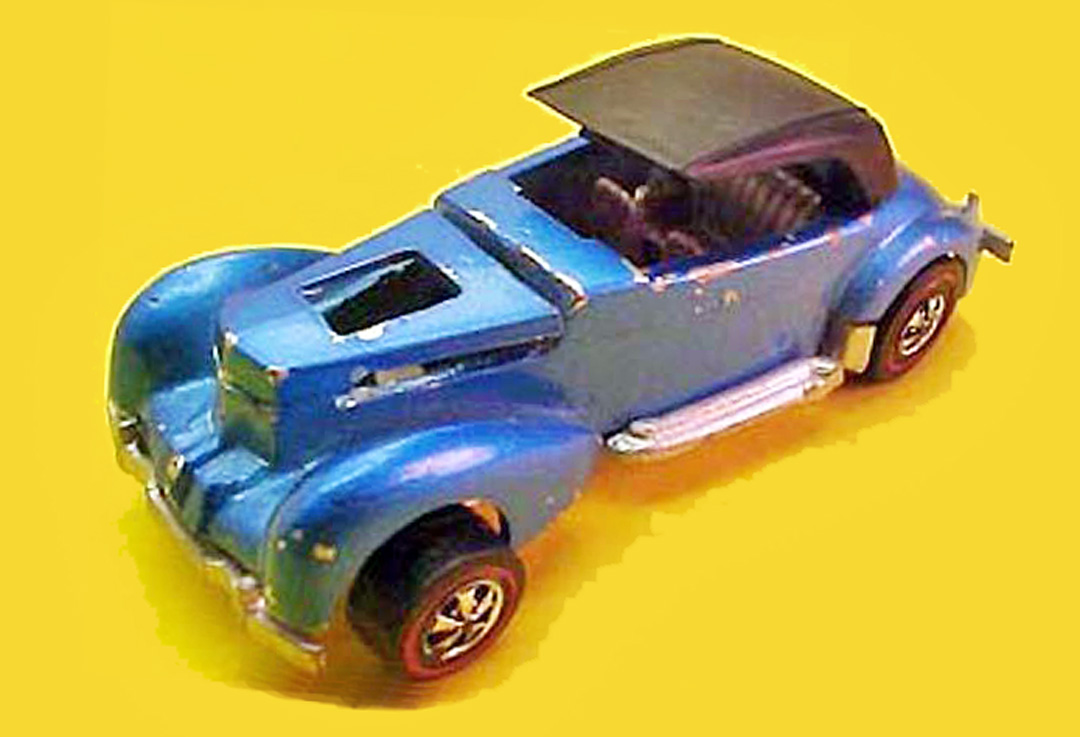 Preproduction Brass Model (Courtesy Bob Rosas)

This hand crafted brass model was made as part of the design and engineering process.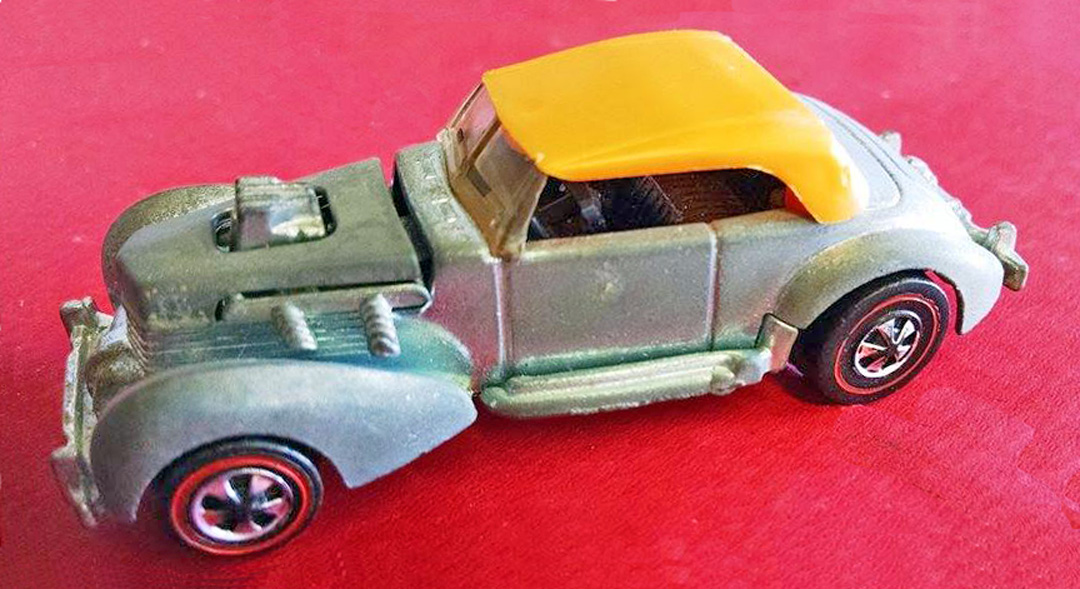 Preproduction Raw Zamac (Courtesy Bob Rosas)

Final Engineering Pilot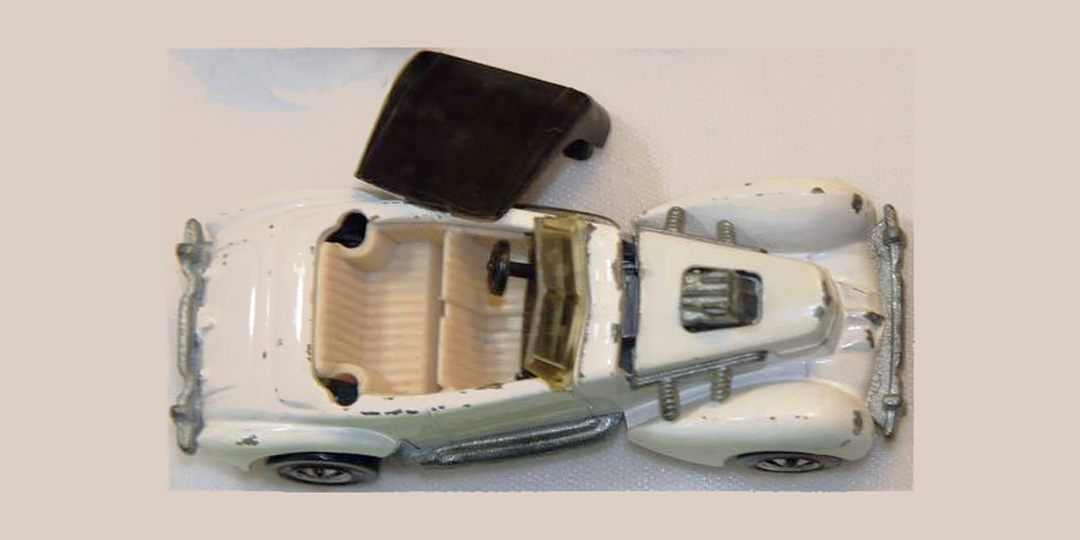 Preproduction Cord in White Enamel

At least three examples of the Cord in white enamel are known. These are typically "test samples", used to see how the paint held up under play.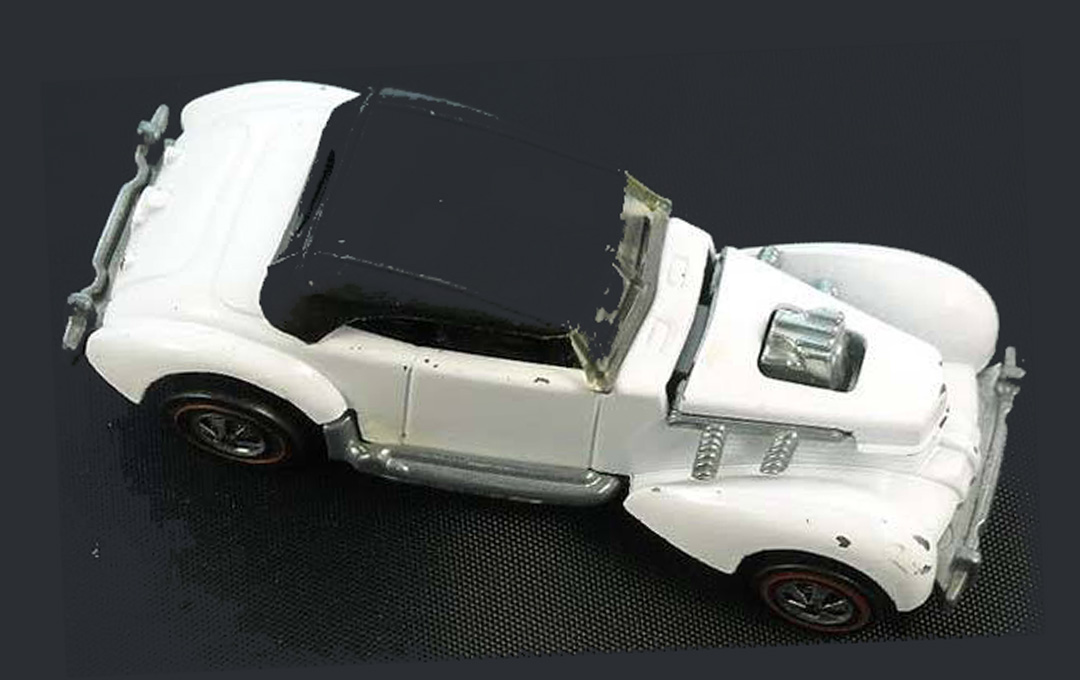 Preproduction Cord in White Enamel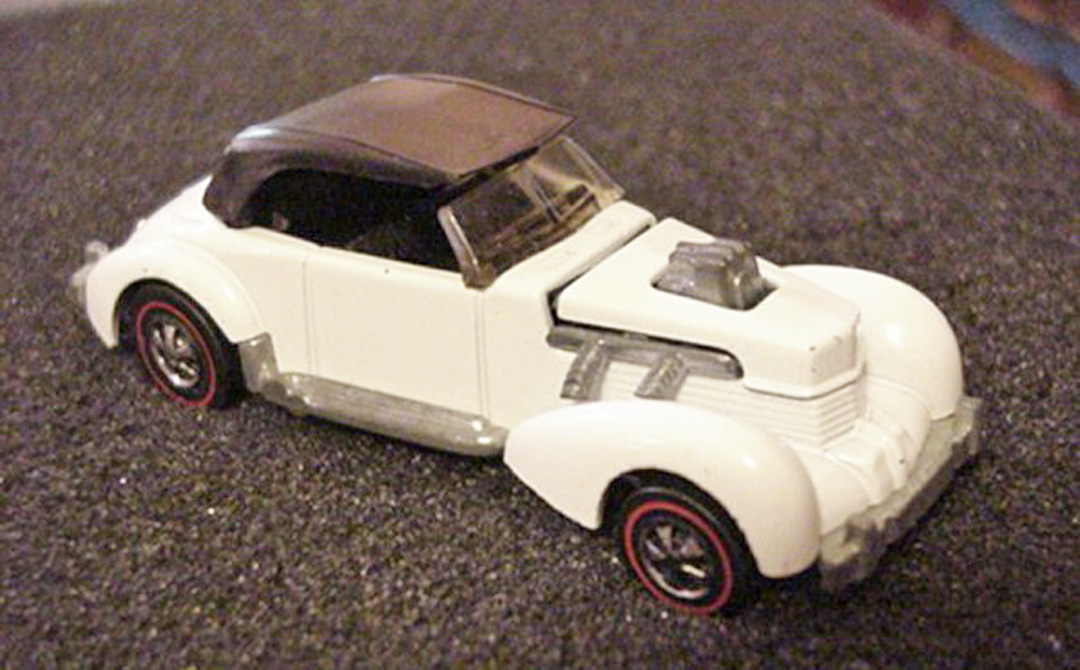 Preproduction Cord in White Enamel




Only one Classic Cord in spectraflame orange has ever been found and it is suspected to be a preproduction piece, also.









---



* DISCLAIMER *
Private use of original images is allowed.
Non-profit, non-commercial publication of original images is allowed only with prior expressed written consent from Graymatters.
For other commercial, for-profit or redistribution needs, please contact the site owner. This site is not affiliated with Mattel, Inc.

Questions? ... Send me an e-mail: tngray@nautiloid.net

© 2012 by Graymatters. All Rights Reserved.