Casting: Ferrari 312P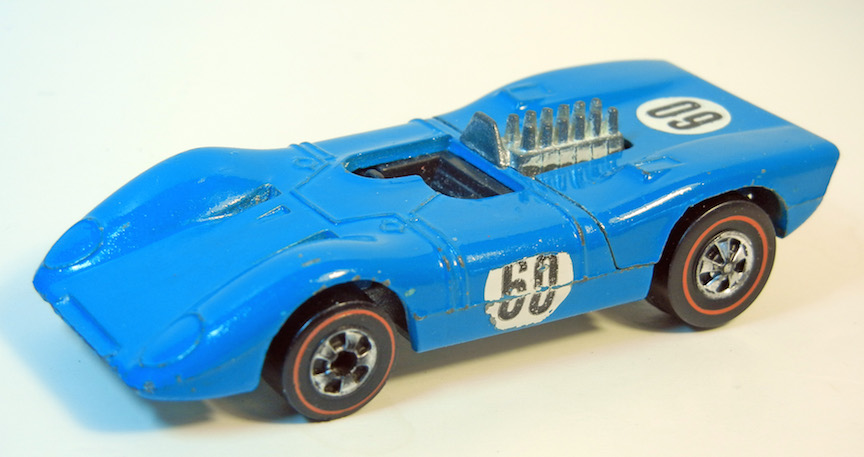 Years of Production:

1973


Country of Origin:

Hong Kong


Casting Variations:

Found with both raised and engraved body lines


Paint Colors and Variations:


| | |
| --- | --- |
| 1973 Enamel colors: | Comments: |
| Dark blue | Very hard to find |
| Fluorescent lime green | Rare |
| Lemon Yellow | rare |
| Light Blue | Rare |
| Red | Very Rare |
| Fluorescent Pink | Very Rare |


Interior Colors:

Dark Interiors
No windshield


Other versions of same Casting:

1970 Ferrari 312P
1974 Flying Colors Ferrari 312P



Comments:

The 1973 Ferrari 312P uses the same casting as the 1970 Spectraflame version but differs in the omission of the windshield and
the flat black detail paint on the rear taillight area. The front wheels were changed to the through-hole redline wheels.

The Ferrari 312P casting transitioned into the 1974 Flying Colors line and remained in production through the 1977 release year.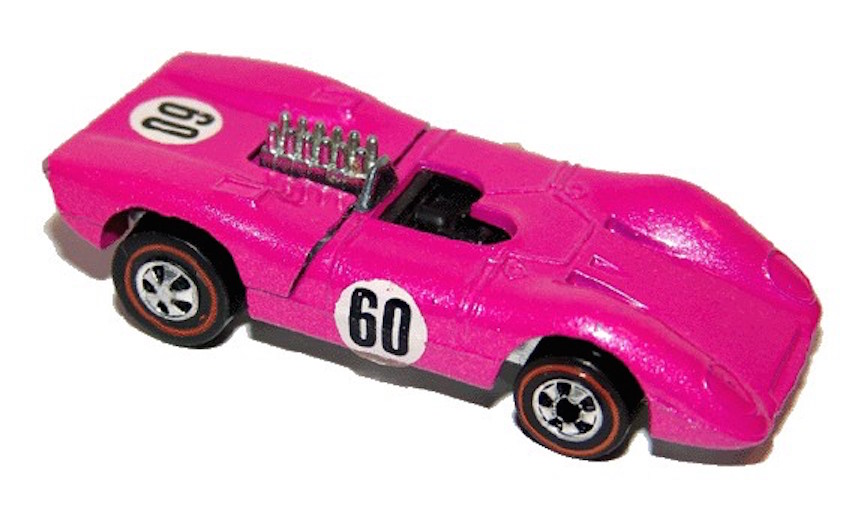 Ferrari 312P in Pink

The least common casting variation of the HK '70 Ferrari 312P - raised body lines - is relatively common among '73 Ferrari 312P's.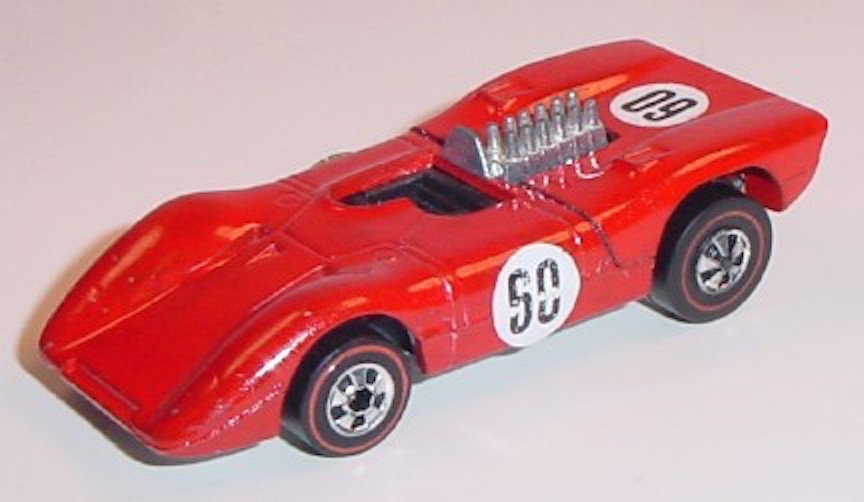 Ferrari 312P in Red

This red one has the engraved body lines.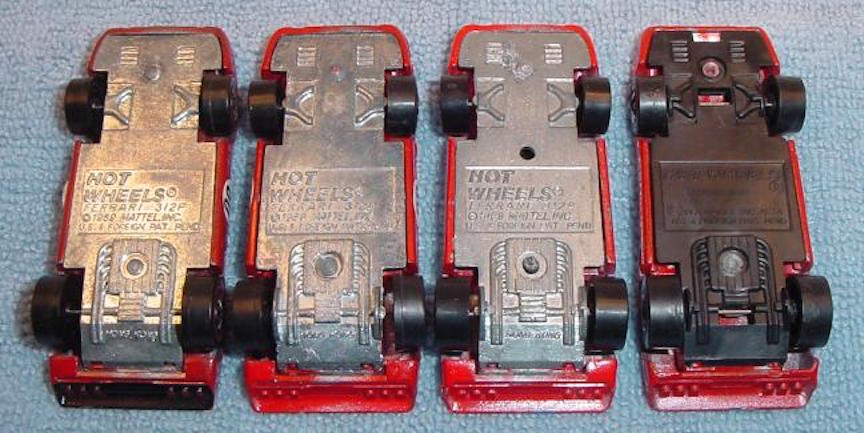 HK Ferrari 312P bases (left to right): 1970, 1973, 1974, 1976

The base of the Ferrari 312P has evolved incrementally through four generations. For 1973, the standard HK base was modified by the
addition of crush protectors, the half circle of metal just inboard of the rear wheels. The 1974 Flying Colors base differs in that
a small hole was added just above the text box. For the 1976 production, a black plastic version of the '73 base was used.

Also, notice that only the 1970 model (L) has black detail paint on the rear of the hatch in the taillight area.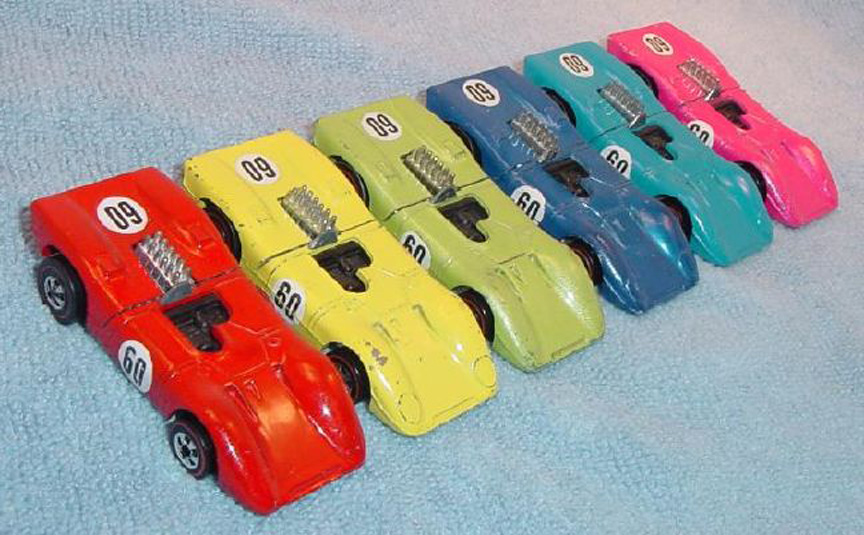 1973 Ferrari 312P Rainbow


The Ferrari 312P was made is six different colors. All colors came with with three white round #60 stickers applied at the factory,
which are similar but not identical to the stickers that were used on the spectraflame version.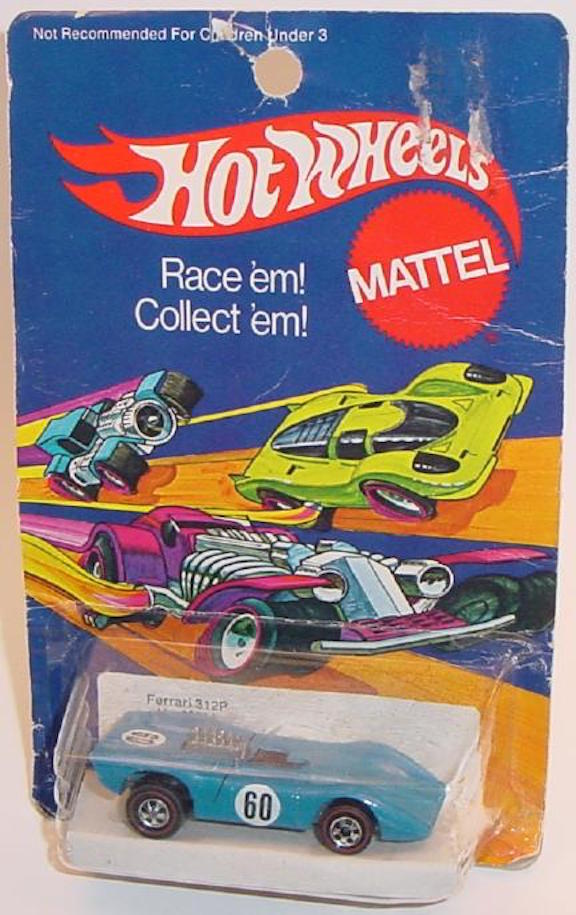 Ferrari 312P in Blister Pack

A rare '73 light blue enamel Ferrari 312P in the original blister pack.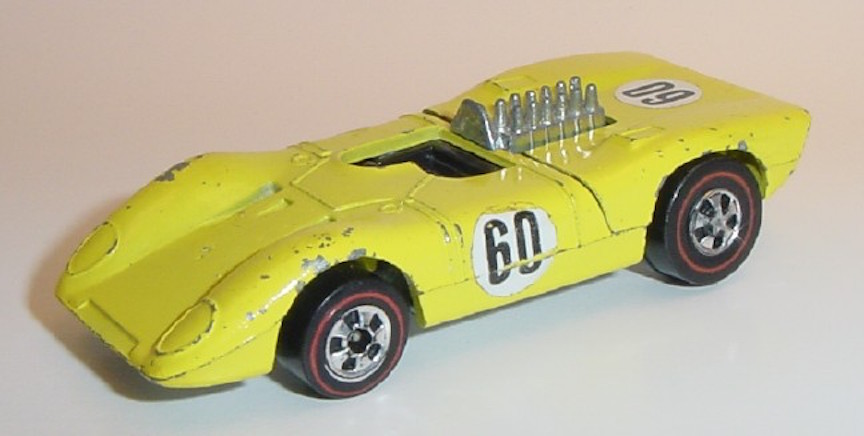 Ferrari 312P in Yellow

Unfortunately, most '73 cars look a bit like this lemon yellow 312P.




Photo info credits: Rick Wilson and Ted Gray



---



* DISCLAIMER *
Private use of original images is allowed.
Non-profit, non-commercial publication of original images is allowed only with prior expressed written consent from Graymatters.
For other commercial, for-profit or redistribution needs, please contact the site owner. This site is not affiliated with Mattel, Inc.

Questions? ... Send me an e-mail: tngray@nautiloid.net

© 2012 by Graymatters. All Rights Reserved.