Casting : Splittin' Image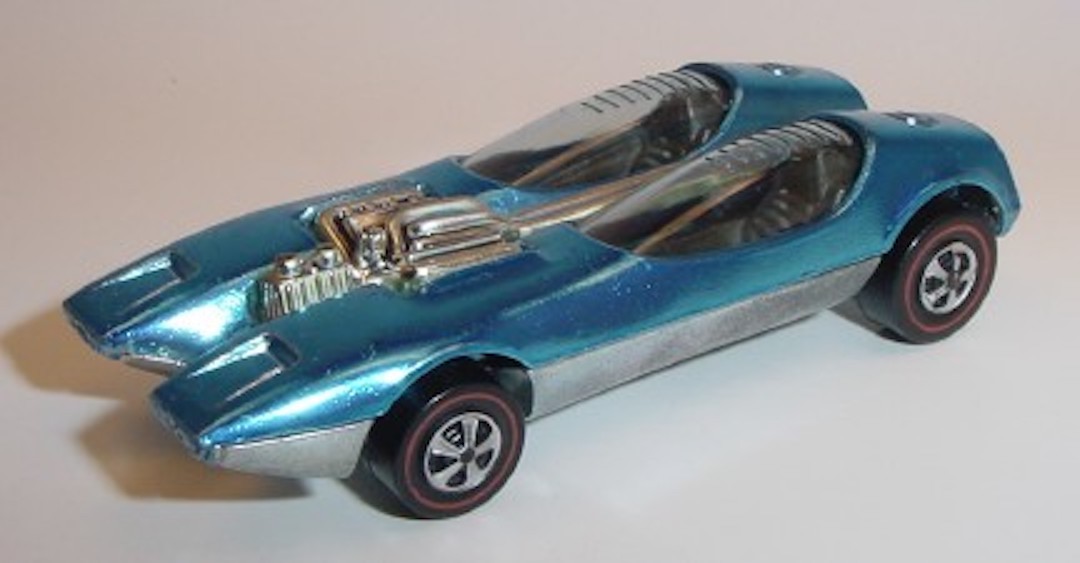 The Splittin' Image was one of the first concept cars that sprung from the fertile imagination of Mattel designer Ira Gilford. Released in 1969, the
distinctive "Show-n-Go" car features twin cockpits astride a single supercharged engine. Besides being issued in a standard blister pack and in
track sets, the car was included in a rare 4-car Show Team boxed set along with two other Ira Gilford cars (the Torero and its more famous cousin
the Twinmill), and the Silhouette. Because of its original look, it is well remembered by children that grew up in the redline era. Production of the
car continued until 1971, and it was only manufactured in the U.S.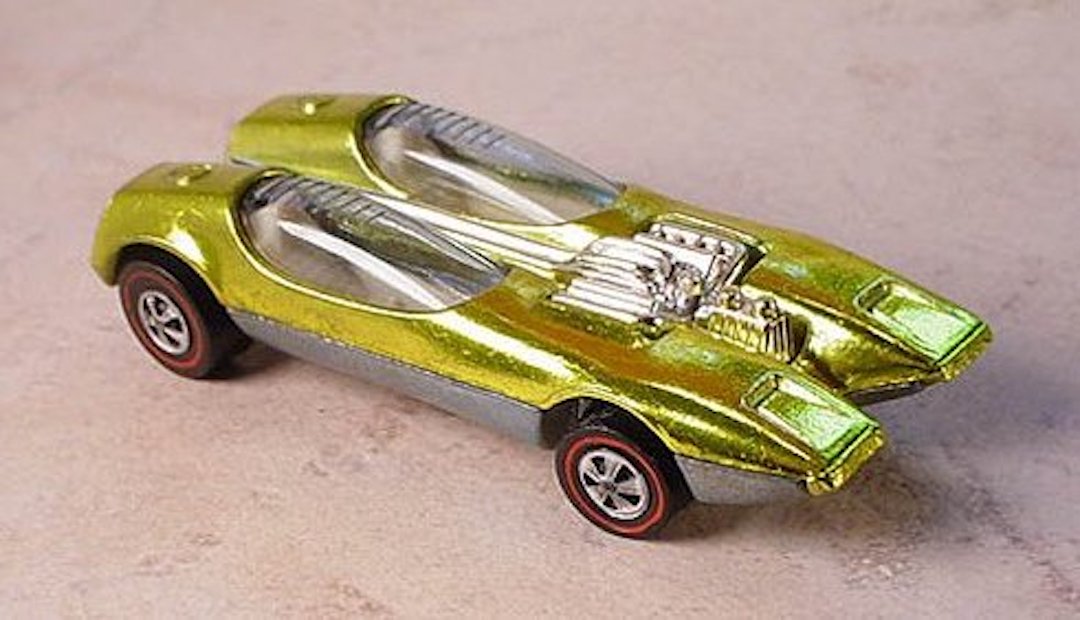 A yellow Splittin' Image with an off-white interior.

The Splittin' Image was issued in at least 14 colors, and there are also a number of in-between colors for the collector to find. Some Splitters
were made with silver painted headlights, and these have been found in lime, orange, green, antifreeze, lavender, dark brown, purple and olive.
Additionally, some have been found with black detail paint above the tail lights on the rear grill, including those in pink and dark brown.
The Splittin' Image tends to suffer from dulling of the base, and on many cars the chrome on the motor tends to be pretty weak. But even a
shiny mint spectraflame example of this model will be relatively cheap by redline standards, even in the more rare colors.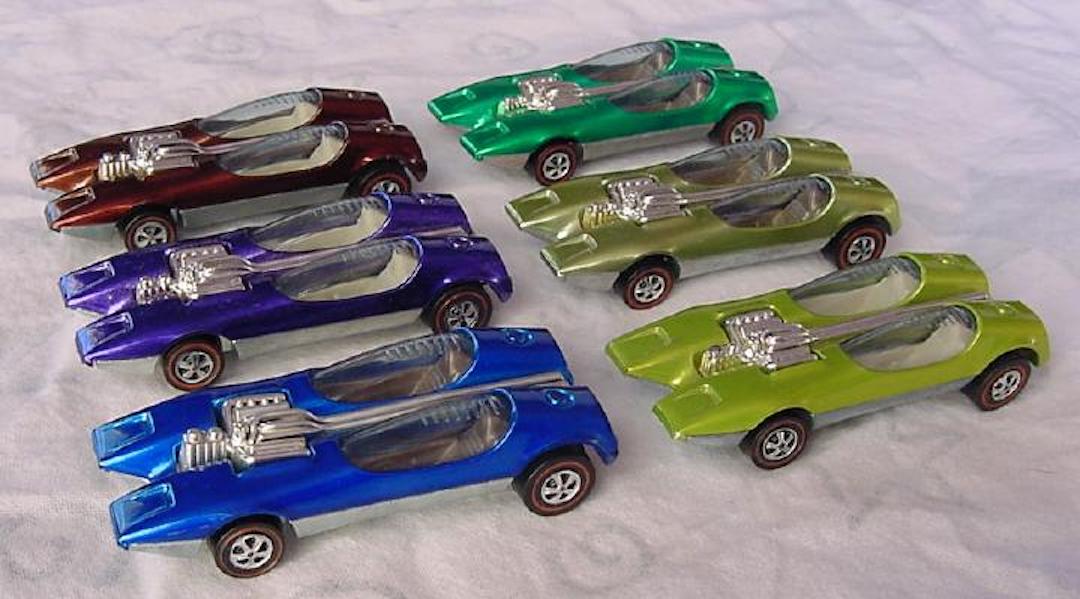 In 1973 the Splittin' Image casting, along with nine other models, was modified for inclusion in a line of cars given out for promotional purposes
at Shell gas stations. These Shell promo issues differ from the original 1968-71 cars by having flat enamel finishes, no interior, black plastic
un-ribbed windows, and no red taillight paint. In general these 1973 cars command higher prices than the spectraflame models.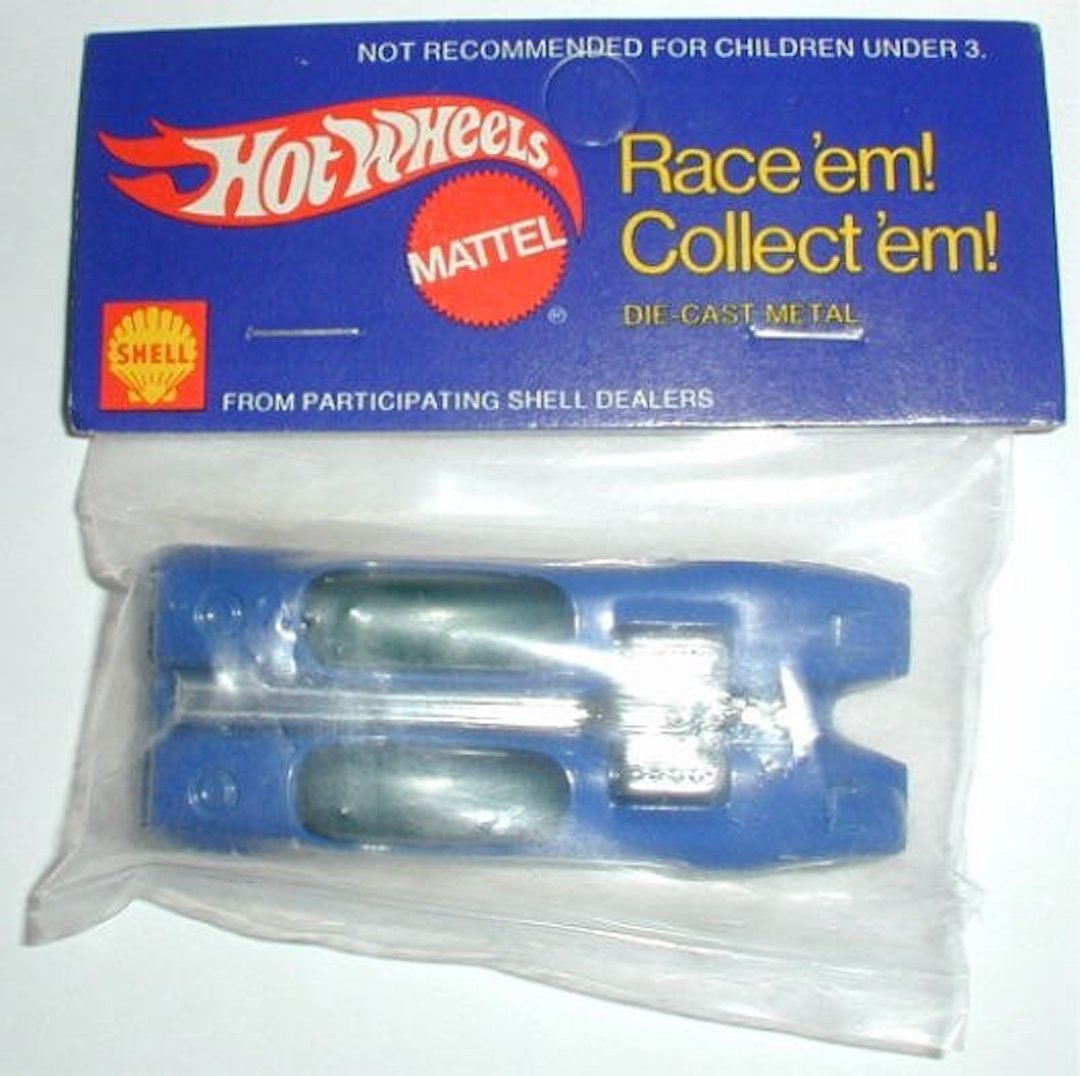 A Shell promotional Splittin' Image in dark blue enamel.

The Splittin Image design concept has since been tapped numerous times by Mattel over the years. The first of these reissues was in 1993 for
the 25th anniversary series in which the car was issued initially in 11 colors exclusive to Toys R Us stores, and then in 11 more colors
for general sale in Vintage Collection blisterpacks. These 1993-1994 cars were issued with modified redlines in which the red stripe was
printed on the wheel, rather than embossed. These reissues are also easy to distinguish from the original spectraflame cars because the
country of origin of China is etched into the base, as is the 25th anniversary logo.





Don't be fooled! "Vintage" issue Splittin' Images (L) are often confused with originals (R).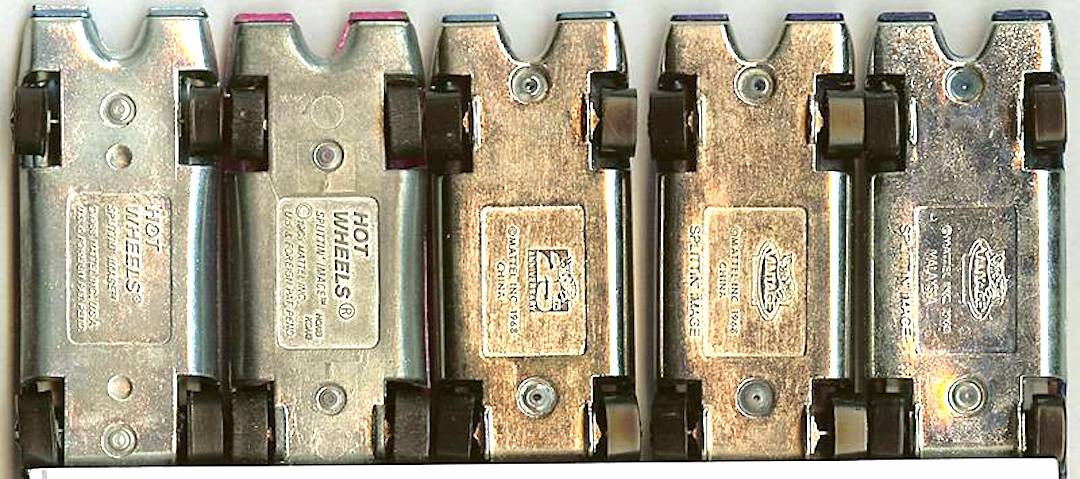 1969-71 spectraflame, 1973 HK-made enamel, 1993 25th Anniversary, 1994"Vintage", recent Malaysia-made issue
Splittin Image bases (L to R):

Redline versions of the car were also sold at FAO Schwartz stores in 1994 and 1995. Indicative of the fondness that Mattel has for the design,
the Splittin Image has been released numerous times as a non-redline issue, including as a Treasure Hunt model (1994), in a collector set with
a watch (1998), in a 100% Hot Wheels black box collector set (2002), and a heavily modified Splittin Image II which first appeared in 1994 has
since been issued in over 18 variations.


Color chart


| | |
| --- | --- |
| US COLORS (1969-71): | COMMENTS: |
| antifreeze | common |
| aqua | common |
| blue | common |
| gold | common |
| green | common |
| orange | common |
| purple | common |
| red | common |
| copper brown | uncommon |
| dark brown | uncommon |
| "root beer" brown | uncommon |
| lime | uncommon |
| olive | uncommon |
| rose | uncommon |
| yellow | uncommon |
| creamy pink | hard to find |
| light blue | hard to find |
| magenta | very rare |
| SHELL PROMOS (1973): | COMMENTS: |
| dark blue | uncommon |
| light blue | uncommon |
| red | uncommon |
| green | hard to find |
| fluorescent lime green | hard to find |
| yellow | rare |
| fluorescent pink | rare |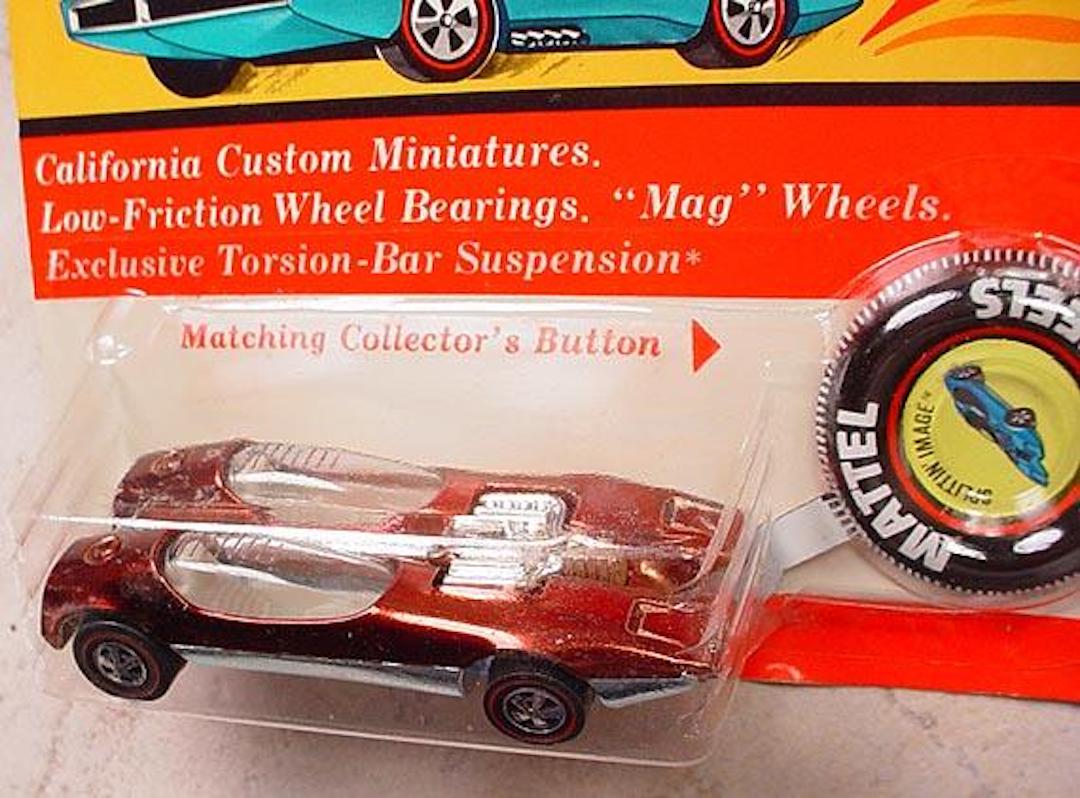 A brown Splittin' Image in the original blister pack!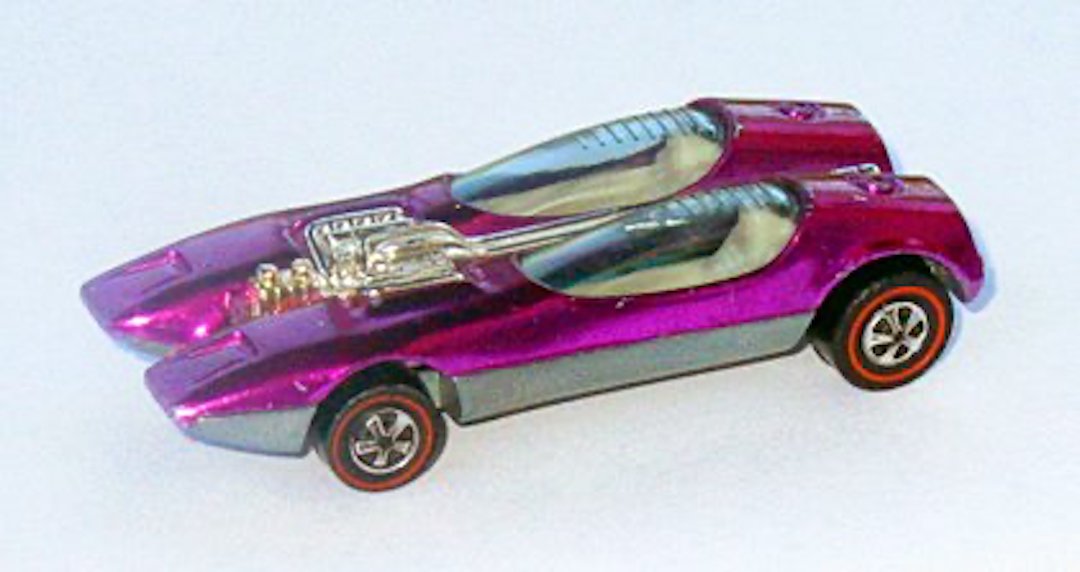 A very rare magenta Splittin' Image.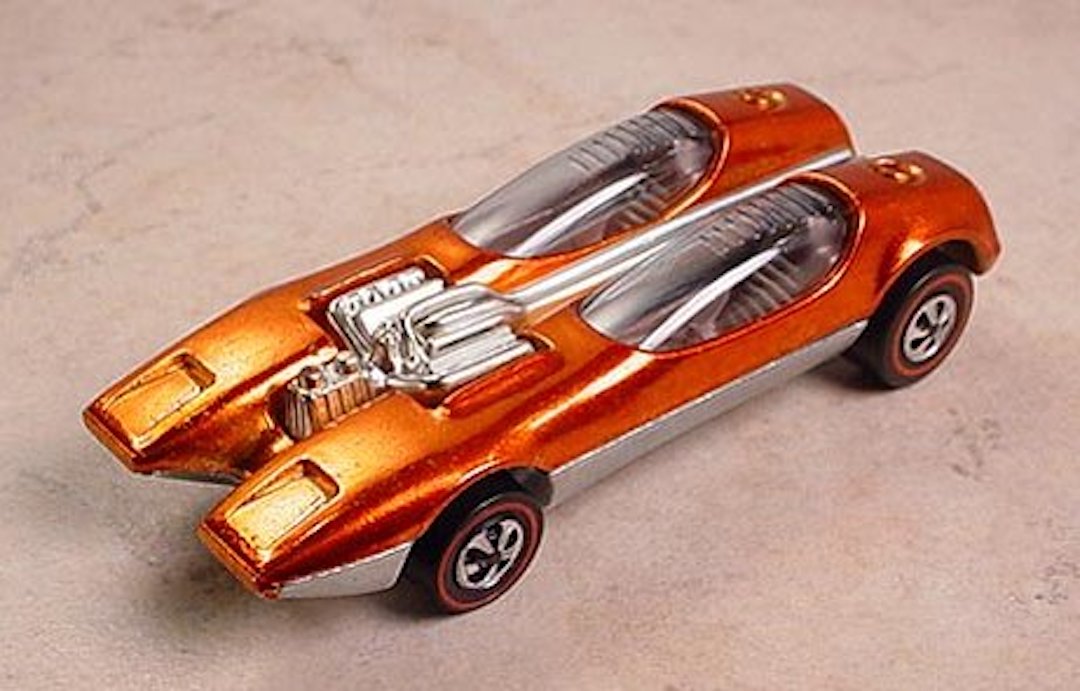 An orange Splittin' Image with a dark interior.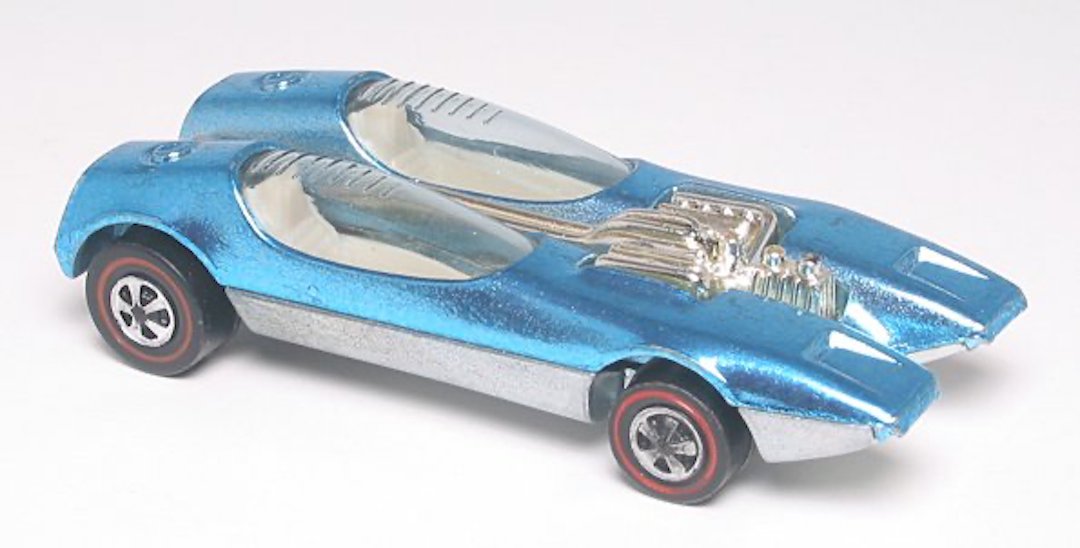 An awesome ice blue Splittin' Image!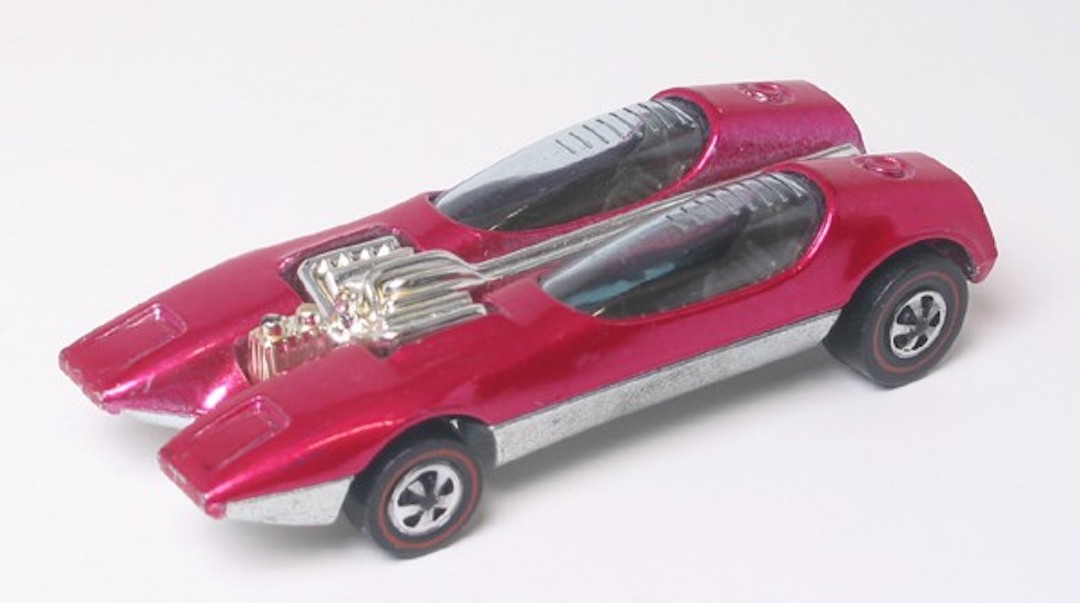 A Splittin'Image in creamy pink.
Photo & info credits: Gary Nabors
---



* DISCLAIMER *
Private use of original images is allowed.
Non-profit, non-commercial publication of original images is allowed only with prior expressed written consent from Graymatters.
For other commercial, for-profit or redistribution needs, please contact the site owner. This site is not affiliated with Mattel, Inc.

Questions? ... Send me an e-mail: tngray@nautiloid.net

© 2012 by Graymatters. All Rights Reserved.