Casting : Classic Nomad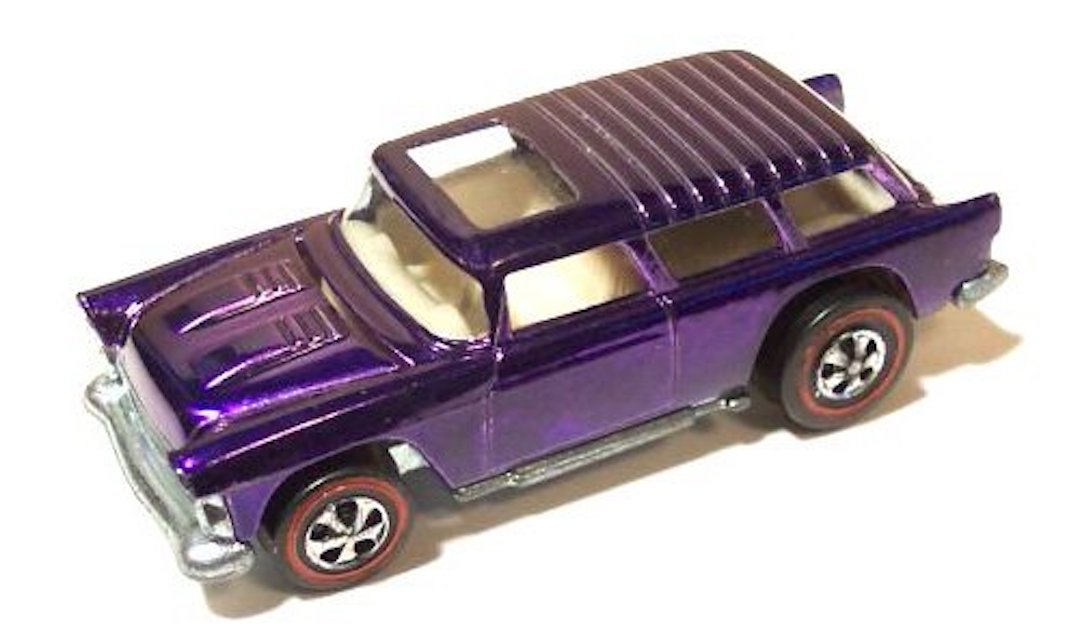 Years of Production:

1970-1971


Country of Origin:

US Only


Casting Variations:

None Known


Interior and Glass Colors:

White Interior
Clear Glass


Paint Colors and Variations:


| | |
| --- | --- |
| Color | Rarity |
| Aqua | Common |
| Blue | Common |
| Gold | Pre-Pro |
| Green | Common |
| Light Green | Uncommon |
| Lime | Common |
| Magenta | Uncommon |
| Olive | Uncommon |
| Orange | Common |
| Purple | Hard to Find |
| Hot Pink | Hard to Find |
| Red | Common |
| Rose | Uncommon |
| Yellow | Uncommon |


Other versions of same Casting:

1973 Alive '55
1974 Flying Colors Alive '55
1977 Super Chromes Alive '55


Discussion:

The Classic Nomad, released in 1970, expanded the 1969 "Classics" four car series to five models.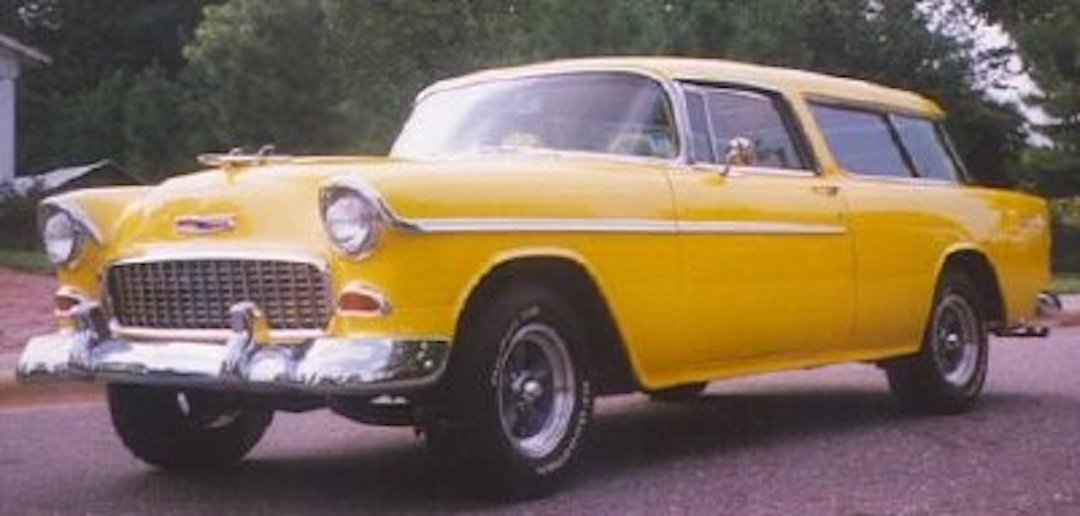 1955 Chevrolet Belair Nomad

The Classic Nomad is based on the 1955 Chevrolet Nomad two door station wagon which was part of Chevrolet's top-line BelAir series.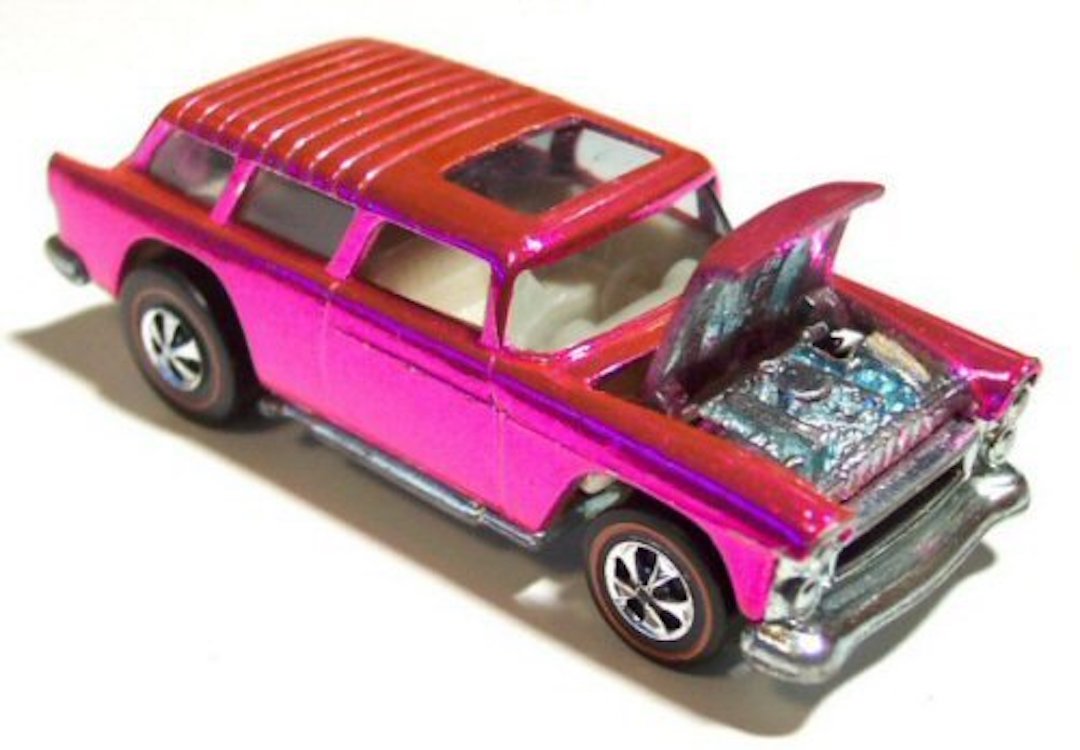 Hot Wheels Classic Nomad

Larry Wood designed the Classic Nomad, keeping it close to the original, adding only the sunroof and hood scoops to the classic design.






Classic Nomad

All Classic Nomad's are made with clear windows, white interior and cap-style wheels; the rear wheels being larger then the front.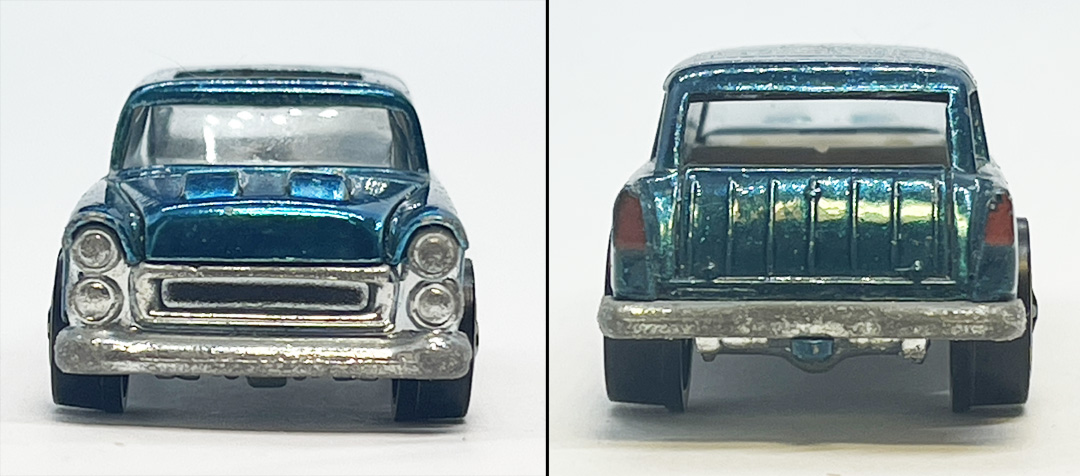 Classic Nomad, Font and Rear Views

Details on the front and rear include blacked out grille and red painted tail lights.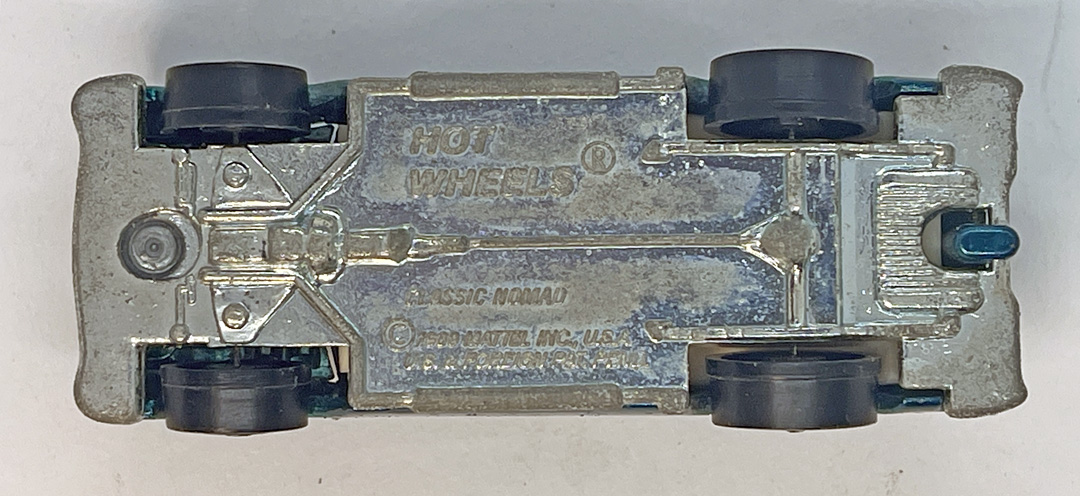 Base of the Classic Nomad

The base reveals a single spin post and the unusual "hook" assembly technique.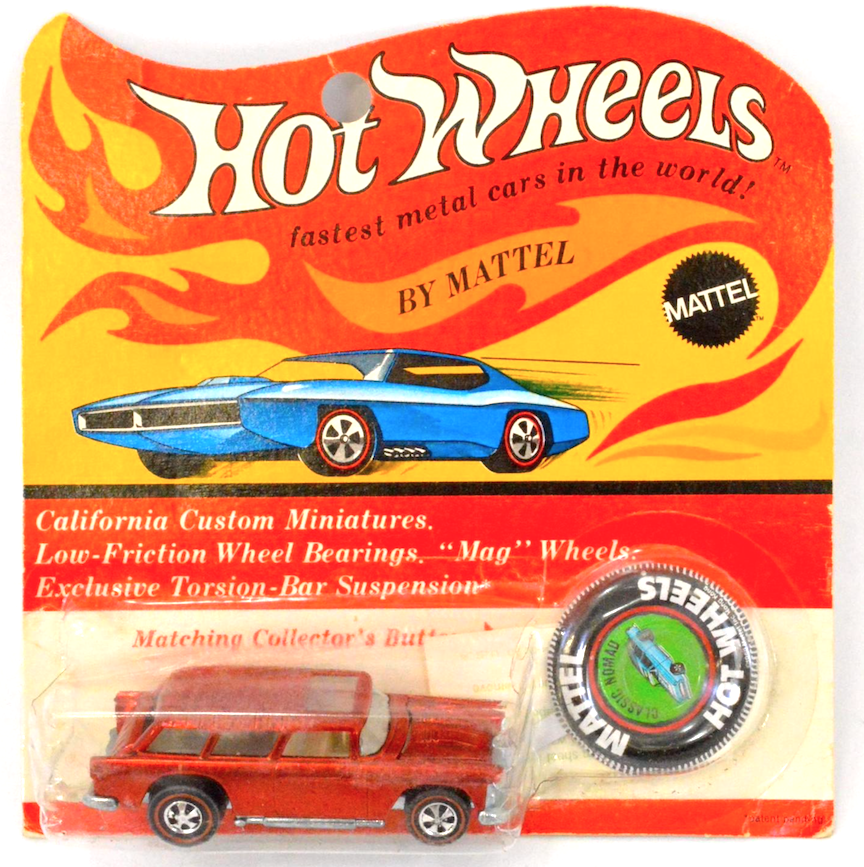 Classic Nomad in Blister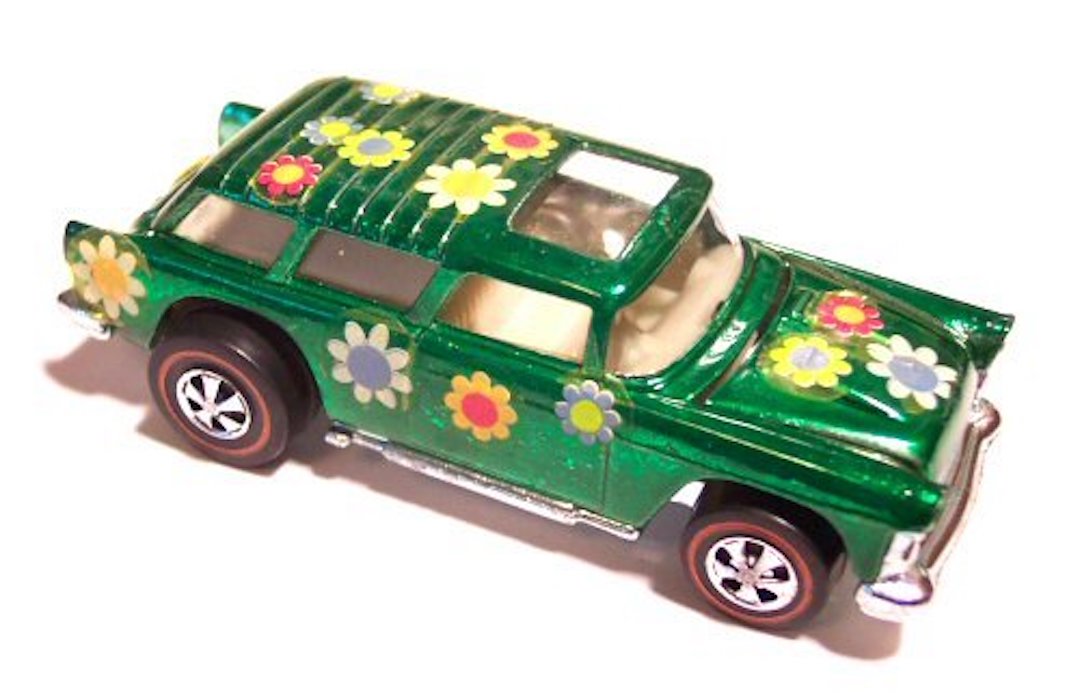 Classic Nomad with Hippy Flower Decals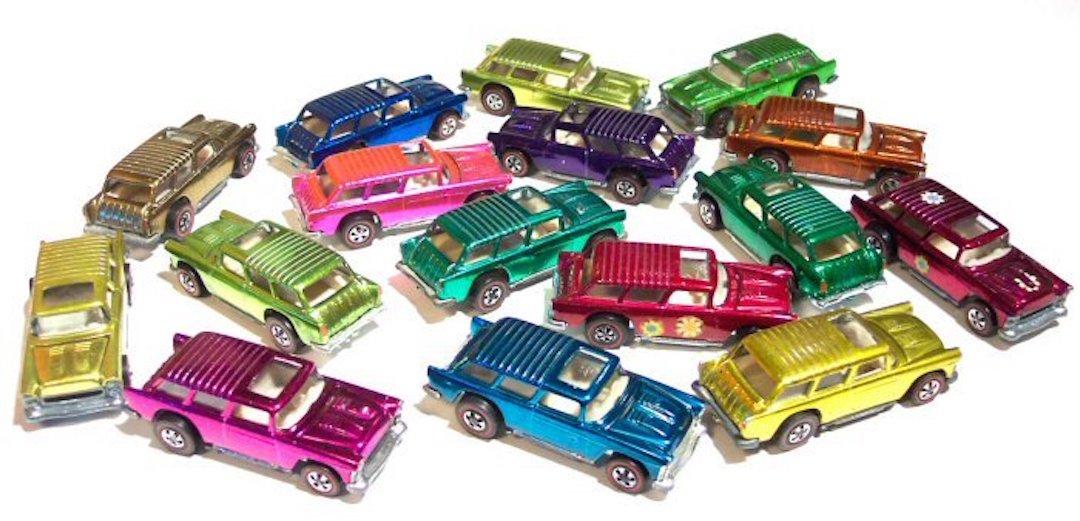 Classic Nomad Group


Prototypes

The only know preproduction examples of the Classic Nomad are several pieces, all in aqua with no red stripe on the rear wheels, all coming from known employee sources.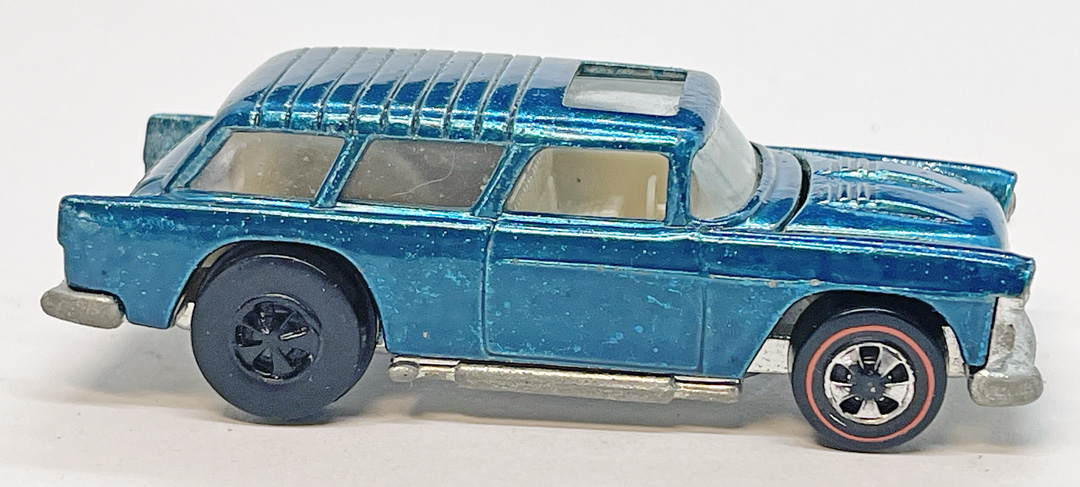 Classic Nomad Final Engineering Pilot

"Aqua Pre-production nomad with all black rear wheels (Early produced cars, mostly the first 144 cars, where Final Engineering products. These cars were made not in a
production assembly, but by one run with the machines. many times fresh wheels were not available and these non redlines were used. I have a few of them...great car!"
-Bruce Pascal


Reproductions

In 1993 and 1994, Mattel reproduced 16 redline era castings, all made in China. They were sold in two lines: "25th Anniversary" and
"Vintage Series". Unfortunately for redline collectors, Mattel opted to print the original copyright date on the base of these
reproductions which has only caused confusion among the newer collectors and a source of great annoyance among seasoned collectors.





1993 Reproduction Classic Nomad

The reproduction of the Classic Nomad was released in the "Vintage Series" but there are many simple ways to differentiate the reproduction from the original.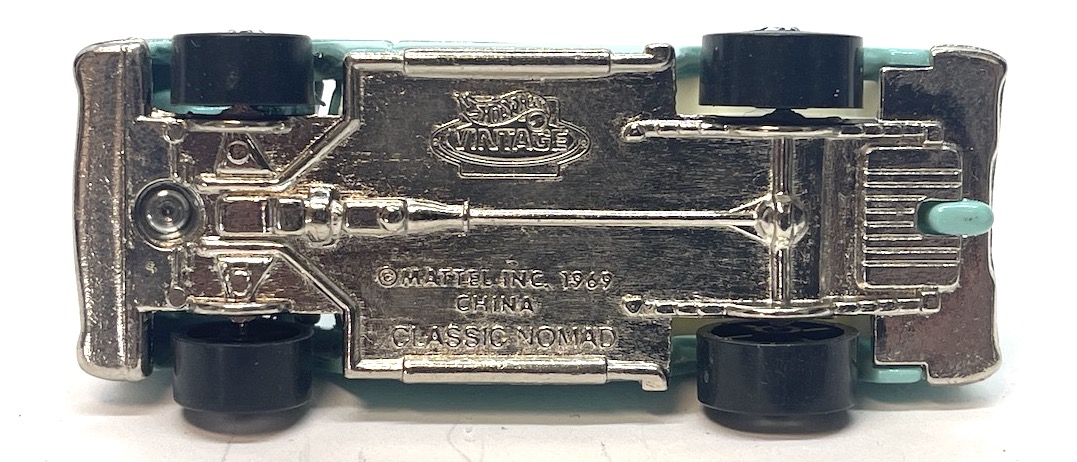 "Vintage" logo and China Country of Origin

Four obvious identifying characteristics for the reproduction are:
* Hot Wheels logo tampoed on the rear fender
* Through Hole reproduction redline wheels
* Made in China on the base
* "Vintage Series" logo on the base




---



* DISCLAIMER *
Private use of original images is allowed.
Non-profit, non-commercial publication of original images is allowed only with prior expressed written consent from Graymatters.
For other commercial, for-profit or redistribution needs, please contact the site owner. This site is not affiliated with Mattel, Inc.

Questions? ... Send me an e-mail: tngray@nautiloid.net

© 2012 by Graymatters. All Rights Reserved.