The Demon (1970)
The Demon was produced in 1970-71 and was based on the 1957 Li'l Coffin show car.
All Demons were produced in Hong Kong and had a black painted roof. Most of these cars were
produced with black or white interiors. The white interior is less common and therefore increases the
value of the car. Demons with tan and grey interiors also have been reported. Demons were
packaged with either a metal or a plastic collector button.
A similar casting named the Prowler was produced in 1973. All 1973 Prowlers had enamel paint,
not spectraflame like the Demon, and lacked the black roof. Apparently, leftover bases from the Demon
casting were used to produce a large number of Prowlers. In fact, Prowlers with Demon bases are
probably more common than a Prowler with a Prowler base!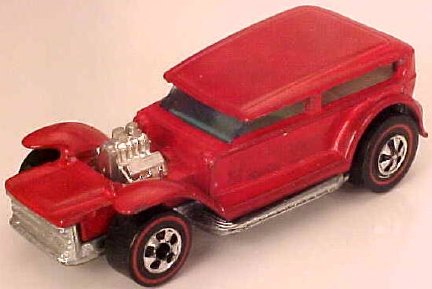 A 1973 red enamel Prowler


Bottom view of a Prowler showing the Demon base.
Color chart
| | |
| --- | --- |
| HK COLORS: | COMMENTS: |
| blue | common |
| aqua | common |
| green | common |
| light green | common |
| red | common |
| olive | uncommon |
| purple | uncommon |
| copper | uncommon |
| yellow | uncommon |
| orange | uncommon |
| brown | hard-to-find |
| magenta | rare |
Blue Demon
Aqua Demon
Green Demon
Light green Demon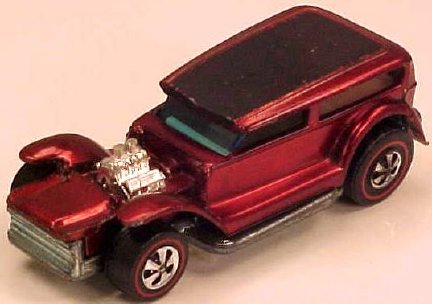 Red Demon
Olive Demon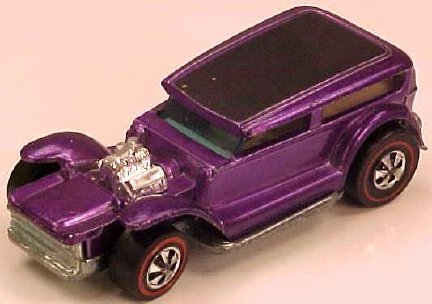 Purple Demon
Copper Demon
Yellow Demon
Orange Demon
Dark brown Demon (Courtesy of Jack Clark)
A magenta Demon with white interior!
John Macko's

complete

white interior Demon rainbow!
A Mattel employee's cherry red Demon: the paint appears double-coated and it has a stainless base.
Photo & info credits: John Macko
---



* DISCLAIMER *
Private use of original images is allowed.
Non-profit, non-commercial publication of original images is allowed only with prior expressed written consent from Graymatters.
For other commercial, for-profit or redistribution needs, please contact the site owner. This site is not affiliated with Mattel, Inc.

Questions? ... Send me an e-mail: tngray@nautiloid.net

© 2012 by Graymatters. All Rights Reserved.