Casting: Ferrari 312P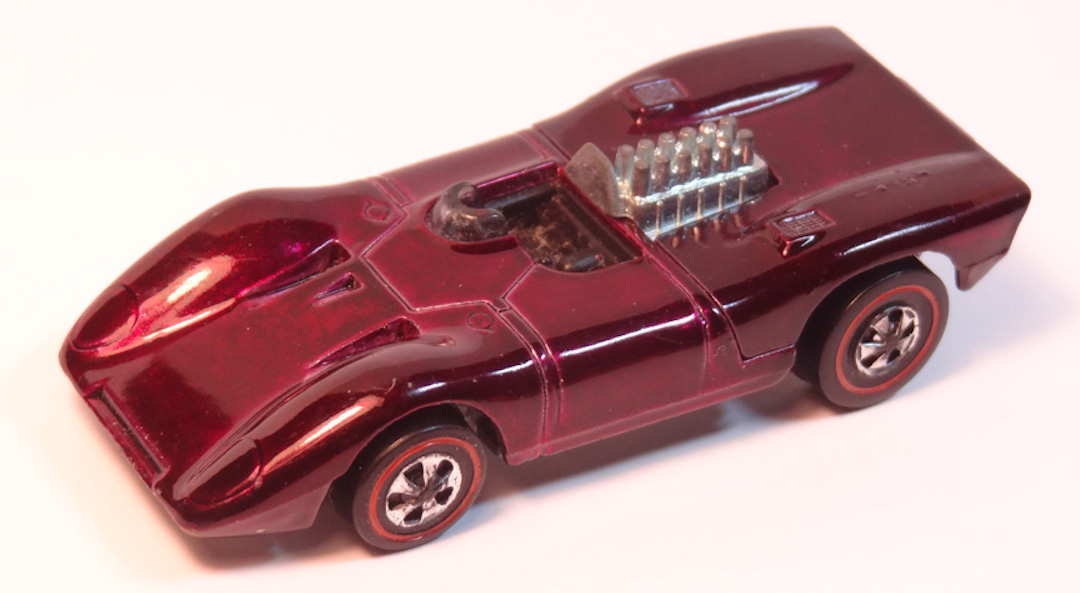 Years of Production:

1970


Country of Origin:

US and Hong Kong


Casting Variations:

The base on the HK version has four rectangular holes in it.
The body lines can be found as raised lines (outy) or indented lines (inny).


Interior Colors:

Black is normal
White is found in some preproduction pieces
US has clear glass US, HK has blue glass


Paint Colors and Variations:

Note: The rear black accent paint is flat black on US versions and gloss black on HK versions.


| | |
| --- | --- |
| US COLORS: | COMMENTS: |
| red enamel | common |
| hot pink | common |
| light green | common |
| yellow | |
| magenta | |
| lime | |
| rose | |
| blue | hard to find |
| green | hard to find |
| red | hard to find |
| salmon | rare |
| orange | rare |
| purple | very rare |
| aqua | very rare |
| | |
| HK COLORS: | |
| blue | common |
| green | common |
| purple | |
| orange | |
| red | |
| red enamel | |
| aqua | |
| olive | |
| copper | hard to find |
| rose ("watermelon") | hard to find |
| brown | very rare |
| pink | very rare |


Other versions of same Casting:

1973 Ferrari 312P
1974 Ferrari 312P



History:

The Ferrari 312P was one of two new cars added to the Grand Prix Series in 1970. The red Ferrari 312 P Spyder with #60 badges that the redline version is based on
was one of three built in late 1968/early 1969 as part of a renewed Ferrari racing program, and it carried chassis number 0868. The "P" designates "prototypo" and "312"
indicates the engine displacement (3 litres) and number of cylinders (12). This particular 312 P Spyder was raced three times in preparation for the 1969 Le Mans 24-hour
race. In its inaugural race in April of 1969, Mario Andretti (first time in the car!) and Chris Amon drove 0868 to a 2nd place overall and 1st place in class
finish at the 12 hours of Sebring. The car was wearing #25 for that race.

A few weeks later, Amon and Pedro Rodriguez drove 0868, now sporting #60 badges, to a 4th place finish at Brands Hatch in the UK. Two weeks after the Brands Hatch race, Rodriguez and Peter Schetty drove 0868 in a 1000 km race at Monza. The car was doing well until it went off the track briefly and sustained some minor damage. After quick repairs in the pits, Rodriguez went back out, only to have the rear bodywork come loose down the high-speed main straightaway! The car spun out and Rodriguez went backwards into the safety barriers. Rodriguez escaped injury but 0868 was badly damaged and went back to the factory, never to be raced again. The two other 312 Ps, chassis numbers 0870 and 0872, were converted from open Spyders to Berlinettas (in an effort to improve their top speed) for the 1969 Le Mans race but they did not fare well. The 0872 car, with Amon behind the wheel, was taken out in the first lap by a burning fuel tank from a Porsche 917.




Ferrari 312 P #0868 at Brands Hatch (L) and Sebring (R) in 1969


The Ferrari 312P was produced in various Spectraflame colors, as well as in red enamel like the real car. Ferrari 312Ps were made at both the US and HK plants. Cars produced at the US plant featured a clear windscreen, black interior, flat black- painted tail light panel, and meshed vents on top of the rear hatch. HK cars have a blue-tinted windscreen, black interior, gloss black-painted tail light panel, and plain vents. HK cars are marked "Hong Kong" on the rear of the base. As with all 1970 cars, Ferrari 312Ps have cap style wheels, with medium-sized wheels in front and large wheels on the rear axle.

The Hot Wheels version of the Ferrari 312P featured a rear hatch that opened to show a detailed V-12 engine. Unlike the 1969 Grand Prix cars, the Ferrari 312P had a black-painted tail light panel and red-painted tail lights. All US and some HK blister packs included a sticker sheet with "60" racing numbers and two diamond-shaped Ferrari prancing horse logos. The HK cars that didn't come with a sticker sheet had pre-applied #60 stickers on the sides and rear deck, and a yellow Ferrari logo waterslide decal on the front of the car. It is not known whether the pre-applied stickers and decal are an early or late run feature. Perhaps of note is that 1973 issue 312Ps also had pre-applied stickers but no decal.


A pair of Spectraflame red HK Ferrari 312Ps. The one on the right has factory-applied decal and stickers


Ferrari 312P Base differences

The 1970 US base was modified with the "Hong Kong" at the rear to identify the country of origin. After 1970, the rear paint detail was omitted.
The 1973 base saw the addition of the crush prevention disks for the rear wheels and travel stops on all four wheels.
The 1974 base has a hole in it, probably to facilitate assembly of the wheels to the base.




"Inny" vs. "Outy" body lines


Purple HK and US Ferrari 312Ps. Can you tell which is which?


The Ferrari 312P can be found in some of the first generation colors and is common in most of the second generation colors. Whereas the 1969 Le Mans and CanAm cars can be found in many US colors and a few HK colors, the 1970 cars like the Ferrari 312P were made in many colors at both plants. For whatever reason, some colors are much more rare than others. Interestingly, colors that are rare for the 312P (e.g. US salmon, HK pink) are not necessarily rare for the other 1970 Grand Prix car, the Porsche 917.




These five colors are pretty scarce for US Ferrari 312Ps


While there is only one known casting variation for US Ferrari 312P, the HK plant apparently used at least three different die tools. The most noticeable difference between the three types has to do with the lines on the body of the car that represent the door edges, headlights and other features. The most common of these variations has complete recessed door lines. A second variation also has recessed lines but they are incomplete on the sides of the car. The third variation has raised door lines. While none of these variations is particularly rare, the raised line cars are least common, and have only been found in a few of the HKcolors.


Three HK Ferrari 312Ps with raised (purple), recessed (orange) and incomplete (red) door and feature lines


Raised line HK Ferrari 312Ps have been found in red, orange, green, blue, purple and pink


Ferrari 312Ps with white interiors are very rare. White interiors have only been seen in HK Spectraflame red cars and a single piece in aqua. It is unknown whether the red cars were a prototype or just a very limited production run.


A rare white interior Ferrari 312P, Less than 20 known


Red and Aqua


Another very interesting variation of the Ferrari 312P features black-painted highlights other than just the tail light panel. Four cars, two US and two HK, have been discovered with nearly identical markings. Originally believed to be "after-market" modifications, these cars likely represent some sort of early paint test that was scrapped due to the extra effort involved. Of note: the original plans for the 312P call for these highlights, and the prototype 312P shown in the 1970 catalog has a similar black-painted grille.


A pair of unusual Ferrari 312Ps with black-painted highlights.
Not the prettiest Ferrari, but this pink HK 312P is as rare as they get!
A watermelon HK Ferrari 312P showing off that V-12 engine!
Three shades of HK brown: copper in front, brown in the middle, and an odd red-brown Ferrari in the rear
An unusual find: a rose Ferrari 312P on a non-Grand Prix card
A purple HK Ferrari 312P on a European "Racing Series" card
A Ferrari 312P rainbow!


Credits:

Photos and text by Rick Wilson




---



* DISCLAIMER *
Private use of original images is allowed.
Non-profit, non-commercial publication of original images is allowed only with prior expressed written consent from Graymatters.
For other commercial, for-profit or redistribution needs, please contact the site owner. This site is not affiliated with Mattel, Inc.

Questions? ... Send me an e-mail: tngray@nautiloid.net

© 2013 by Graymatters. All Rights Reserved.