Casting : Porsche 917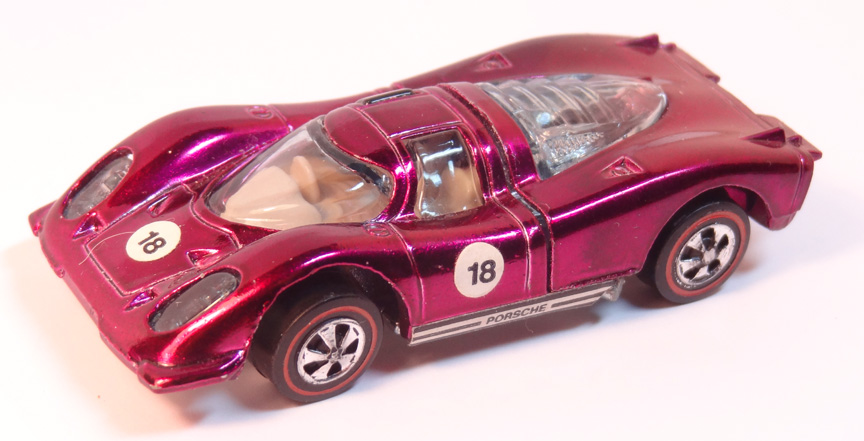 Years of Production:

1970


Country of Origin:

US and Hong Kong


Casting Variations:

The headlight cut outs on the HK version are slightly smaller.


Interior Colors:

US : White with clear glass
HK : Black or brown with blue glass


Paint Colors and Variations:

Note: The rear black accent paint is flat black on US versions and gloss black on HK versions.


| | |
| --- | --- |
| US COLORS: | COMMENTS: |
| grey enamel | common |
| light green | common |
| magenta | common |
| lime | |
| hot pink | |
| rose | |
| yellow | |
| salmon | |
| red | hard to find |
| green | hard to find |
| blue | hard to find |
| aqua | rare |
| | |
| HK COLORS: | |
| blue | common |
| light green | common |
| grey enamel | |
| lime | |
| green | |
| yellow | hard to find |
| red | hard to find |
| pink | hard to find |
| aqua | rare |
| purple | rare |


Other versions of same Casting:

1973 Porsche 917
1974 Porsche 917
1977 Super Chromes Porsche 917


History:


The real Porsche 917 was the brainchild of Ferdinand Piech, Ferry Porsche's nephew. His goal was simple: win Le Mans! From the start, the plan was to build a very light car in order to be able to be competitive with the powerful Fords and Ferraris. However, Porsche's new flat-12 engines performed far above expectations and the 917s, when initially tested in early 1969 were amazingly fast! In April 1969, the first Le Mans test run was taken. On one stretch, the 917 was clocked at 216 mph! However, although the 917 was a very fast car, it wasn't particularly quick around a full lap. Handling and control was poor through the fast corners. To solve this problem, small adjustable spoilers were fitted to the rear of the car. Although three 917s were entered in the 1969 Le Mans race, none finished. It was a different story in 1970-71, of the 21 races the 917 ran in during those two seasons, it recorded 14 wins and two 2nd place finishes. This included 1-2 finishes at both the 1970 and 1971 Le Mans. In the 1971 Le Mans race, the winning 917 set a record for laps completed that stands to this day. Later versions of the Porsche 917 were highly successful, culminating in a world speed record of over 250 mph set by Mark Donahue in 1975 on a straightaway of the Talladega Motor Speedway.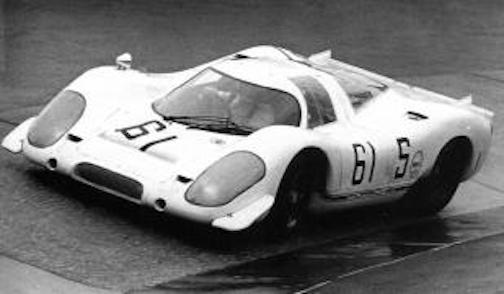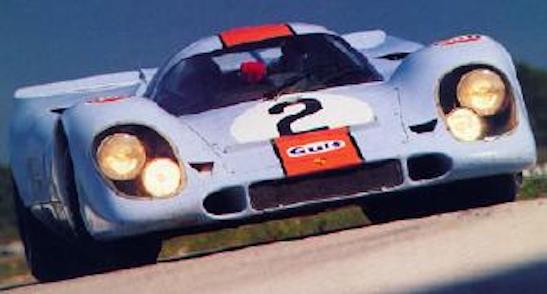 At left, an early Porsche 917; at right, a Porsche 917 about to win the1970 Daytona 24 Hours.


The Hot Wheels version of the Porsche 917 is a beautiful reproduction of the early Porsche 917. The car featured a wrap-around windscreen and a rear hatch that included a triangular window over the flat-12 engine. Unlike the 1969 Grand Prix cars, the Porsche 917 had a black-painted tail light panel and red-painted tail lights. Blister packs included a sticker sheet with "18" racing numbers and rocker panel stripes with the word "Porsche".





A pair of HK Porsche 917 in Spectraflame red and aqua


The Porsche 917 was produced in various Spectraflame colors, as well as in grey enamel. Porsche 917s were made at both the US and HK plants. Cars produced at the US plant featured a clear windscreen, white interior, and a flat black- painted tail light panel. HK cars have a blue-tinted windscreen, brown or black interior, and a gloss black-painted tail light panel. HK cars are marked "Hong Kong" on the rear of the base.As with all 1970 cars, Porsche 917s have cap style wheels, with medium-sized wheels all around.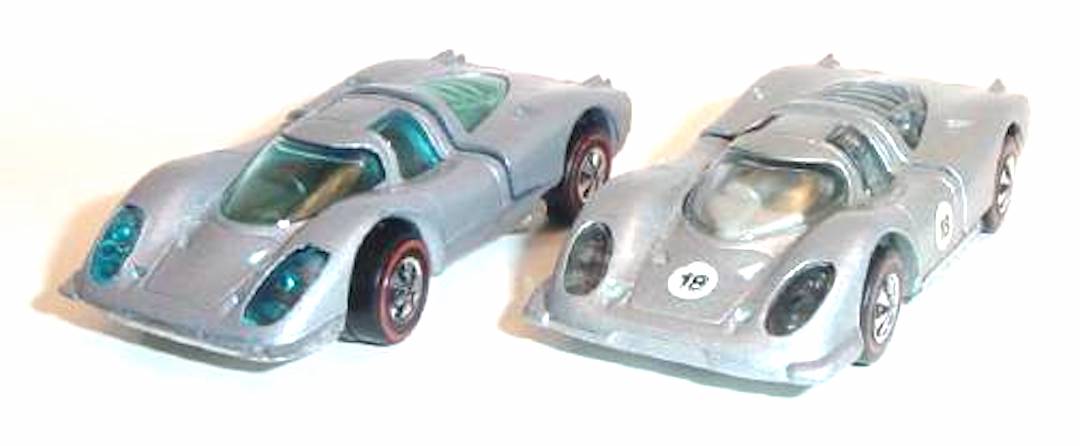 Grey enamel HK and US Porsche 917s


The Porsche 917 can be found in some of the first generation colors and is common in most of the second generation colors. Whereas the 1969 Le Mans and CanAm cars can be found in many US colors and a few HK colors, the 1970 cars like the Porsche 917 were made in many colors at both plants. In fact, for the 917, most colors were done by both plants! For whatever reason, some colors are much more rare than others. Interestingly, colors that are rare on non-existent for the 917 (e.g. orange, HK purple) are not rare for the other 1970 Grand Prix car, the Ferrari 312P.





US/HK Porsche 917 "color pairs": light green, lime and yellow.


The rarest and most valuable Porsche 917 is without a doubt the HK car in purple. While there are other Grand Prix cars (e.g. yellow Ford Mk IV, magenta Lola) that are more scarce than a purple 917, this car is a bit of a legend among redline Hot Wheel collectors. Part of the reason for it's popularity are the purple color (a favorite among many collectors) and the beautiful lines of the casting.





A rare purple HK Porsche 917.


Credits:

Photos and text by Rick Wilson




---



* DISCLAIMER *
Private use of original images is allowed.
Non-profit, non-commercial publication of original images is allowed only with prior expressed written consent from Graymatters.
For other commercial, for-profit or redistribution needs, please contact the site owner. This site is not affiliated with Mattel, Inc.

Questions? ... Send me an e-mail: tngray@nautiloid.net

© 2013 by Graymatters. All Rights Reserved.